Ninth Annual Art Market at Tyler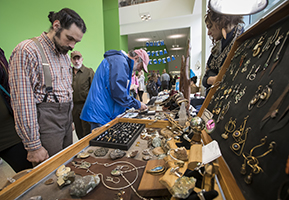 The Tyler School of Art & Architecture Alumni Association Board was looking forward to this year's Art Market at Tyler, which was scheduled to occur on Friday, October 16, 2020. Due to the ongoing uncertainty of the COVID-19 pandemic and out of an abundance of caution, we have made the difficult decision to cancel all in-person activities related to Art Market this fall.
In lieu of an on-campus market, we want to take the opportunity to focus on the artmaking of the artists – providing a more personal virtual experience for Art Market visitors over the course of a longer duration of time, not just condensed into one day. Over the next few months, we plan to identify 20 artists and groups to feature for our 2020 virtual Art Market event.
Over the years, we have had so many incredibly talented artists and makers participate in Art Market at Tyler. Join us online in October to learn more about their stories, processes, and connect with them in a way Art Market audiences never have before.
For more information, and to be considered, please contact artmarketattyler@gmail.com.