Eighth Annual Art Market at Tyler: Friday, October 11, 2019, noon-8 p.m., at the Tyler School of Art and Architecture
Shop handmade goods. Enjoy demonstrations. Visit a remarkable school!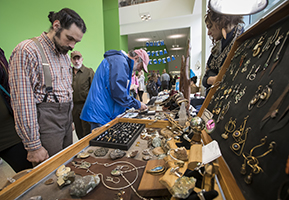 The eighth annual Art Market at Tyler is a nonprofit art and craft fair designed to support the regional arts community by providing artists, artist collectives, students and businesses who serve artists a venue for sale of work, self-promotion and networking. The Tyler School of Art and Architecture at Temple University provides an easily accessible space for holiday shoppers and collectors to find new works by emerging and established artists. Visitors will enjoy complimentary food and drinks from Victory Brewing Company during our Crafts & Drafts happy hour, and the chance to participate in maker classes and demonstrations.
This year's vendors:
Adorned by Aisha
after oak*
Ah Ha Brands
As the Crow Flies & Co*
Debs Bleicher*
Chunkel*
Gwen Comings*
Lyssa Current*
Deirdre Doyle Assemblages*
Eva E. Glassworks*
Forge & Finish*
Morgan Gilbreath*
Patrick Hay
Holly Farrell Ceramics*
Adam Ledford*
LeMieux Books & Bookish Accessories*
M Lynch Woodworking
Michele Judge Custom Metals*
Kathryn Kirk Murphy*
Night Shift Studio*
Priscilla Dahl Pottery
Lynette Rodriguez*
Sarah Draws Things
Second State Press*
Stanley Chester & Albert Ceramics*
StitchPrism
The 50/50 Company
Threet Ceramics
Tyler Ceramics Collective**
Tyler Fibers**
Tyler Fine Art Photography Club**
Tyler Glass Collaborative**
Tyler Print Guild**
Tyler Sculpture**
B.D. Williams*
Wrong World Ceramics
* Alumni artist
** Student artists