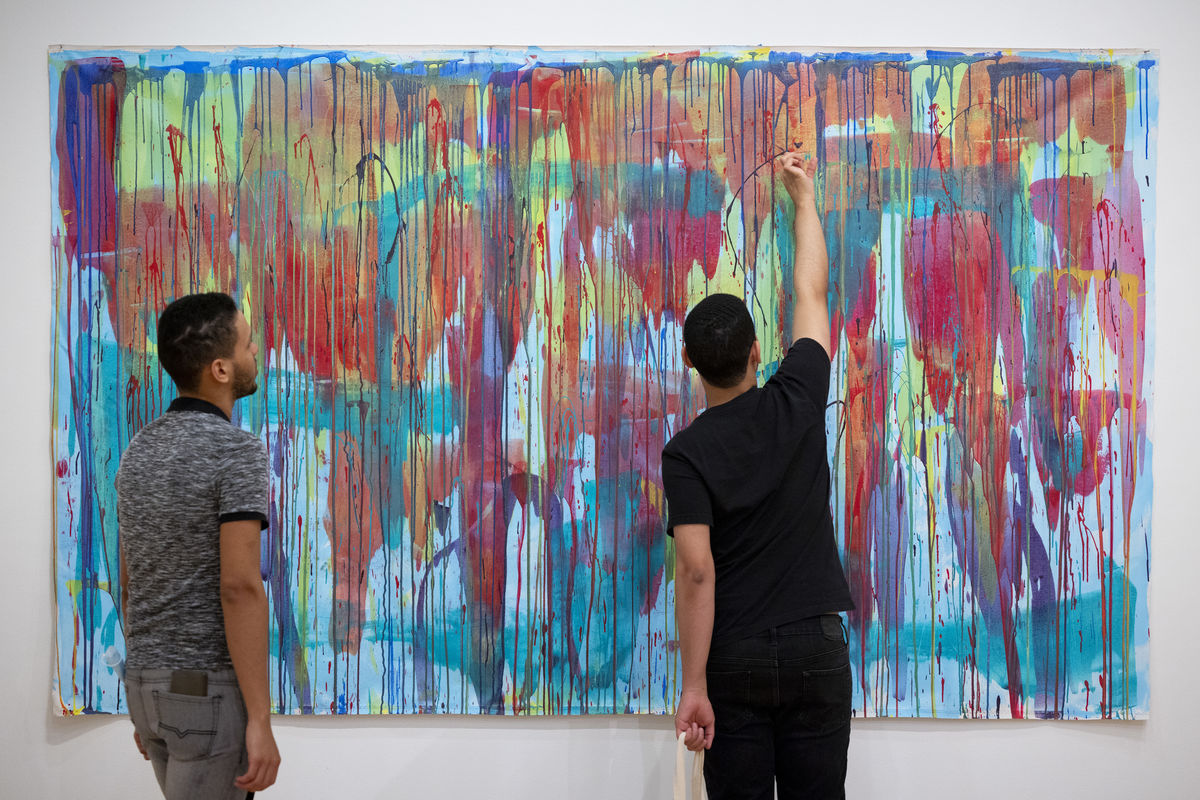 Tyler School of Art and Architecture's Creative Scholars Program is in its second year of welcoming talented students from Philadelphia's public and charter high schools into Tyler's state-of-the-art studios and facilities to experience a wide array of art making. 
The weekend program, funded through a generous grant from the Jacques and Natasha Gelman Foundation, whose mission is to provide support for emerging visual artists and the arts, gives students the opportunity to explore art and design practices that they might not otherwise get in their schools. 
Creative Scholars Program Specialist Hazziza Q. Abdullah and former student Said Nunez praised the program's kickoff year, its efficacy in engaging local high schoolers with a collegial art environment, and what to expect for this upcoming summer. 
Now, halfway through the year-long curriculum, students have been immersed in classes such as animation and moving image, as well as introductory courses in Tyler's glass studio. Students take three student courses in the spring and fall, visit artist studios and participate in workshops with prominent cultural institutions. The program provides in-depth learning experiences that help students broaden and enhance their skills and prepare portfolios for applying to top art schools. 
Nunez, who participated in 2021-2022 academic year, is now in his first year at Tyler pursuing his BFA in what he expects will be graphic and interactive design, once he's able to declare a major. He is also the teaching assistant  in the GAID department's Animation course. 
"It was a great experience — like falling in love with art all over again," Nunez said of his time in the program. "We experienced different mediums, explored different classes, and all had different goals. There was no pressure — some courses just let you try a new skill each week and exercise your creativity. It was the most freeing experience. It was great to work with so many different mediums and materials that I hadn't tried before." 
High school senior Emily Ramos reflected on her favorite part of the Creative Scholars Program, emphasizing that "meeting new artists and working with new materials as well as learning new methods for drawing" was a particular highlight. 
Students use professional art tools as well as Adobe Lightroom, Adobe Premiere, Krita, AfterEffects and more. All materials and media required for the courses are provided. The program also offers college literacy workshops to support students' success in the college admissions process and as a college student. Participants receive full tuition, materials, SEPTA passes to cover student travel, as well as breakfast and lunch.  
The chance to learn in a college setting had a major real-world impact on students like Nunez, who chose to apply to Tyler afterward. "[The Tyler] Admissions [office] was a huge help as far as reviewing my portfolio and giving feedback as to why a student would be considered to attend Tyler," he said. 
Abdullah reflected on the success of last year's program, saying that "this year we have 32 students, so we've doubled in size and have expanded our class offerings, as well as incorporating field trips and workshops." Last year, students visited Philadelphia's Fabric Workshop and Museum for a demonstration in printmaking, and each left with their own screen-printed tote bag.  
The early exposure to a studio setting as well as hearing from living artists also provide parents of aspiring art students with peace of mind in regard to future job security. "Lots of parents are concerned about the practicality of being a living artist, and I think this program offers some relief. We also have artists come in and do demos with students. We're having glass artists come in and demo so they're not just seeing their teacher every week," Abdullah explained. 
High school junior Aliyah Motley felt the impact of the artist studio visits, and said "I enjoyed the artist talks and studio visits this semester, especially when you learn about their passion and what inspired the person to pursue art as their passion and job." 
In May, the Creative Scholars program will mount its second annual exhibition of student work, entitled Restorative Wounds, as part of Philadelphia's Art in City Hall program. Works by 29 students representing 18 local public and charter schools will be displayed on the third and fourth floors of the City Hall building at 1400 JFK Boulevard. An opening reception will be held Friday, May 5 from 5-7 p.m. The exhibition will run from May 1-July 31.
Interested students can apply to the Creative Scholars Program here. Applications are accepted May 1-July 31 2023 for the 2023-2024 academic year. 
Image credit Dan Z. Johnson