April 3 - 6, 2019
Opening Reception April 5, 6-8pm
---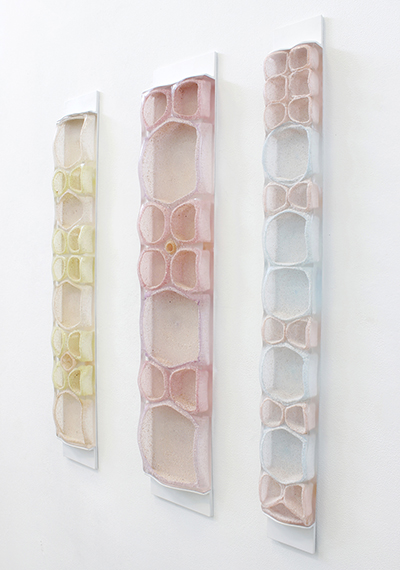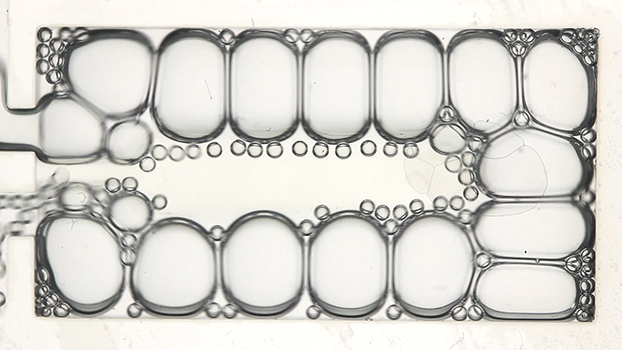 ---
Artist Statement
I find satisfaction in making and engineering. Open to compromise, I design with an understanding of material properties. By embracing process, I allow materiality to shape my aesthetic and formal decisions.
In my current work, I'm interested in the nature of bubbles. Be it a soap bubble or a blown glass object, properties of formation, symmetry, and movement are expressed through physical forces. Patterns spontaneously emerge through self-organization, exemplifying how these forces shape things on all scales in nature, from an atom to a solar system
In my Micro-fluidic Systems, I offer the viewer a micro-perspective into the world of bubbles. Using 3D printed devices, I manipulate flows of water and air to create bubbles of precise sizes, some smaller than a millimeter. Documented through a macro lens in high definition, the videos follow the experiences of these bubbles as they navigate channels and spaces.
Watching the laws of physics at work can be simultaneously beautiful and metaphorical. Formally abstract, the bubble systems are open to interpretation by the viewer. Undoubtedly, the kinetic frenzy is rich with associations; highway traffic, bustling pedestrians, protozoans, etc., all point to the analysis that the bubbles are a metaphor for life. As a model for our social condition, it calls into question our significance in the universe and the illusion of human consciousness and free will.
In my Bubble Panels, I express the properties of bubbles through the materiality of glass. Fabricated using precise measurements, I fuse together blown glass elements in an orderly arrangement. Filling the glass bubbles with sand prior to fusing allows their volumes to be preserved as the pieces begin to melt. Circular forms move and flow into new geometric patterns, and upon cooling, record a fleeting moment of fluidity.
The designs for these panels are based on patterns found in my Micro-fluidic Systems. As the creator of a device that creates phenomenon, I relinquish a level of authorship to that of natural occurrence.