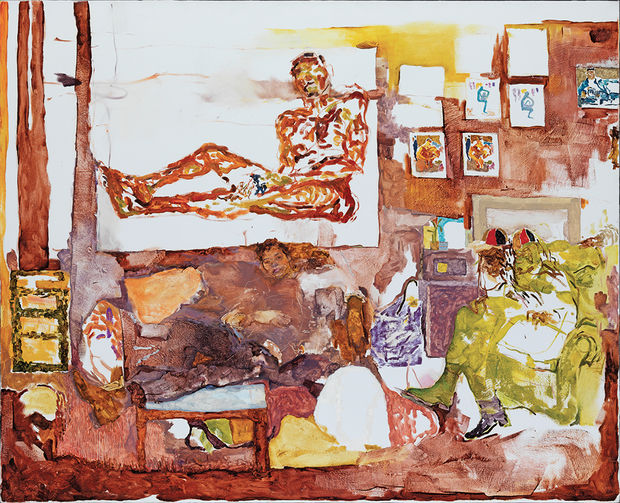 Critical Dialogue Series: Jennifer Packer
Jennifer Packer was born in Philadelphia, and received her BFA from the Tyler University School of Art in 2007, and her MFA from the Yale University School of Art in 2012. Packer was the recipient of a Rema Hort Mann Grant in 2013. In 2012-2013 she was an Artist-in-Residence at The Studio Museum in Harlem, and from 2014-2016 was a Visual Arts Fellow at The Fine Arts Work Center in Provincetown, MA. Packer lives and works in New York.
Packer's figurative paintings are marked by a powerful quietude. Each canvas reads as a self-contained world, its subject emerging from or dissolving into its surroundings. She presents those who sit for her—usually family members and friends— with compassion, foregrounding their individual autonomy and carefully guarding their integrity. Art historian Jessica Bell Brown describes Packer's scenes as "emphatically mundane and radically tender," embodying questions of representation, visibility, and desire.
The funerary bouquet provides the subject for another ongoing series of paintings that suggest themes of trauma and loss. Packer's floral arrangements recall those of classical still life painters like Henri Fantin-Latour, yet, like her other works, they primarily produce a psychological space. Perhaps innocuous, even beautiful, on initial view, each suggests a private sorrow that reverberates beyond the fleeting moment of the flowers' public display.
Packer renders fragments of her paintings in detail while she obscures information in other areas through more abstract mark-making or even leaving the surface blank. The artist paints each canvas over a long duration, returning again and again to rework the surface, "undoing" the image, as she says, until a balance is struck. A narrow palette in each work—chartreuse, mauve, ochre, for example—demands close attention to shifts in hue and tone and often results in subject and environment seeming to collapse into one another.