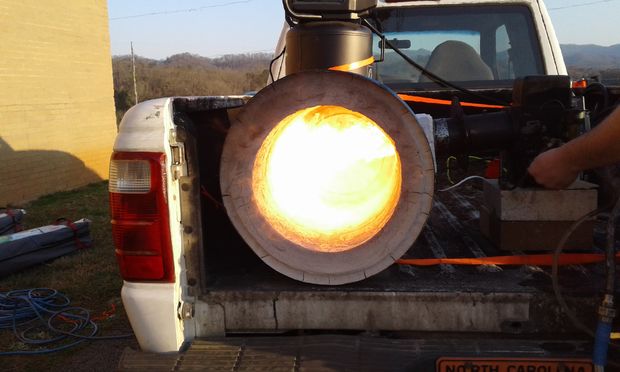 Laurie Wagman Visiting Artist Series Presents: Timm Muth
Timm Muth, engineer, inven-tor, teacher, project manager, entrepreneur and green energy advocate, steers the Jackson County Green Energy Park (GEP)—a facility that leverages art and renewable energy to drive economic development, environmental protection and hands-on education. GEP utilizes landfill gas (bio-methane) to fire gloryholes, glass furnaces, blacksmith forges, ceramics kilns and a metal foundry, pushing back against the convention that these fire arts cannot be sustainable. 
Recently, Muth has focused on using waste vegetable oil (WVO) as a portable renewable fuel and has developed a commercial WVO burner designed for glassblowers and other fire artists capable of reaching temperatures of over 3,000° F.
Image: old burner demo at elementary school STEM fair.
Courtesy of Timm Muth. Supported by the Laurie Wagman Fund in Glass Art at the Tyler School of Art and Architecture.