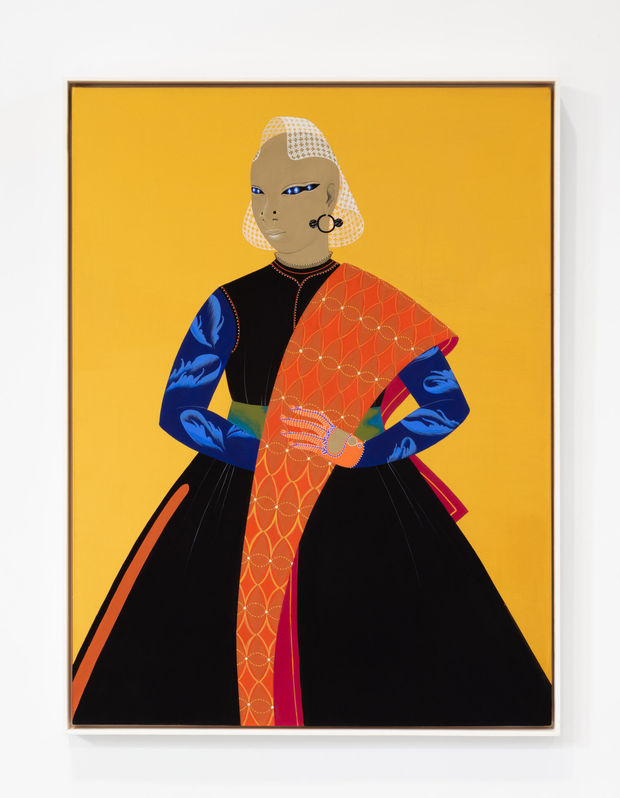 Temple Contemporary Presents: "Beyond the Words of Earth"
Temple Contemporary proudly presents Beyond the Words of Earth, the Philadelphia debut of multi-disciplinary Toronto-based artist Rajni Perera. This exhibition invites viewers into the commemoration of a future where borders, imperialist capitalism and ecological collapse have birthed the survival of Travellers – a humanoid species whose multi-ancestral technologies have allowed them to recreate planetary and interplanetary relations.  
The exhibition presents portraits, sculptures, and objects from Perera's Traveller series. These works are exhibited to simulate a natural history museum, indicating an evolutionary timescale thousands of years into the future. The Travellers' humanoid shapes still connect them to earthly pasts and honor the noble confidence and intelligence that has maintained their interconnection through self and community knowledge. The presentation engages with the phenomena of off-worlding–a concept that is derived from Perera's extensive research on histories of colonization and the nature in which imperialism has impacted immigration. It highlights the curious notion of sovereignty across the universe.   
Beyond the Words of Earth is a story in three dimensions—and demonstrates how mutation, adaptation, and reimagining technology impact our future while untangling metaphors of space-travel within immigrant life. The exhibition features a new major work by Perera titled A Starry-eyed Subspecies, a sculptural piece featuring a life-size Traveller and Post-Horse traversing a mutated and poisoned landscape left behind by greedy and wealthy corporate nations.  This work will be presented alongside other works that illustrate the history of Travellers. Please join us as we step into the future, and discover the fascinating stories of extinction and survival, and learn about some of the features that sets  Travellers apart from other species.   
Gallery Hours
Wednesday-Thursday, 12-8 pm 
Friday-Saturday 11am-6 pm
Image: 
ANCESTOR 1 | 48" X 36" mixed media on stretched paper | Courtesy of Patel Gallery, Toronto