Back to Blog
October 4, 2022
Professor Clifton Fordham on the Building Blocks of Tyler's Facilities Management Program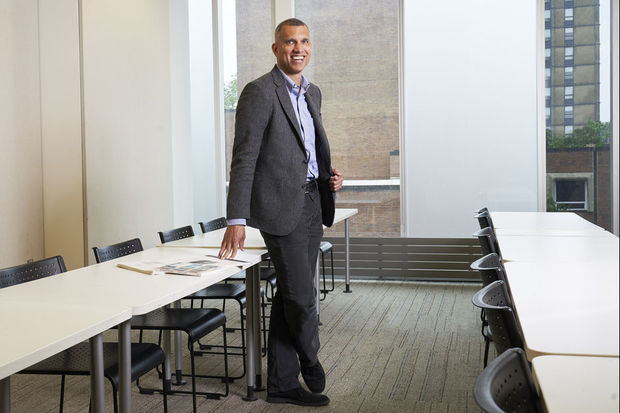 Clifton Fordham, Associate Professor and Program Head for Architecture, encourages his students to understand the importance of finding strategic, comfortable solutions to problems surrounding interior space planning and facilities management when they enter the workforce. Facilities management as an industry provides the tools and services that support the functionality, safety, and sustainability of buildings, grounds, infrastructure, and real estate.
Fordham teaches classes in facilities management, project planning and programming, and materials and methods, and works as a registered architect, researcher, and editor of publications such as Context magazine during his time outside of the classroom. 
He also recently edited the book Constructing Building Enclosures: Architectural History, Technology and Poetics in the Postwar Era, a collection of 13 essays by interdisciplinary scholars that critically examine the development and the purpose of building technology within a design framework. 
While all Tyler Architecture and Environmental Design majors share a common curriculum for the first two years (Foundations), Fordham says that once majors have been declared in the junior year, "there's still so much crossover between disciplines. Architecture students often take Facilities Management courses as electives to further understand the science behind space planning and why it is so important to know how to design and run a fluent, efficient office."  
Fordham also described the close-knit nature of the Facilities Management program, which caps off at 30 students per year. The program differentiates itself from other FM programs because of how career-oriented it is, and its emphasis on students developing skills that lend themselves to the needs of institutional or governmental building owners. 
Students also earn scholarships to attend national conventions and conferences to network with professionals in the field. Most recently, upper-level students traveled to the Boeing headquarters in Arlington, Virginia for a career talk.  
Like all majors within the Architecture and Environmental Design programs, Facilities Management offers insight into an array of career paths. Fordham says students have earned consistent job placements after graduation and have gone on to work for prestigious companies like Boeing and Google. Some work as real estate developers, or some pursue project management and form partnerships with contractors in the space planning field. 
Fordham also emphasized the importance of group work and teamwork within the Facilities Management cohort, because the jobs that are open to them require collaboration and mindful sharing of responsibilities. Currently, several of the program's top juniors are interning with Temple Hospital's Space Planning Department to work on various space improvement projects. There is no shortage of opportunities to continue learning while outside the classroom to prepare for those pivotal next steps, he said. 
Learn more about the Facilities Management program and classes available for the 2022-2023 school year.