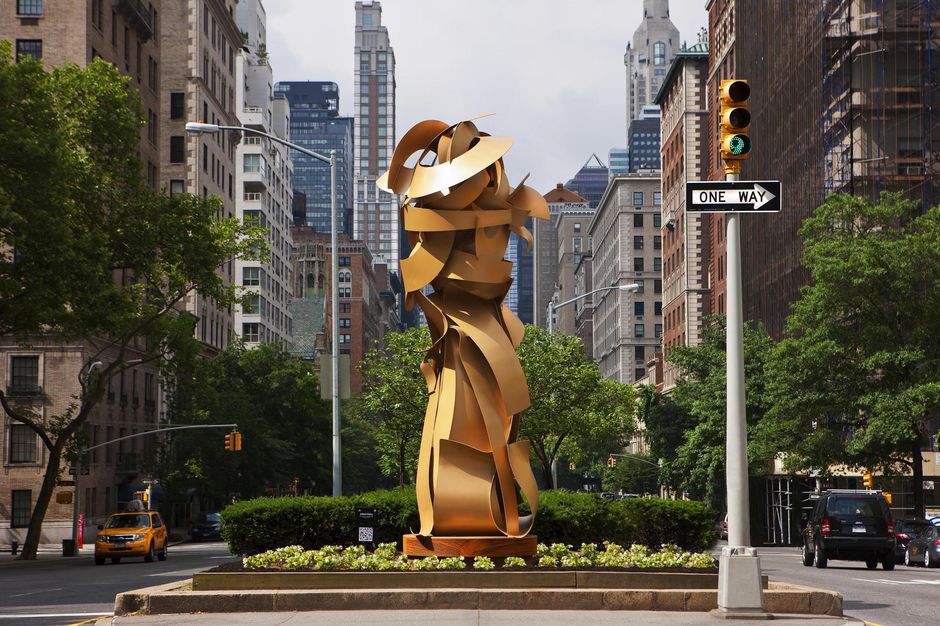 Albert Paley (MFA '69)
Albert Paley (MFA '69) is considered one of the most masterful and influential metal artists in the world. He is known for his massive public sculptures that have been commissioned around the United States and shown across the world. Early in his more than 40-year career, Paley reinvented traditional jewelry, like the pendant and brooch, by creating "wearable sculptures" that highlight the relationship of the piece to the body and its structure and movement.
"[Paley's larger abstract works are] simultaneously radical and classic, sensual and austere, immediately appealing and yet infinitely complicated. It is this ability to juggle seemingly contradictory elements that makes Mr. Paley a forceful artist."
– The New York Times
A major turning point in Paley's career came when he won the Renwick Gallery of the National Museum of American Art, Smithsonian Institution's national design competition. His forged and fabricated steel, brass, bronze and copper Portal Gates (1974) were commissioned for the gallery shop.
Since the Renwick Gallery commission, Paley has completed more than 50 site-specific works across the U.S., including tree grates and benches along Pennsylvania Avenue in Washington D.C.; a 65-foot sculpture for the entry court of Bausch and Lomb's headquarters in Rochester, New York; a 130-foot long archway for the St. Louis Zoo in Missouri; a sculptural relief for Wellington Place, Toronto, Canada; and a series of sculptures for Park Avenue, New York City (pictured above); among many others.
Paley's work appears in many permanent collections, including the Metropolitan Museum of Art in New York; the Museum of Fine Arts in Boston; the Museum of Fine Arts in Houston; and the Victoria and Albert Museum in London. He has won numerous awards, such as the American Craft Council Gold Medal Award for consummate craftsmanship; Smithsonian Institution, Masters of the Medium Award; as well as the American Institute of Architects, Institute Honors Recipient, Lifetime Achievement Award—the AIA's highest award to a non-architect. 
Portrait and image from Albert Paley's commission on Park Avenue, New York City, courtesy of the artist.