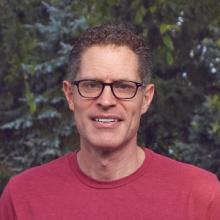 Byron Wolfe
Byron Wolfe likes to collaborate across disciplines on projects that combine expertise from diverse fields that include art, history, design, and science. He is the author of Everyday: A Yearlong Photo Diary (Chronicle Books, 2007, and an Apple e-book from OneTreePress.com, 2012). He is a co-author of Yosemite in Time (Trinity University Press, 2005), Third Views, Second Sights (Museum of New Mexico Press, 2004) book and interactive DVD, and Reconstructing the View (UC Press, 2012). His work is collected and exhibited internationally. He is a recipient of the Santa Fe Prize for Photography and a Guggenheim Fellow. Some of his longtime and ongoing collaborative work with Mark Klett can be seen on their web site. An abridged CV is available here.
MFA, Photography, Arizona State University, Tempe, Arizona
BA, Evolutionary Biology and Anthropology, Johnston Center, University of Redlands, Redlands, CA
He is learning to play the cello. Slowly.