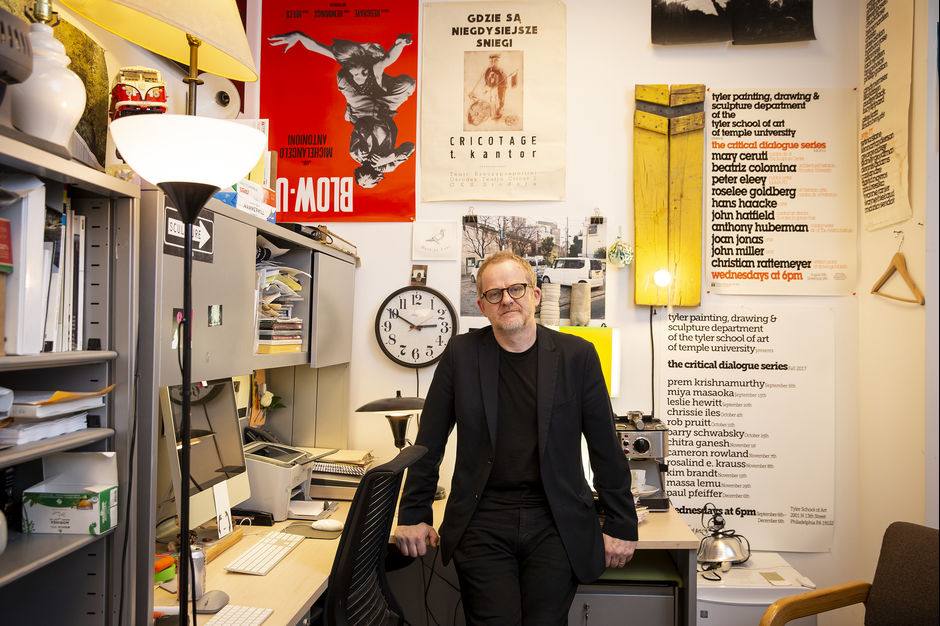 Assistant Professor and Program Head of Sculpture
Sculpture
C.T. Jasper
C.T. Jasper's practice comprises various media, concentrating principally on video art, sound, film, sculpture, installation, collage and manipulative interventions within already existing films. These media form a threshold through which Jasper explores the dissonance between imaginary and fragmented cinematic space and the physical experience of architecture, as well as the excavation of history through postcolonial and experimental anthropological lenses.
 
From 1996 to 2013, he worked under different names exploring his interests in myth and sociopolitical realities. Since 2013, his works have been presented under the artistic pseudonym C.T. Jasper. In 2015, he and Joanna Malinowska—whom he has collaborated with since 2015—represented Poland at the 56th Venice Biennale with the project Halka/Haiti: 18°48'05″N 72°23'01″W. Since then, they have created numerous projects, including the two-person survey show, Relations Disrelations, at The Museum Sztuki in Lodz, Poland; the sound piece, The Emperor's Canary, for the High Line in New York City, the 2018 Cornell Biennial and The Centre Pompidou as well as the film, Charge 4'33".
  
Jasper has been the recipient of numerous prizes, including a Guggenheim Fellowship, as well as grants from The Jerome Foundation, The Pollock-Krasner Foundation, The Kosciuszko Foundation and The Fellowship of the Polish Ministry of Culture and National Heritage. He was an artist in residence at The Irish Museum of Modern Art in Dublin, The International Studio and Curatorial Program in New York City and at Artpace in San Antonio. Jasper was also a visiting artist at The American Academy in Rome. He has exhibited work regionally as well as across North America, Europe, Asia, Australia and the Caribbean.
MFA, Academy of Fine Arts, Poznan, Poland, 1996
Selected Work
Goldberg, R. (2018). Performance Now: Live Art for the Twenty-First Century. New York, NY: 
     Thames & Hudson.
 
Jasper, C.T., & Malinowska, J. (2015). Halka/Haiti 18°48'05" N 72°23'01"W. M. Moskalewicz 
     (Ed.). Warsaw: Inventory Press & Zachęta National Gallery of Art.
 
Jachuła, M., Voorhies, J., Benway, N., Świtek, G., & Zmyślony, I. (2015). Relations Disrelations. 
     M. Jachuła (Ed.). Łódź: Muzeum Sztuki w Łodzi.  
Voorhies, J., Bole, M. J., Brown, M., Schweizer, M., Silver, S., Marta-Clark, G.,…Crewdson, G. 
     (2009). Of Other Spaces. Columbus: Columbus College of Art & Design.
Image credit: Temple University Photography / Joseph V. Labolito