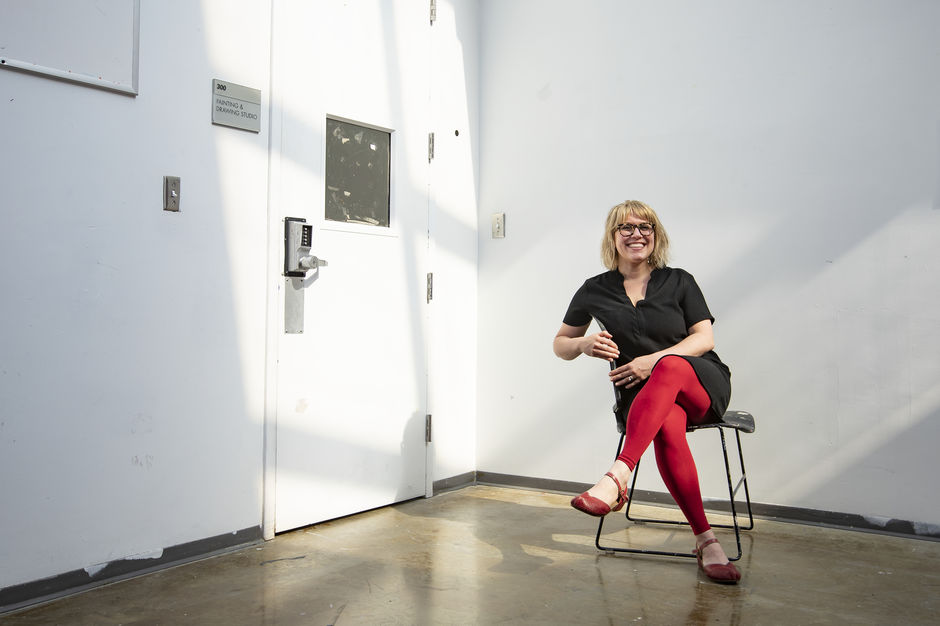 Associate Professor of Instruction
Fibers & Material Studies, Art Education
Delaney DeMott
Delaney DeMott is an artist and educator whose work highlights the "hiccups" that contribute to one's lived experience. In addition to actively exhibiting her work, she teaches community-driven workshops at the Banana Factory in Bethlehem, PA and Goggleworks in Reading, PA. She has received many awards, residencies, and acknowledgments for her work in both the arts and education. DeMott's work and lecture series have toured institutions such as Kutztown University, American University, Concordia University, University of Chicago, Delta College, Indiana University, SUNY Buffalo State and Beijing Normal University.
MFA, School of the Art Institute of Chicago, 2013
BFA, Tyler School of Art and Architecture, Temple University, 2003
Selected Awards and Residencies
Visiting Artist (2017)
Goggleworks, Reading, PA
Vermont Studio Center Residency (2016)
Johnson, VT
"Top 100 Creatives" Feature (2016)
BUNCH Magazine
HATCH Residency (2013)
Chicago Artists Coalition, Chicago, IL
Selected Works
DeMott, D. (2019). Slideshow. Exhibtied at Roman Susan Annex, Chicago, IL, February 25–March 10, 2019.
DeMott, D & Kielman, A. (2017). OPHIUCHUS. Exhibited at Heaven Gallery, Chicago, IL, March 24–April 30, 2017.
DeMott, D. (2016). VOX XII: News and Weather. Exhibtied at Vix Populi, Philadelphia, PA, July 1–July 31, 2016.
DeMott, D. (2015–2016). Art in Craft Media 2015. Exhibited at Burchfield Penney Art Center at SUNY Buffalo
     State, Buffalo, NY, October 10, 2015–January 24, 2016.