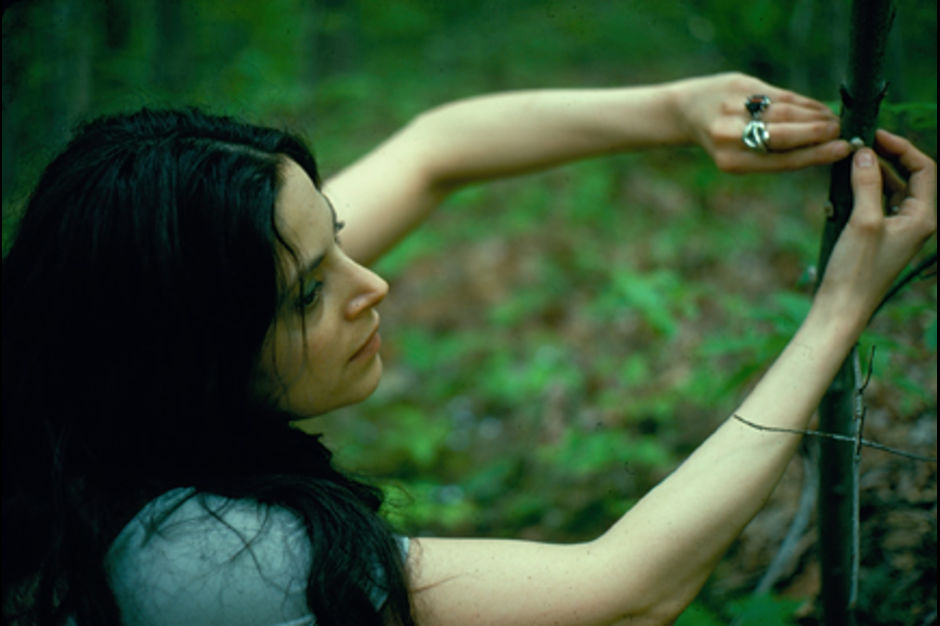 Hannah Wilke (BFA and BSEd '62)
Hannah Wilke (BFA and BSEd '62) was a legendary artist and feminist icon who worked in sculpture, drawing, assemblage, photography, performance and installation. She is considered the first feminist artist to use vaginal imagery in her art—a signature element of her work.
"Controversial and wholly original, Hannah Wilke sought a formal language for women's creativity, challenging the parameters of both art and feminism in the process. [She] changed the art world's view on a woman's body…"
– Frieze
Throughout her pioneering and innovative career, Wilke appeared in solo and group exhibitions at the Art Institute of Chicago; the High Museum, Atlanta; ICA, Boston; De Appel, Amsterdam; Museum de XX Jahrhunderts, Vienna; Museo de Art Contemporani, Sao Paulo, Brazil; Tel Aviv Museum, Israel; among many others. She received many distinguished honors, such as a National Endowment for the Arts grant and a John Simon Guggenheim Memorial Foundation grant. Her work is collected in the Metropolitan Museum of Art, the Jewish Museum, and the Whitney Museum of American Art, all in New York City; Tate Modern, London; Los Angeles County Museum of Art; Museo Nacional Centro de Arte Reina Sofía, Madrid; Yale University Art Gallery; and Centre Georges Pompidou, Paris, France; among others.
In 1993, Wilke died of complications from lymphoma. Her final work, Intra-Venus, a posthumously-published photographic record of her physical transformation from chemotherapy and a bone marrow transplant, received the first place award in 1994 and 1996 for best show in an art gallery from the International Association of Art Critics.
 
In 1999, The Hannah Wilke Collection & Archive, Los Angeles, was created by her family, which continues to share the astonishing, groundbreaking work of Hannah Wilke in exhibitions nationally and internationally.
In 2019, Temple Contemporary, in collaboration with the Hannah Wilke Collection & Archive, Los Angeles, organized the exhibition Hannah Wilke: Sculpture in the Landscape, which presented photographs Wilke titled the "Gum in Landscape Series" and photographs of ceramic and bronze sculpture in the landscape that were never printed or shown during her lifetime. 
Image: Hannah Wilke, Untitled, circa 1975, from the Gum in Landscape Series, Hannah Wilke placing a chewing gum sculpture on a tree branch. Photograph on home page: Hannah Wilke, "Gum in Cherry Tree," 1976, from the California Series, 1976, archival pigment print, 2019, 24 x 36 inches. Both from the Hannah Wilke Collection & Archive, Los Angeles, © Scharlatt (licensed by VAGA at ARS, New York).