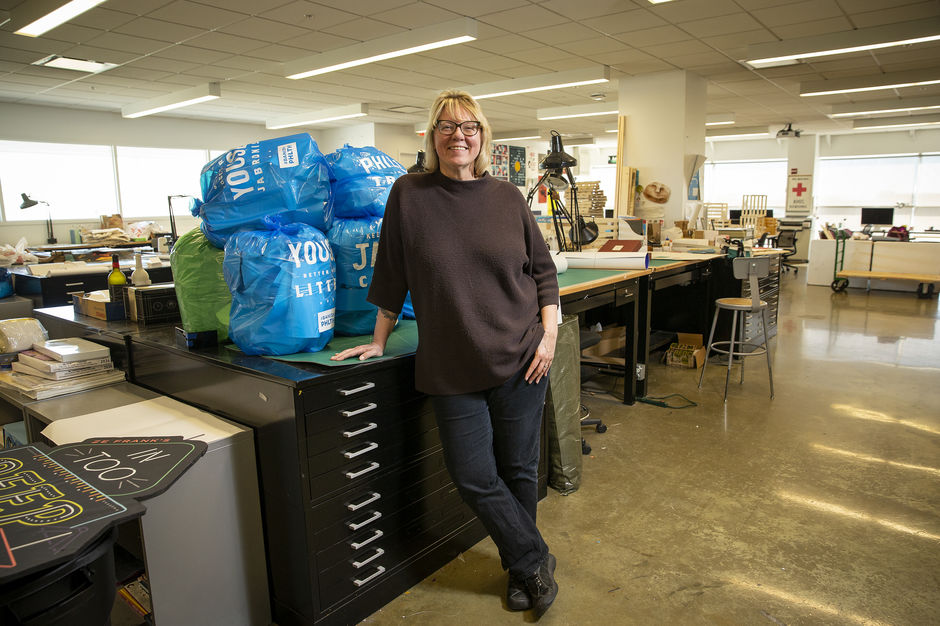 Professor and Program Head of Graphic & Interactive Design
Graphic & Interactive Design
Kelly Holohan
Kelly Holohan is a designer activist whose creative research focuses on issues surrounding the LGBTQ+ community, women's rights, health and wellness and environmental protection. She is co-creator of We the Women, an initiative designed to raise awareness and build platforms around women's rights. Holohan is also a member of the women's activist group, Sisters in Solidarity. Elizabeth Resnick's book, Developing Citizen Designers, features a community partnership project developed as part of her graduate curriculum at Tyler.
Holohan's teaching practice parallels her research interests by fostering the idea that our work as designers has an impact on the human experience. She is concerned with using design to do more than selling a product or service—to convey messages that serve a greater good.
 
As an active participant in the design community, she has served in leadership roles at AIGA: the professional organization for design in the Philadelphia chapter, including Education Chair, Vice President and President. Holohan's design work has been featured in many publications and exhibitions, including Applied Arts Annual; Art Director's Club of Philadelphia; Communication Arts Design Annual; Graphis Design; Graphis Posters; HOW International Design Annual; Print Regional Design Annual; AIGA Philadelphia Design Awards (PDA) and Segunda Llamada International Poster Competition. Her solo exhibition, Sorry We're Closed, featured posters that address LGBTQ rights around the world. The Herskovits Library of African Studies at Northwestern University and the Poster House in New York City include her work in their collections.
 
MFA, Visual Design, Tyler School of Art and Architecture, 1996
BS, Graphic Design, The College of St. Rose, 1989
Selected Work, Collections and Presentations
2019, Graphis Poster Annual, Graphis Inc., New York, NY.
2018, Signs of Resistance: A Visual History of Protest in America; Sisters in Solidarity Panelist,
     Philadelphia Ethical Society, Philadelphia, PA; February 22 (invitational).
2017 and 2018, Graphis Design Annual, Graphis Inc., New York, NY.
2017, Poster House Museum; Posters Against Ebola Collection, "Quarantine," New York, NY.
2016, Developing Citizen Designers, by Elizabeth Resnick, "Tyler Design MFA + St. James School"
     Case Study, Bloomsbury Academic, UK.
2016, The Design of Equality; Opening Presentation for lecture by the Minister of Culture for the
     Black Panther Party -Emory Douglas, Philadelphia University, Philadelphia, PA, September 28
     (invitational).
2015, Herskovits Library of African Studies at Northwestern University; Posters Against Ebola,
     "Quarantine," Evanston, IL.
2015, International Design Congress: Eeum Design Connects; "Authors, Entrepreneurs and
     Partnerships," Gwangju, Korea; October 17–23 (juried).
Image credit: Temple University Photography / Joseph V. Labolito