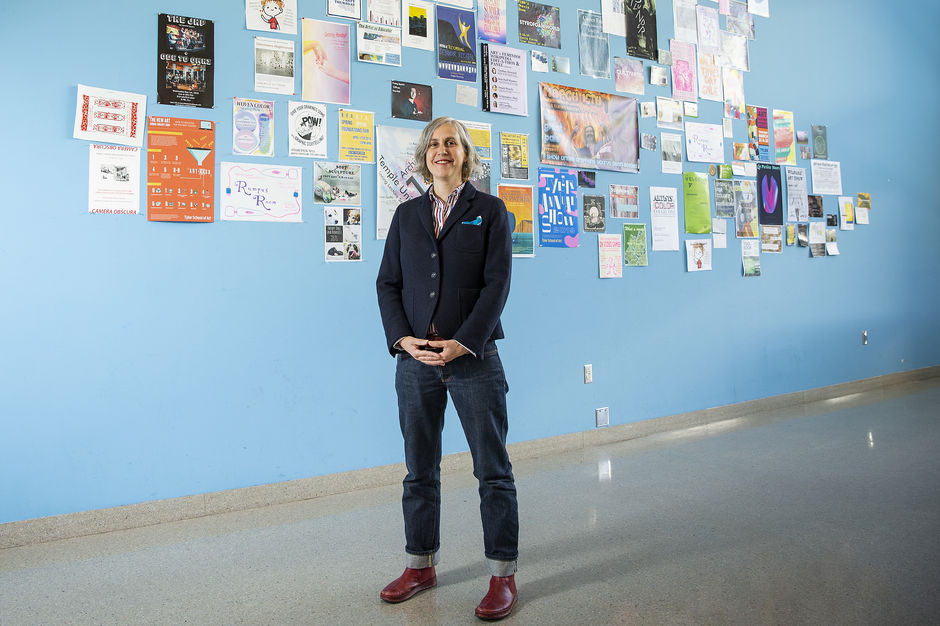 Associate Professor and Program Head of Visual Studies
Visual Studies, Art History
Leah Modigliani, PhD
ON LEAVE, FALL 2022 — Counter Revanchist Art in the Global City
Leah Modigliani is Associate Professor of Visual Studies at Tyler School of Art and Architecture. She is an artist and scholar who rejects specialization in favor of transdisciplinary engagements with fine arts, art history, critical geography, urban studies, and politics. Modigliani's projects arise from a network of concerns including the history of the avant-garde and its relationship to political critique, feminist art and writing, social dissent since 1968, the history of photography, performance and re-enactment as political strategy, and the pernicious effects of neoliberal capitalism. At the node of these networks is her central concern with how an individual's freedom of expression is destroyed, curtailed, or displaced through socio-economic factors beyond their control.
Modigliani's artwork has been exhibited internationally at galleries and museums, including Pennsylvania Academy of the Fine Arts Museum, Philadelphia; Yerba Buena Center for the Arts, San Francisco; Colby College Museum of Art, Maine; the Art Gallery of Nova Scotia, Halifax and the Museum of Contemporary Canadian Art, Toronto. Her critical writing can be found in academic journals and contemporary art magazines such as Platform Journal of Theatre and Performing Arts, Prefix Photo, Anarchist Studies, and Mapping Meaning, The Journal. Her book, Engendering an avant-garde: the unsettled landscapes of Vancouver photo-conceptualism, was published by Manchester University Press's Rethinking Art's Histories series in 2018. She is currently working on her second book, Enacting Resistance: Counter-Revanchist Art in the Age of the "Free" Market.
PhD, Art History and Criticism, Stony Brook University, 2010
MFA, Sculpture, San Francisco Art Institute, 1997
BFA, Studio Art, Concordia University, 1993
Selected Awards and Residencies
Robert Rauschenberg Foundation Archives Research Residency (2022)
Critic in Residence (2017)
Pennsylvania Academy of the Fine Arts (PAFA) 
Canada Council Research Grant for Professional Independent Critics and Curators (2012)
Canada Council  
Selected Work
Modigliani, L. (2020). Taking Space: Contemporary Women Artists and the Politics of Scale.
     Pennsylvania Academy of Fine Arts Museum. 
Modigliani. L. (2019, Fall). Critical Plagiarism and the Politics of Creative Labor: Photographs,
     History, and Re-enactment. Mapping Meaning, the Journal 3, 86-99. 
Modigliani, L. (2018). Engendering an Avant-Garde: The Unsettled Landscapes of Vancouver 
     Photo-Conceptualism. Manchester: Manchester University Press.      
Modigliani, L. (2018). Washington D.C., 1939; Basle, 1957; Paris, 1958; Berkeley, 1969; 
     Chicago, 1969; London, 1969, Windsor, 1982… Art Gallery of Windsor. Windsor, 
     ON, February 17–May 13, 2018.  
Modigliani, L. (2017–2018). How long can we tolerate this? An Incomplete Record from 
     1933–1999. Colby Museum of Art, Waterville, ME, September 1, 2017–January 7, 2018. 
Image credit: Temple University Photography / Joseph V. Labolito