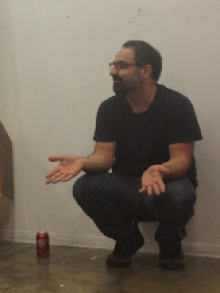 Mark Shetabi
Mark Shetabi is currently an Associate Professor of Painting at Tyler School of Art. He has been a visiting critic and lecturer at the University of Pennsylvania, Pennsylvania Academy of the Fine Arts, Moore College of Art & Design, and the California College of Art.
Shetabi's work has been exhibited nationally at such venues as Project Room, Fleisher Art Memorial, and Locks Gallery (Philadelphia), Ratio3 (San Francisco), Western Bridge (Seattle), EVO Gallery (Santa Fe), McClain Gallery (Houston), White Columns, Heckscher Museum of Art, and Jeff Bailey Gallery (New York).
In 2008, Shetabi exhibited a body of work at the Special Projects of the PULSE Art Fair on Pier 40 in New York. Included in this exhibition was Models, a 34-foot long sculpture based on video game architecture. Also in 2008, Shetabi took part in Empire and Its' Discontents, a group exhibition curated by Amy Ingrid Schlegel at the Aidekman Arts Center at Tufts University. In 2008, he had his second solo exhibition at Jeff Bailey Gallery in New York, entitled ARENA. In 2009, his work will be included in an exhibition titled House of Cars: Innovation and the Parking Garage at the National Building Museum in Washington DC.
Shetabi is a 2002 recipient of a Pew Fellowship in the Arts. He currently lives and works in Philadelphia, PA.
Education
BA Western Washington University
MFA Pennsylvania Academy of the Fine Arts