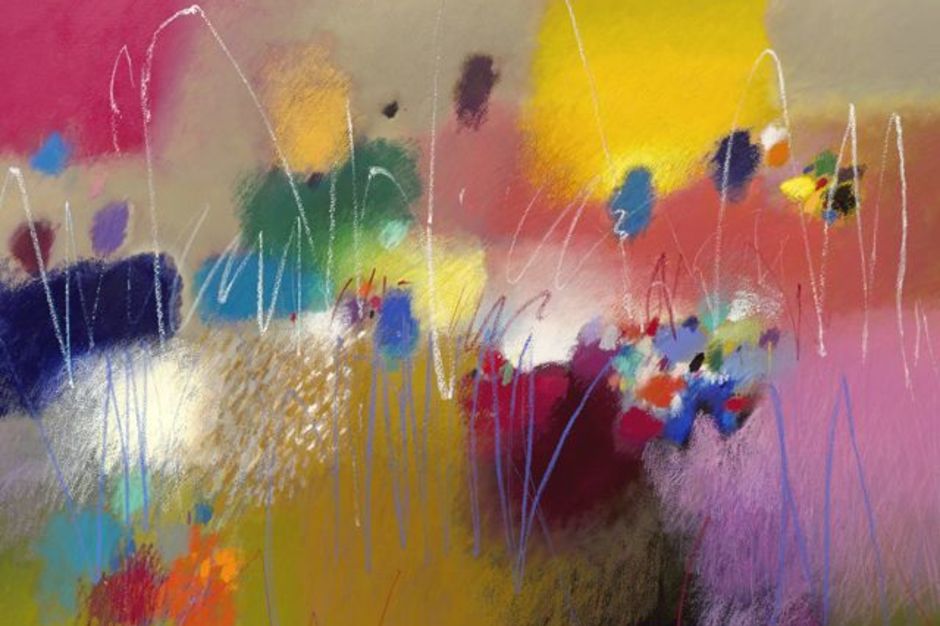 Moe Brooker (BFA '70, MFA '72)
Moe Brooker (BFA '70, MFA '72) was an internationally celebrated abstract painter with strong Philadelphia roots, best known for his joyous interpretation of African American life on canvas. His style evolved over time into abstract line and block work, featuring bright color patterns inspired by graffiti on buildings and deep, earnest emotion. He also incorporated energy, music, and language into his process, all of which were formative pillars in his life outside of the studio. 
"The point about abstraction is you develop your own language. Language becomes pretty important to me. Why?  The mystery of language is that it's 26 letters and yet from those letters because you can combine and re-combine them you can make an infinite number of words. I think the same thing about the elements you use in terms of making drawings. Line, point, shape, value, color, form. You can take and begin to use them in new ways each time and then create something new and something different."
Brooker was also a successful teacher, serving as a faculty member at Tyler for one year in 1973 before moving on to work as an assistant professor at the University of Virginia in Charlottesville. The following year, he worked as an associate professor at the University of North Carolina. He went on to complete a residency with Philadelphia's Fabric Workshop in Museum in the 1980s, which encouraged him to learn printmaking and silkscreening processes. Brooker chaired the Foundation program at the Parson School of Design in New York from 1990-1994, and became a faculty member at the Moore College of Art & Design in Philadelphia from 1995 until 2012. 
In 2014, Brooker received a major commission to produce 23 stained-glass windows for an elevator tower at the Long Island Railroad building in Wyandanch, New York. In 2021, the Pennsylvania Convention Center commissioned him to create a large canvas painting. Brooker has shown work at the Philadelphia Civic Center, the June Kelly Gallery, Fleischer Art Memorial, Akron Art Museum, and the Philadelphia Museum of Art among several others. 
Brooker was a member of Reherche, a cooperative of Black artists founded in 1983 by a group that included Tyler alum Syd Carpenter. The cooperative aimed to showcase the diversity of Black artists and their styles, encourage young aspiring artists of color, and host their own exhibitions.
Brooker has been honored by The African American Museum in Philadelphia in 2011, received the 2010 Artist of the Year Award in part of the Governer's Awards for the Arts from Governor Ed Rendell, received a 2009 Medal of Achievement from the Philadelphia Art Alliance, and received the James Van Der Zee Lifetime Achievement Award from Brandywine Workshop in 2003. 
Brooker passed away on January 9, 2022.
Portrait courtesy of PAPA
Photo courtesy of The Fabric Workshop Museum: Listen with your eyes ttgg, 2010. Digital print on 100% silk crepe de chine. 40 x 40 inches. Unlimited edition.