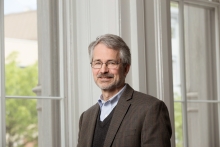 Robert Shuman Jr., AIA LEED AP
Robert Shuman is a principal at MGA Partners, Architects, the successor to Mitchell/Giurgola Architects, Philadelphia, whose body of work includes significant buildings for the federal courts, colleges and universities, and other private institutions. Since joining Mitchell/Giurgola Architects in 1982, he has developed expertise in building design and documentation, construction administration, exterior envelope design and detailing, building systems integration, energy efficient design, building code analysis, and general professional practice.  Professor Shuman holds an NCARB Certificate, and is a registered architect in Pennsylvania and New Jersey.  He is also a LEED Accredited Professional, and a member of the International Code Council.
Professor Shuman's perspective on architecture has developed over his career from the point of view of a maker of consequential physical objects.  This perspective has its roots in his early training as a carpenter, mechanic, and furniture maker.  After nearly 30 years of professional practice, much of which has required him to master the collateral activities of running a viable design based professional services business, his first principles still remain connected to the idea of 'making' with care physical things in time and space.    An architecture demonstrated in architectural terms, that is, as a physical proposal to be experienced by human beings in time and space.
An architecture fundamentally linked to the medium of building and construction, with a visceral and tectonic basis.

An architecture whose expressive power derives from its material aspect and the human craft required to shape it and assemble it.

An architecture intended to endure for generations and support many and varied human purposes.

A sustainable architecture recognizing the environmental responsibility of design, particularly minimizing carbon based energy usage.

An architecture integral with and expressive of engineering, specifically envelope, superstructure, and environmental conditioning systems.

An architecture whose form and space are shaped first by 'universal' program' values (e.g. shelter, light, view, entrance) and ways of building.

An architecture that is a fundamental vehicle for human history, both the history of ideas and the history of constructive work that embodies them.