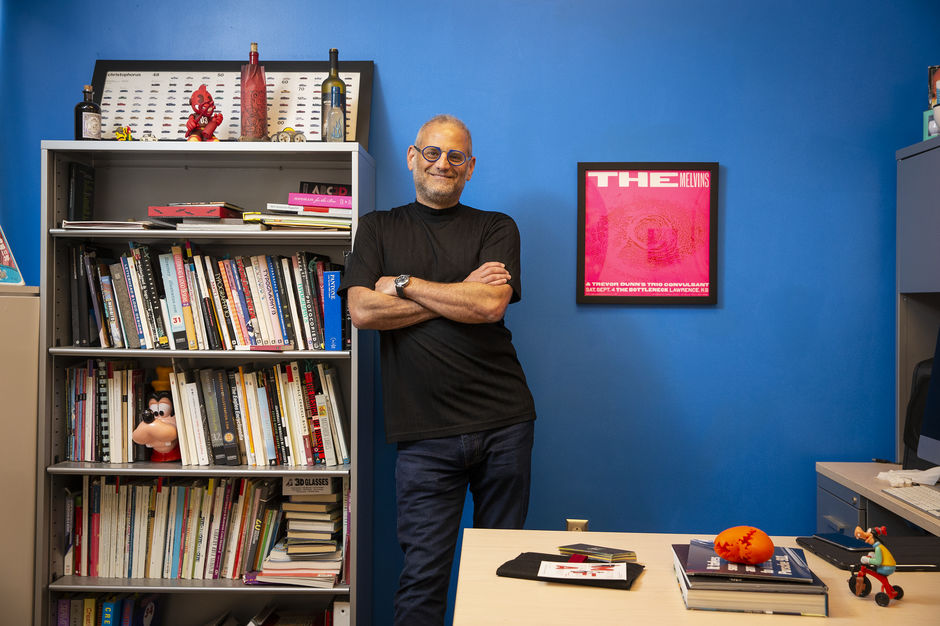 Professor
Graphic & Interactive Design
Scott Laserow
Scott Laserow is a graphic and poster designer who blends traditional graphic design techniques with emerging technologies. His research into political/social/environmental poster design began in 2004. Most recently Laserow's work explores the relationship of interactive technology and its effects on traditional poster design. His new research includes animated, augmented reality (AR) and interactive posters and how they engage the new generation of users. 
    
Most of Laserow's work has been pro-bono in support of humanitarian causes worldwide. He has won over 90 peer-reviewed national and international awards and has been featured in over 20 industry publications (a number of them on multiple occasions), including the cover of GRAPHIS posters 2015. His work has been included in over 50 peer-reviewed exhibitions in 16 countries. He has work in permanent collections throughout the world and has been invited to be an international juror for poster competitions on four occasions. Laserow continues to enrich his curriculum with the new knowledge he gains through his artistic explorations.
 
BFA, Graphic Design, Tyler School of Art and Architecture, Temple University, 1987
Selected Awards
Gold Medal (2017)
Ecuador Poster Bienal Exhibition
Awarded in the category of Social Posters.
Platinum Award Winner (2015)
Graphis Posters 2015 
One of nine posters selected annually, worldwide by Graphis.
Selected Work
Laserow, S., & Delgado, N. (2020). Making Posters from Concept to Design. London, UK: Bloomsbury Visual Arts. 
Laserow, S. (2019). Biennial of the Poster Bolivia BICEBÉ. La Paz Bolivia, November 18–23, 2019.
Laserow, S. (2018a). H2Ourglass and Plastic Fish [posters]. In R. Landa (Ed.), Graphic Design Solutions, 6th Edition (pp. 181 & 185). Boston, MA: Cengage.
Laserow, S. (2018b). Zip Up and Button Up [posters]. In M. Ilic & S. Heller (Eds.), Head To Toe The Nude In Graphic Design (pp.284). New York, NY: Rizzoli
Laserow, S. (2017 & 2009). Migaloo, Dry Africa and Plastic Fish [posters]. Lahti Poster Museum, Vesijärvenkatu, Finland.
Image credit: Temple University Photography / Joseph V. Labolito