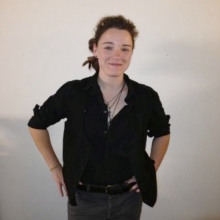 Tamsen Wojtanowski
Tamsen Wojtanowski's preferred mediums are photography, mixed media, and assemblage. In her studio she works with a number of different materials and processes to explore the malleability and accessibility of the photographic medium, through the creation of autobiographical imagery. Her work has been exhibited nationally in a number of solo and group exhibitions; most recently selected to be a part of the exhibition Second Self, at  Lux/Eros Gallery in Los Angeles, CA. Tamsen is a current member of NAPOLEON, a collectively-run project space that strives to provide a platform for new work and new ideas, by putting on monthly exhibitions and year-round programming.  
MFA, Photography. Tyler School of Art, Temple University. Philadelphia, PA.
BS, Cinema and Photography. Ithaca College. Ithaca, NY.