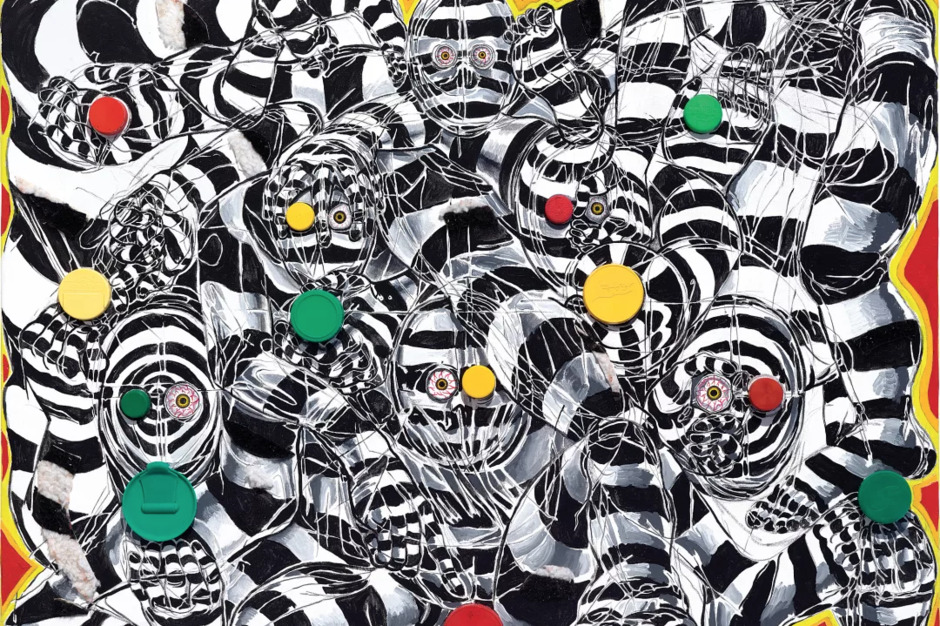 Painting
Trenton Doyle Hancock (MFA '00)
Trenton Doyle Hancock (MFA '00) creates prints, videos, drawings, sculptures, individual performances and collaged felt paintings. His use of color, language and pattern meld into energetic and subversive narratives that employ a personal mythology, the art historical canon and pop culture. 
"That's how Hancock's art rolls: Its visual rhythms pulse with energy as cartoon-style characters run amok…drawing all into a discussion of violence and suffering, love and redemption, race and class, art and life—in ways insightful and inspiring, playful and potent."
– Los Angeles Times
Hancock's constructed mythologies have been adapted for a variety of performances, including an original ballet, Cult of Color: Call to Color, commissioned by Ballet Austin, as well as site-specific murals for the Dallas Cowboys Stadium and the Seattle Art Museum's Olympic Sculpture Park.
His work was featured in the 2000 and 2002 Whitney Biennial exhibitions—at the time becoming one of the youngest artists in history to participate in the prestigious survey. His work has been featured internationally and lives in the permanent collections of many prestigious institutions, including the Museum of Modern Art and the Metropolitan Museum of Art, both in New York City; San Francisco Museum of Modern Art, CA; Dallas Museum of Art, TX; Museum of Fine Arts, Houston, TX; Museum Boijmans Van Beuningen in The Netherlands; and il Museo di arte moderna e contemporanea, Trento, Italy. He is also the recipient of numerous awards, like an Artadia Award; The Greenfield Prize at the Hermitage Artist Retreat; Art League Houston's Texas Artist of the Year; and the Texas Medal of Arts Awards in Visual Arts.
Portrait courtesy of Savannah College of Art and Design. "Bloodshot Eyes, Trippy Patterning, Red, Green and Yellow Coloration, Yep, This Piece is About Traffic Lights," (detail) by Trenton Doyle Hancock, courtesy of the artist.