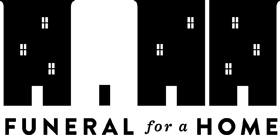 One out of every ten homes in Philadelphia sits vacant. Despite the first rise in our city's population in sixty years we still have more houses than people to fill them. As a result, our "City of Homes" has become a burden. According to the City's Department of Licenses and Inspections, over 500 come down every year--more than one a day. Each of these homes has a story to tell about a family, a community, a neighborhood, and the city that built it.  We, Temple Contemporary, and The City of Philadelphia's Office of Arts, Culture, and the Creative Economy propose honoring these homes through a community history, art, and engagement project that celebrates the life of a single Philadelphia row house as it is razed. Our project, A Funeral for a Home, calls upon recent historical research into Philadelphia's housing, shifting demographics, neighborhood history, and features the multi-vocal talents of Philadelphia artists. The goal of this project is to tell the stories of Philadelphia's vanishing homes through the recognition and celebration of a single house, neighborhood, community of stories, and art.
The most common and ubiquitous Philadelphia house is the row home. Architectural historian George Thomas named it, "the quintessential object of Industrial Philadelphia." At the height of Philly's greatest economic prosperity (1863–1893), these homes shot up at a rate of nearly ten per day. Built block-byblock to surround Philadelphia's factory-based industries, they differed from the row homes of New York City and Boston in their efficiency and affordability.  Since the 1950s, the majority of our city's development has been synonymous with demolition. However, in Philadelphia's traditional historic districts, developments such as the clearance of Independence Mall in 1952, the displacement of Philadelphia's first African American communities to build Society Hill Towers in 1962, and the leveling of Philadelphia's historic waterfront neighborhoods along the Delaware River during the construction of I-95, have often been met with considerable public reflection, planning, and discussion. Unfortunately, the houses in many of Philadelphia's most disinvested neighborhoods have not been given this same treatment.
Our Plans: This project proposes a bold shift from the focus on the preservation of iconic landmarks to honoring the personal histories tied up in our disappearing homes. By engaging blocks of Philadelphia residents who currently live with issues of home abandonment, deconstruction, and redevelopment, this project will solicit stories and histories of the contemporary social landscape in Philadelphia. Just as you might gather information from a spectrum of relatives, acquaintances, and colleagues to build an obituary of a loved one, A Funeral for a Home will do the same with residents, scholars, architects, and urban historians who care to chart the issues of abandonment and preservation that challenge Philadelphia. The implementation of this process involves three primary steps. The first and longest stage in this process is a five-month intensive research phase involving community stake-holders, neighborhood residents and families. This outreach process will not only be used to locate an emotionally appropriate home, it will encourage current/past homeowners/tenets to appreciate that they are the housekeepers of a history worthy of preserving. This learning and preservation process will be guided by consulting historians and preservationists including Randall Mason (Chair of Preservation, University of Pennsylvania), Seth Bruggeman (Associate Professor, Public History, Temple University), and Jeffrey Cohen (Architectural Historian, Bryn Mawr College). This outreach process goes hand in hand with Philadelphia's Redevelopment Authority, Community Development Corporations, neighborhood associations, and Licenses and Inspections to ensure that the home selected is also structurally suitable. With the house selected, we will work with all of the collaborators mentioned above to mark the passing of the selected house, culminating through collaboration with a demolition crew in the razing of the home. The purpose of this free, public event will be to celebrate the joys that a family home has brought to a particular community while inclusively marking the passing of our houses with the building of our history.
Taking its cues from funeral customs commonly practiced in Philadelphia, this honoring will include music, eulogies by neighbors, historians, past owners, a viewing, and the final resting. We have been in conversation with the Philadelphia Inquirer and other media outlets, all of which are willing to publish an obituary for this home.Artists Jacob Hellman and Billy and Steven Dufala are committed to this process and will work with neighbors, the funeral home and demolition crews to help realize this funeral event.
The final piece of this project combines the first two stages of the process into an oral history from those who have shaped Funeral for a Home. This free digital resource will be available to the public and distributed through a range of outlets including a compiled history of the complete project's archive (audio files, objects, and ephemera) into the Philadelphia Urban Archive (managed by Temple University). A website with live streaming and blog capabilities will chart the creative process of this project and allow others to contribute to the changing social and architectural landscape of Philadelphia's domestic history by uploading content about their own neighborhoods and homes. All of these initiatives collect and connect Philadelphia's domestic history while sustaining the unique moment of reflection that redevelopment inspires.
Funeral for a Home has been supported by the Pew Center for Arts & Heritage