The Ambler Campus Landscape Architecture and Horticulture Greenhouse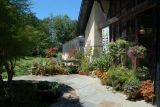 The Ambler Campus Landscape Architecture and Horticulture Department Greenhouse Located on Temple University's suburban Ambler Campus, the LA-Hort Department Greenhouse facilities contain a diverse collection of teaching and research plants, provide a controlled environment for student and faculty research projects, and enable plant forcing for Temple University's yearly exhibit in the Philadelphia International Flower Show. Together with the Ambler Arboretum of Temple University, the Greenhouse helps provide students and visitors with a unique and comprehensive horticulture experience.
Environmental conditions in the Greenhouse are controlled by automatic computer technology and utilize a dual-purpose retractable solar blanket to trap in heat at night, reducing heating needs. This material is also used in the summer to shade the plants and reduce the cooling load of the greenhouse. Greenhouse conditions including temperature, relative humidity, photosynthetically active radiation (PAR) and leaf wetness are monitored every five minutes and compiled into graphs that can be viewed by students and researchers to understand the greenhouse environment.
Attached to the Greenhouse, the headhouse features a 72" monitor for group presentations and also functions as a lab space for numerous Horticulture and Botany courses.
The Greenhouse facilities also include a 1,500ft2 heated polyhouse used for plant forcing and overwintering, an enclosed shade house, and a 1-acre deer fenced Research Garden used for food crop production and research projects.
Course Use:
A wide variety of courses in the LA-Hort program use the Greenhouse facilities. These include Food Crops, Herbaceous Plants II, Plant Propagation, Greenhouse Management, Plant Physiology and Applied Plant Physiology, and Botany. Fundamentals of Horticulture, Applied Plant Pathology, and Applied Entomology courses often feature one or more special labs or fieldtrips to the Greenhouse and Arboretum.
Permanent Teaching Collection:
The Greenhouse staff maintains a wide range of tropical and subtropical plant species. These plants are utilized by various courses for plant identification, plant morphology and physiology experiments, as well as students and Campus faculty and staff who just need to see some greenery in the middle of winter. Within the 5,200ft2 of growing space, you can find plants from all over the globe, from deserts to rainforests. There are plants that have mutualistic relationships with ants (myrmecophytic plants) and ferns that float on water (Azolla). The collection also holds the plant species with the largest inflorescence in the world, the titan aurum, and the host plant (Tetrastigma) for the world's largest flower, the parasitic Rafflesia.
Current collection statistics:
94 plant families represented

254 plant genera represented

425 distinct plant species represented

567 individual plants, including cultivars
To get more information about the greenhouse within the department contact:
Benjamin Snyder
Greenhouse Horticulturist
(267) 468-8180