Helen Williams Drutt English's (BFA '52) promised donation of her expansive collection of art books will bolster Temple's robust resources for artists and scholars.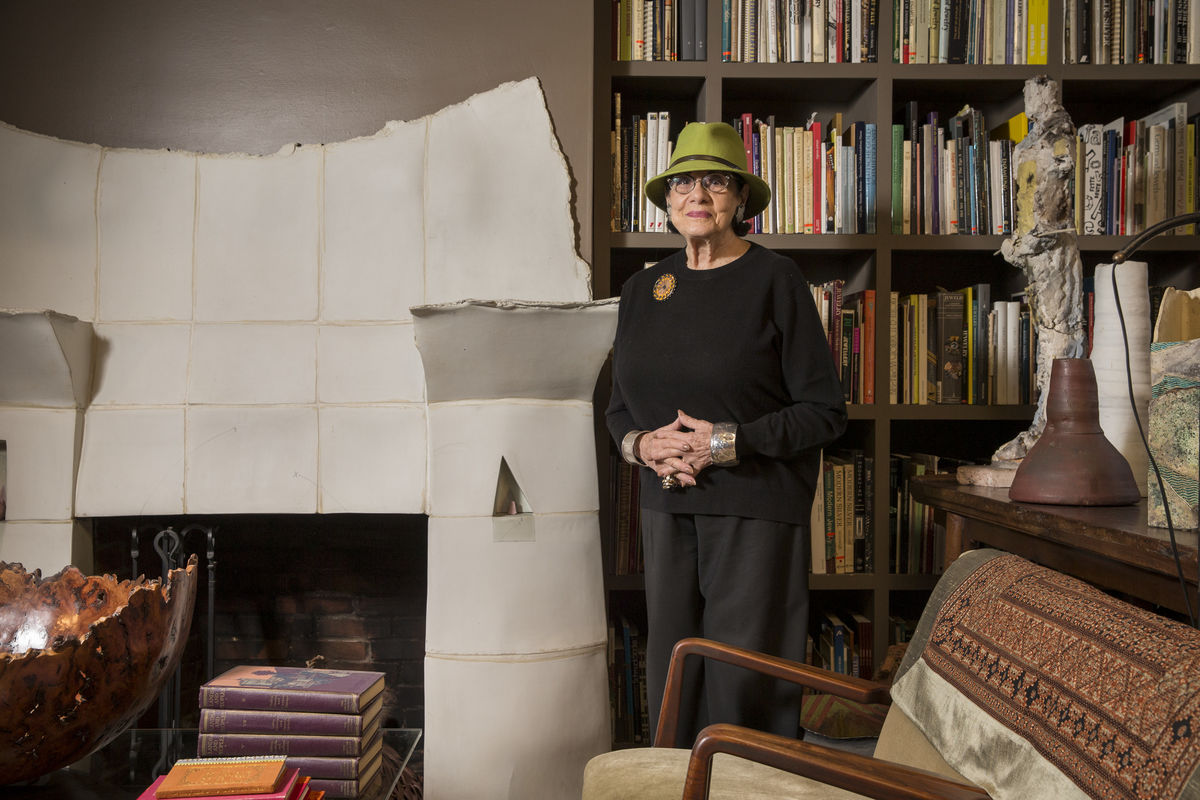 Helen W. Drutt English (BFA '52) in her library.
Tyler School of Art and Architecture alumna Helen Williams Drutt English (BFA '52) has made an extraordinary promised gift of her collection of art books to Temple University, furthering her commitment to the modern and contemporary craft movement while enhancing the scholarship and practice of Tyler and Temple students.
A renowned former gallerist, author, lecturer, curator and collector, Drutt elevated American crafts on the global stage and introduced renowned international craft artists to the United States. Her archive, which includes the library, is a highly-regarded resource for scholars and artists, which was developed over 55 years. While the library will be gifted to Temple University, the rest of her archives will go to the Archives of American Art, Smithsonian Institution. Included in Drutt's gift are several poetry volumes from the important collection of the late Maurice English, founding director of Temple University Press. Collected throughout his long career, these books will be cherished as part of English's continuing legacy within the Temple community and Philadelphia at large.
The first section of Drutt's gift will enter Temple's new Charles Library on Main Campus in Philadelphia this fall, and each book will contain a bookplate commemorating the gift. "This collection will substantially increase the research opportunities for students and faculty in an area that is of particular strength to Temple," said Dean of Libraries, Joe Lucia. 
Drutt attended Tyler from 1948–1952, when the school was originally located at Elkins Park. Faculty and fellow artists Rudolf Staffel, Herman Gundersheimer, Arlene Love and Ted Hallman became lifelong friends from that period. Following those years, Stanley Lechtzin [who founded Tyler's Metals/Jewelry/CAD-CAM Program in 1962] and Robert Winokur [BFA '56 and Tyler professor of ceramics from 1966–2005] joined forces with Helen in their commitment to the crafts. "I'm thrilled that my collection will be of service to current and future faculty and students of Tyler as well as the broad range of disciplines across Temple," Drutt said.
Drutt was a founding member of the Philadelphia Council of Professional Craftsmen [1967–1974], developed the first college-level syllabus on the history of modern crafts and founded the Helen Drutt Gallery in Philadelphia [1973–2002]—one of the first galleries in the country dedicated to modern and contemporary crafts.
"As I became deeply involved in my field," Drutt said, "I acquired books on public and private collections, catalogues, monographs from all disciplines and more. Robert Judson Clark's The Arts and Crafts Movement in America 1876–1916, Nikolaus Pevsner's Pioneers of Modern Design and Lee Nordness's Objects U.S.A. signaled the desire to develop my library. As I began teaching the history of the craft movement, I broadened my collection to include works on international crafts, art and architecture."
Drutt's scholarship and passionate advocacy of American crafts has had a profound impact on the field. As a collector and gallerist, her ability to identify and select artists has been visionary—she has exhibited major crafts artists in the fields of clay and metal, and her collection of jewelry has traveled worldwide and now resides in the permanent collection of The Museum of Fine Arts, Houston.
Additionally, she has published numerous books, catalogue essays and articles on crafts. Previously, she has been Philadelphia's cultural ambassador, strengthening the visibility of contemporary crafts in the city; a member of the International Academy of Ceramics; a panelist for the National Endowment for the Arts; a board member of the Archives of American Art, Smithsonian Institution; and the American board of the Ilias Lalaounis Jewelry Museum in Athens, Greece; among other service roles. She has received the highest honors in the crafts field, including an Honorary Fellow of the American Craft Council; the Lifetime Achievement in Crafts award from the National Museum of Women in Washington D.C.; the Goldsmith's Hall of Fame inductee; the Founders' Circle Award from the Mint Museum of Craft and Design; and the Hermitage Museum Foundation: USA Award. She also has three honorary degrees from the Philadelphia College of Art, Moore College of Art and Design, and Alfred University.
"Helen's gift is a unique contribution to Tyler," said Tyler's Dean, Susan Cahan. "Her library will make a profound impact on how our students research and develop their respective practices. Such a contribution is only more meaningful coming from a distinguished alumna like Helen—her legacy as arguably one of the most knowledgeable collectors, scholars, curators and advocates of crafts will forever be remembered in this exceptional collection."
TEMPLE UNIVERSITY PHOTOGRAPHY / JOSEPH V. LABOLITO