Back to Blog
April 5, 2022
Art Therapy's Hope Springs Installation Spreads Joy Across All Programs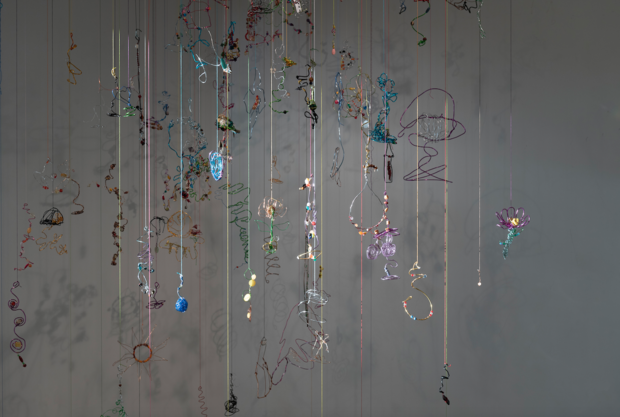 Art Therapy major Kianna Cooper (BA '22) unwinds a length of black thread, snips it and knots an end around a colorful, twisted wire-and-glass bead object. Then she eases up a ladder and loops the other end around the exposed coil innards of a full-size mattress. 
Cooper is adding final tendrils to a mobile-like installation title Hope Springs, conceived by Graduate Assistant and Peer Art Education Advisor Ali Ruffner (MEd '22) and executed with Art Therapy Program Head and AECAP Department Chair Dr. Lisa Kay as a project to uplift Tyler students, faculty and staff alike as they returned to in-person learning last fall from the imposed separation of the COVID-19 pandemic. 
Upon the return to campus, Dr. Kay hoped to inspire students and faculty within the Art Education/Art Therapy Department by turning meetings into therapeutic art-making sessions. Ruffner recalls how those early meetings transformed into something much more cathartic and collaborative as everyone realized how important it was to push toward some sense of normalcy. 
"It felt nice to spend time with each other, and this was a great way to engage with people of varying levels of art-making skill and interest. Each object in the installation is made by somebody different," Ruffner says. 
What started as just a department exercise later branched out into craft workshops during Temple's convocation where non-Tyler students were welcome to explore the programs. They were encouraged to create something that followed the prompt: "Using materials that inspire you, create a 'Hope Spring' that tells your story in response to the theme of hope and future." 
"Each group that we worked with was different," Ruffner, who facilitated the workshops, says. "Sometimes it would be completely silent and everyone was just digging through this bucket of beads, focusing on getting back to play, and figuring out what it means to really make something. They were really shutting their brains off from the pressures of everyday art-making that can happen. Other groups were really loud and active and sharing their ideas. Some people wanted to keep their object; some people wanted to make a ton of objects. It was a very low-pressure activity." 
The making process looked different for everyone, and for Cooper, her experience felt intuitive and free. "I just started messing with the wire. There were lots of found objects to work with, beads, charms. Then I would look for things that stood out to me. I made something like a scale. Some students made flowers, butterflies. A lot of people gravitated toward nature themes." 
Interim Photography Program Head Rebecca Michaels speaks to the success of the workshops that she led while promoting a Photography GenEd class. "What I saw during those few hours was a community of students coming together to learn about each other while satisfying their want to make something. Students who came to the table as strangers would engage in conversation and then leave together making plans to do something together." 
I was amazed how successful this activity became as a way to recruit Temple students to take our non-major Photo classes. It is hard to describe the impact of this project on shy and reluctant Temple students who are afraid of Tyler yet yearn to be part of the community. I don't know how to grow this project, but I have seen how Temple students responded so positively and would love to be involved." 
Ruffner hopes that interested students and faculty recognize how "authentically interdisciplinary" the Hope Springs installation is. "There were so many contributions from all over Temple. It's great to have something made by so many people. This is truly community-built." 
There will be future workshops to contribute to the Hope Springs installation, now located outside of B10. There will be signage posted with instructions for participation.
Photo by Sam Fritch