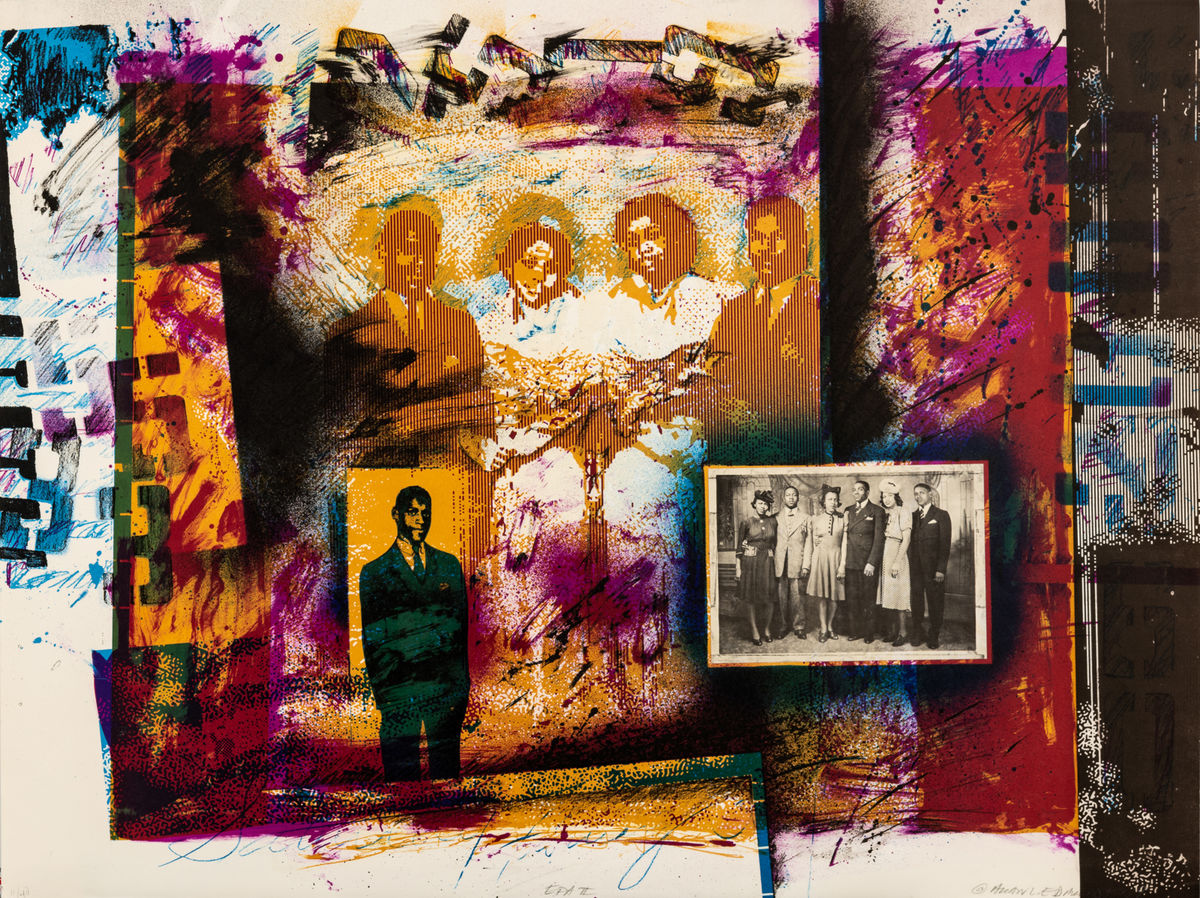 Brandywine Workshop and Archives Founder Celebrates Five Decades in the Arts and Shows New Work at Philadelphia's Woodmere Art Museum (October 29, 2022-January 22, 2023)
Within months of graduating from Tyler with his BFA in Printmaking in 1971, Allan Edmunds (BFA '71, MFA 75) had the good fortune of having his work accepted in an international printmaking exhibition at the Philadelphia Museum of Art, which led to breakthrough notoriety in his budding career. 
The esteemed, award-winning visual artist and art educator recalls being handed this moment of "fame" and knowing that he had to do something productive with the platform he'd been given, which led him to volunteer in the North Philadelphia arts community where he set up a printmaking workshop for teenagers. "I always saw my opportunity as creating that opportunity for somebody else. You get in the door, and you prop that door for the person behind you," he says. 
In 1972, Edmunds went on to found Brandywine Workshop and Archives, a non-profit visual arts organization that under his leadership has served as a center for the advancement of fine art printmaking and an oasis that has paved the way for other artists of color to lead successful careers. 
Edmunds is retiring this year after a milestone career of five decades spent working in the public arts. The Brandywine Workshop also provides training, collaboration, mentorship, and support for artists of all ages and backgrounds, and Edmunds is internationally recognized for elevating printmaking to a substantial pillar of the fine arts. On the Brandywine Workshop and Archives, Edmunds discusses what he feels is the organization's legacy is. "We've honored some of the greatest artists ever within the history of African American artists," he says. 
Edmunds attended Tyler's Elkins Park campus and was encouraged by Romas Viesulas, chair of the Printmaking Department at the time, to pursue art education. After spending his junior year at Temple's Rome campus, he was further inspired by the Tyler faculty to commit to teaching after graduation and planned to open a workshop to work with young people in his community. 
Edmunds grew up in a segregated neighborhood in West Philadelphia and reflected on the lack of diversity that he experienced there. "I wanted to teach in the school district of Philadelphia when I got back — not at the college level. I thought that if you were already in college, then you were already on your way to starting your career. I wanted to be around students who didn't have that opportunity and help get them there," he says. Edmunds taught in Philadelphia high schools for two decades while working as a practicing artist. 
He credits Tyler as a leading institution in diversifying the fine arts. "If Tyler ever wanted to celebrate their African American alumni, that list would be deep and rich. Tyler was always more than welcoming."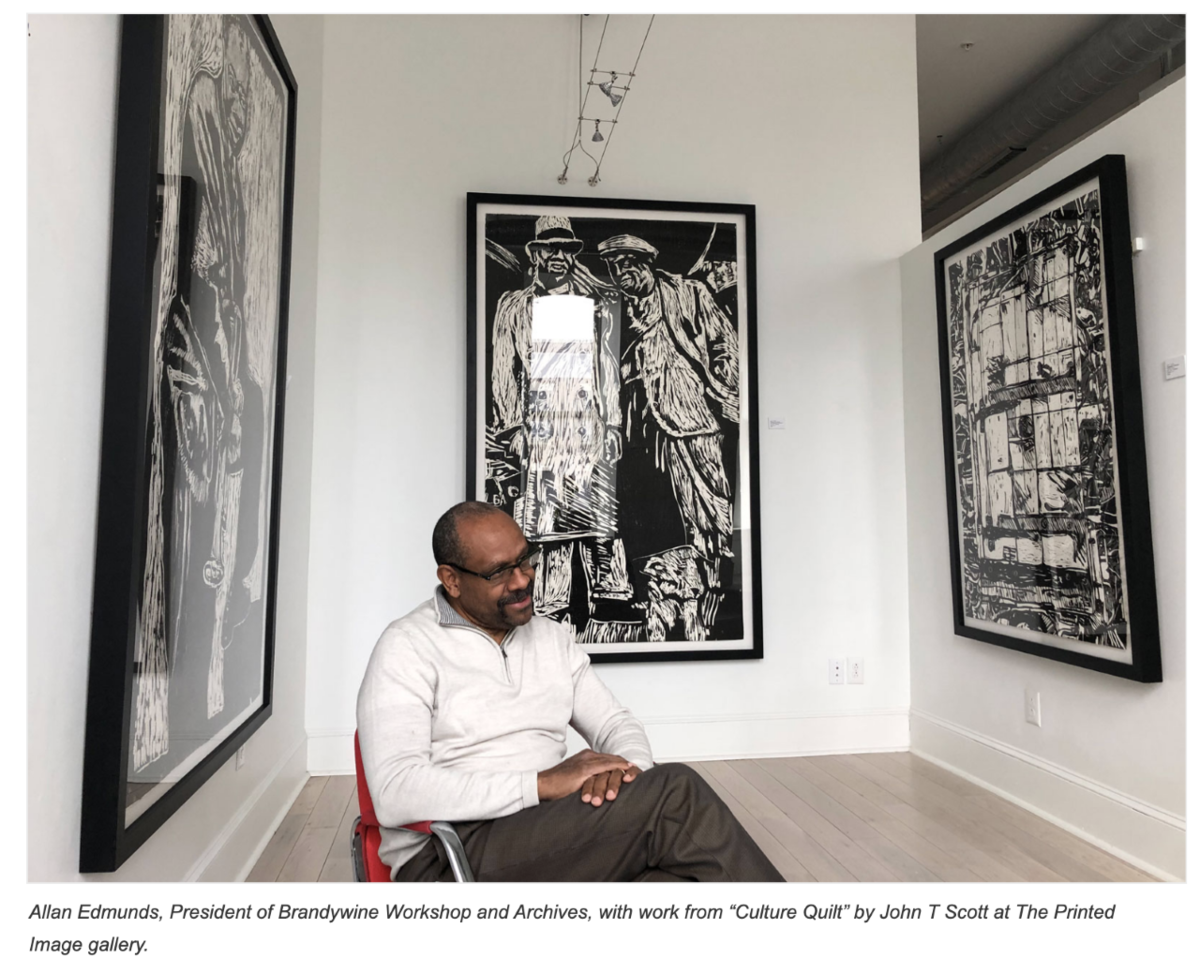 Working Toward an Inclusive Public Arts Scene
Founding the Brandywine Workshop and Archives was inspired by periods of transition. "It was the end of the Vietnam War, the end of the Civil Rights Movement. Everything was changing. I thought that the best way to sustain those changes was through education. It was my realization that individuals cannot [always] sustain movements, but they can start them. They can energize them. But they must be backed by institutions. There was very little support for artists of color, both male and female, and they were marginalized as not contributing to American culture. They weren't in books, museums. I decided to start the Brandywine Workshop — and later, Archives — and enlisted older artists I knew to serve as the board of directors." Many of Edmunds' board earned their bachelor's degrees at Tyler. Viesulas and Emeritus Professor of Printmaking John Dowell (BFA '63,) were among the founding members. 
Over the years, The Brandywine Workshop and Archives has educated artists and visitors on the value of printmaking and its techniques. "In the printmaking world, there's never been a huge dollar amount attached to the work. Prints by definition are multiples, and if it can't be unique, people think it must not be valuable. The artists in this field were undervalued within their own ethnic communities because there was so little exposure, and the cost of art was associated with its worth. We expose people through our programs to what artists' ideas are, what their medium is about, and place a value on their original work, both from named artists and rising up-and-comers. I don't think there's an organization in the country who can match our innovation and education," Edmunds says.  
The Brandywine Workshop and Archives also has international connections, working with travel exhibitions in over 35 different countries. Within the United States alone, Edmunds' team has participated in exhibitions in more than 30 states. The Brandywine Workshop and Archives also recently raised over $1 million to establish a Visiting Artist Fellowship for artists who are living and working in Africa, giving them the opportunity to work at the workshop for one month.  
"When you talk about what we've accomplished, we've put in place information. Had all this work by artists of color not been documented and shared the way we have, it could have been lost," Edmunds explains the archival aspect of the Brandywine Workshop. They have archives of almost 20,000 prints that have been purchased, created, and donated in an ever-growing online database that can be accessed through their website. "We started this 50 years ago with nothing. We scrounged around for supplies, and now we have a global imprint."  
To celebrate Edmunds' career, the Woodmere Art Museum in Philadelphia will be showing his first exhibition of work in 23 years titled, Printing as Prologue: Recent Work by Allan Edmunds from October 29-January 22.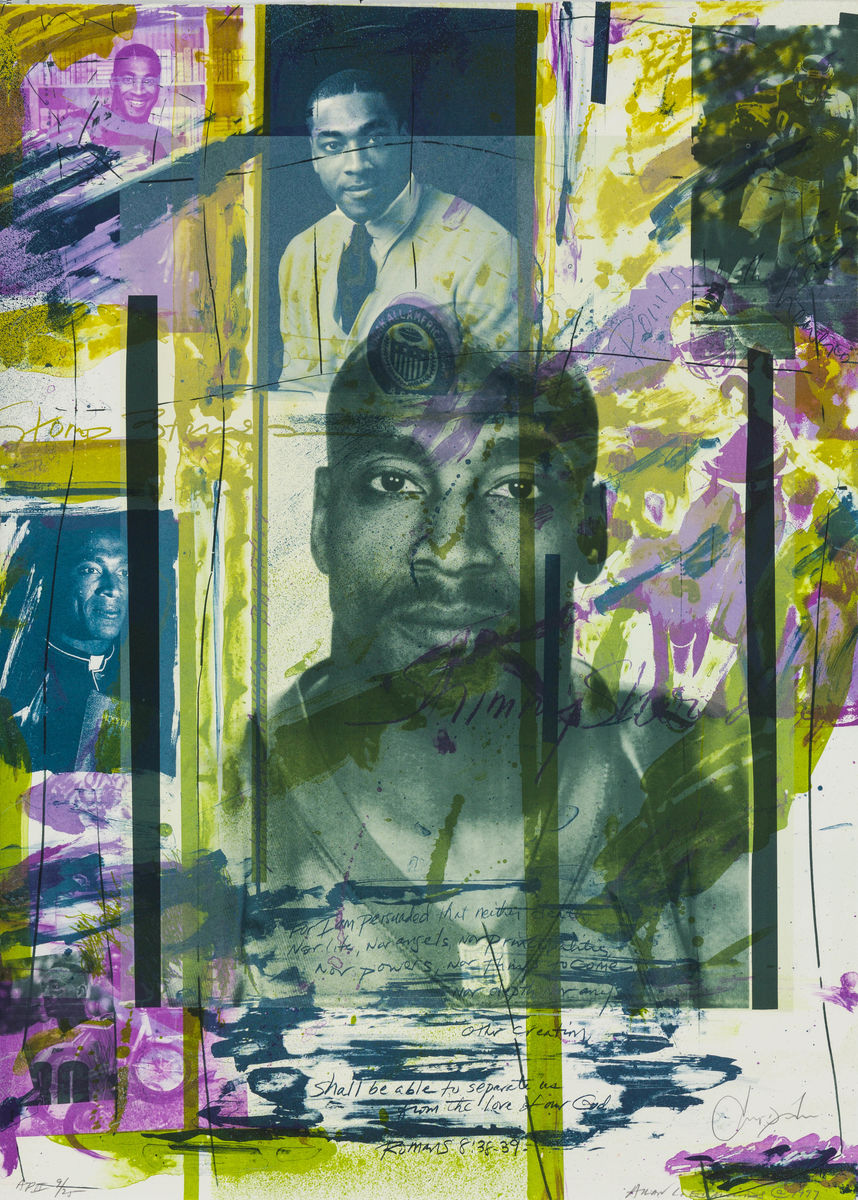 "Irving Fryer," Allan Edmunds, 1997. Offset Lithograph, 30" x 22". Photo courtesy of Brandywine Workshop and Archives.
Header image: "EFA II," Allan Edmunds, 1987. Offset Lithograph, 22.5" x 30". Courtesy of Brandywine Workshop and Archives.