Tyler's Jesse Harrod, extraordinary artist and educator, is the 2020 recipient of Temple's Faculty Award for Creative Achievement, recognizing outstanding creative work of international significance.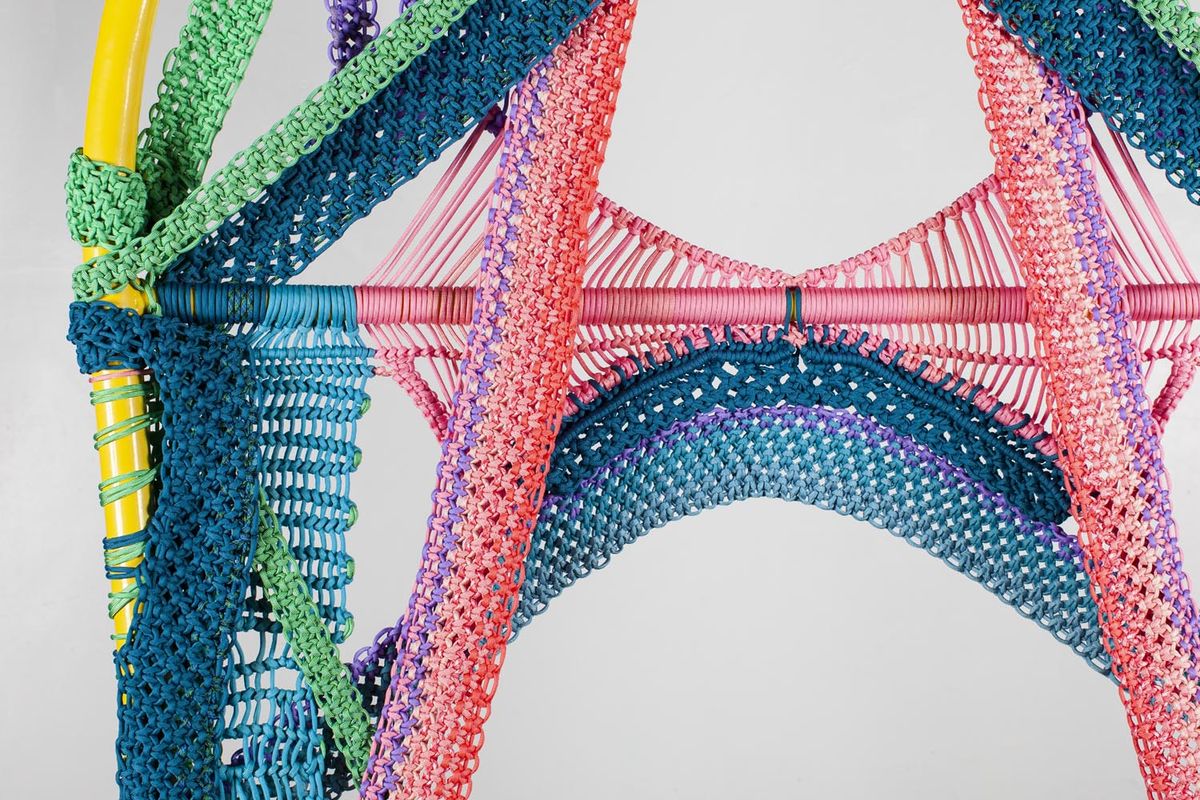 Sacs [detail] by Jesse Harrod. Metal, Paracord. 2019
Jesse Harrod, associate professor and program head of Fibers & Material Studies at the Tyler School of Art and Architecture, has received Temple University's Faculty Award for Creative Achievement. Harrod joins other Tyler visionaries to earn this award, including Dona Nelson (Painting) and Marcia Hall (Art History), as well as top Temple faculty in music, dance and other creative disciplines.
"It's an honor," Harrod said. "This award will help advance my research, artistic practice and ongoing inquiry into genderqueer embodiments."
Harrod's practice is deeply rooted in social justice ideology and explores both gender and sexual identity. Their interdisciplinary work builds on herstories of 1970s feminist art to offer queer imaginations of the body, while investigating a range of subjects like the role of textiles in colonization and how gender and gender expression are performed in objects. They have developed a board game to educate about HIV/AIDS, used in Ontario schools; published a book about sex and sexuality with Toronto Public Health; and created a self-sustaining mural company to combat hate graffiti.
Harrod's work has been included in group and solo exhibitions nationally in New York, Los Angeles, as well as internationally in Italy, South Korea and Japan, among other countries. They have been awarded numerous residencies, like the Banff Center for Arts and Creativity and the Icelandic Textile Center. Their work was featured in the field-defining survey exhibition, Haptic Tactics: Queer Strategies for Abstracting Touch and Desire, at the Leslie Lohman Museum in 2018. 
Recipients of Temple's Faculty Award for Creative Achievement receive a $5,000 stipend, which Harrod intends to invest in a tapestry loom for their studio—something they were introduced to during a sabbatical in Iceland in 2017. 
Harrod describes the relationship between their teaching and artistic practices as a "constant circle," as represented in their leadership in Tyler's Fibers & Materials Studies Program that has developed the annual Wearable Art Show, in which students create work that pushes our understanding of fashion and art, and the Queer Materials Lab, which encourages a broader LGBTQIA+ discourse and welcomes visiting artists to engage in dialogue with students and create work in Tyler's state-of-the-art facilities. Recent artists in residence at the Queer Materials Lab include Kat Richards, Keenan Bennett, Katie Kaplan, Noemi Charlotte Thieves, Faythe Levine and Jeanne Vaccaro. 
"We're thrilled that Jesse has won this distinguished award," said Tyler's Dean Susan Cahan. "As an artist, they give form and voice to overlooked, underrepresented and challenging subject matters. The exemplary quality of their work continues to impact both the professional field and Temple and Tyler's communities."
This summer, you can experience Harrod's work in a group exhibition at Shirley Fiterman Art Center in New York City. They are also developing a commission for Art Preserve, John Michael Kohler Art Center in Sheboygan, Wisconsin and new work for Queer Threads: Crafting Identity and Community at American University, Washington, DC.
You can view more of Harrod's work in Tyler's faculty gallery. 
Portrait courtest of TEMPLE UNIVERSITY PHOTOGRAPHY / JOSEPH V. LABOLITO.
Above image courtesy of the artist.