Thesis Exhibition: April 5- April 8, 2017
Opening Reception : April 7, 6-8pm
---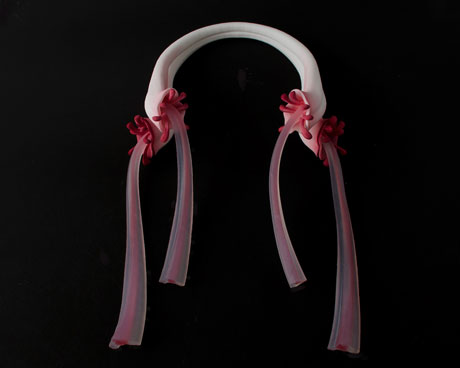 Flowing VI, 2016, Neckpiece, 3D print nylon and casted silicone, 8''x13''x2''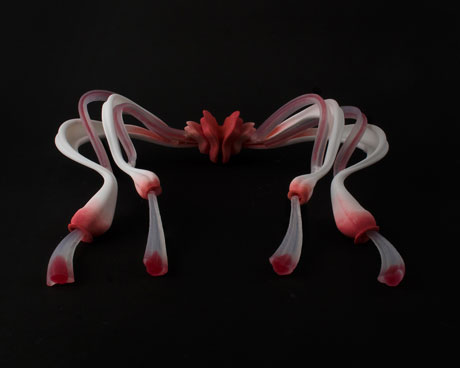 Flowing V, 2016, Neckpiece, 3D print nylon and casted silicone, 12''x7''x3''
---
Artist Statement
My works inspired by blood, the most commonly tested part of the body, every cell in the body gets its nutrients from blood. A piece of jewelry could also be a part of human body when people wear them, and the blood establish a bond of the physical body and jewelry.
 My current body of work mimics human blood vessels and how they flow in our veins. Each of my pieces is animated; they always surrounding the body, and engaging it with the body helping to build a closer relationship. The organic forms I make based on flowing water and opening flowers represent strong vitality and are charged with a dynamic energy.
I integrate silicon with 3D printed materials in my artwork, and the hard surface covers the soft inside as well as reflects the physical body. The silicon parts emerging from 3D printed nylon show the movement and fluidity which gives an organic quality to my work that becomes evident when the piece is on the wearer.