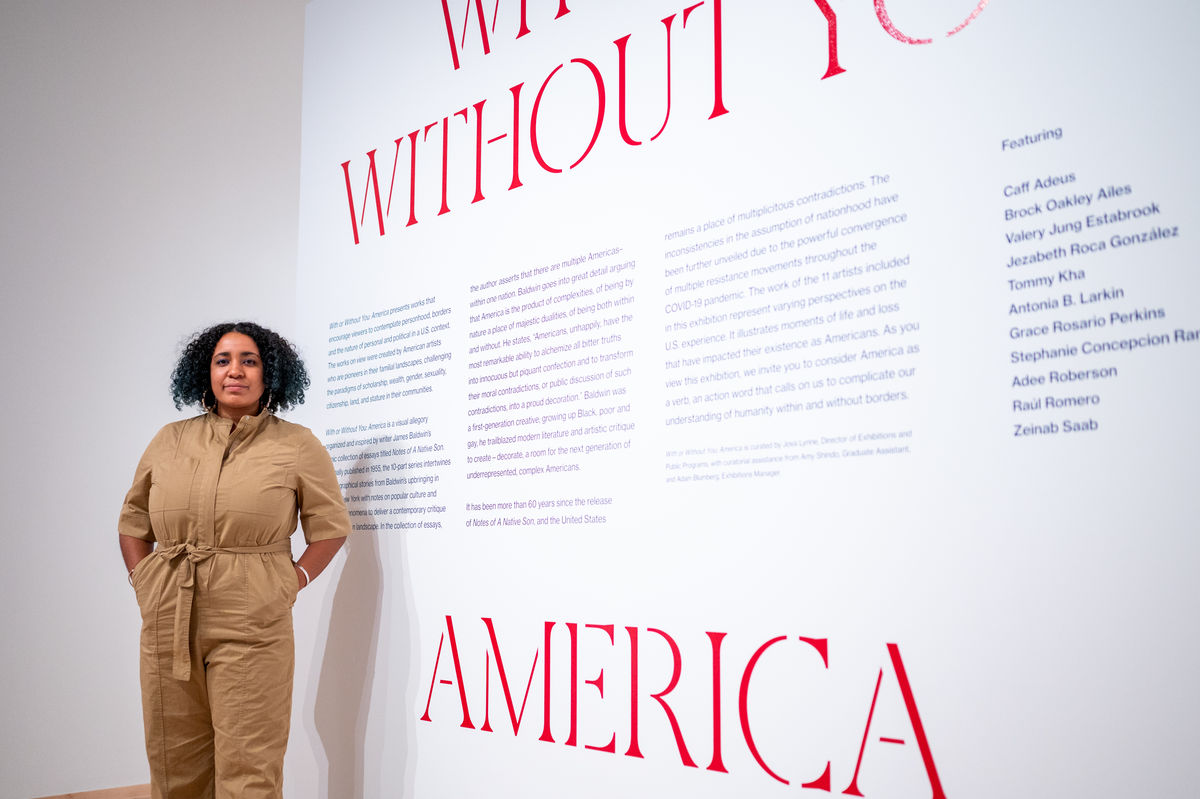 Jova Lynne, Tyler's new Director of Exhibitions and Public Programs, opened her debut exhibition With or Without You: America at Temple Contemporary on August 26. The show highlights work by 11 first-generation American artists from across the United States that encourages viewers to contemplate personhood in America. Lynne spoke with us about her curatorial approach in creating this first exhibit, her transition from the Museum of Contemporary Art Detroit and to a university gallery setting, and what she feels she brings to Temple Contemporary and Philadelphia's rich public arts scene.  
With or Without You: America is inspired by James Baldwin's iconic collection of essays Notes of a Native Son, as well as what Lynne describes as "the politics of how history has informed the now," and cites Baldwin as one of the most prolific writers to cover these societal issues surrounding the meaning of personhood. "I've also always been interested in decolonial practices, but in a way that could complicate the approach of the first-generation narrative." This exhibition begs the question of exploring personhood in America, and in their work the artists reflect across myriad experiences ranging from race, class, grief, and joy. 
When choosing artists to showcase, Lynne says her goal is "to think about presenting artists who have robust and amazing practices that students wouldn't be that aware of. To show what's possible, what's out there. Artists' careers are so vast and so non-linear in a lot of ways." This year, Temple Contemporary will host more exhibitions with professional artists than ever, including professional artist exhibits during the school year and social practice projects in the summer. 
Lynne plans for Temple Contemporary to become a fixture in Philadelphia's art scene, and in order to make that happen, she recently met with a network of 34 community leaders in the art education and social justice fields who played critical roles in providing feedback about how to amplify the gallery's outreach. Temple Contemporary was awarded a unrestricted grant from the William Penn Foundation, matched by the Mellon Foundation, that allowed Lynne and her team to "consult with artists, activists and cultural workers to envision the future of the gallery," according to the project's description. 
"I want Temple students to be able to come and really understand and experience what contemporary practice is. I want to more clearly reflect our neighbors. What are the things that are happening in the world and in our neighborhood that artists are addressing and thinking about? I know our location is in Tyler, and I want to welcome people into our space," Lynne says.  
As far as putting those ideas into action, Lynne emphasizes the importance of leaning on Tyler community in order to shape the future of Temple Contemporary. "Just listening and being present and forging relationships is going to really encourage this next step for the gallery's image and vision," she says. 
Lynne also says that, while curating exhibitions, the most important thing to her is trust between her team and the artists. "All exhibitions need to be built on a foundation of trust. The artist needs to be able to trust me and how I'll interpret their work. We need to build robust programming together, and I want the community to respond to it in a meaningful way." 
Over the fall, Lynne will collaborate with Tyler faculty and staff on a variety of events, including Tyler's Critical Dialogue Series, the Jack Wolgin Visiting Artist Lecture, a community risograph week, and an exhibition by painter and sculptor Rajni Perera.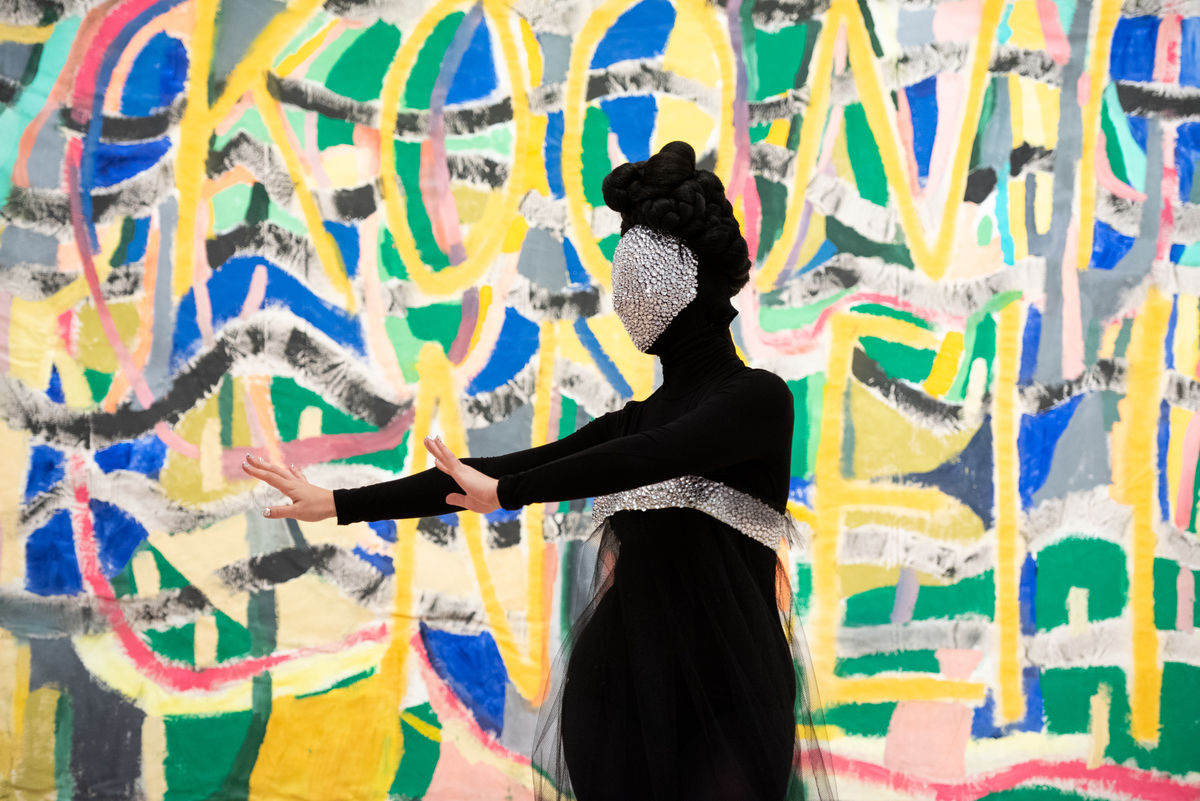 Image credit: Valery Jung Estabrook performing at With or Without You, America opening reception; Margo Reed Studio
Header image: Jova Lynne; Margo Reed Studio