Thesis Exhibition: March 14-17, 2018
Opening Reception: March 16, 6-8pm
---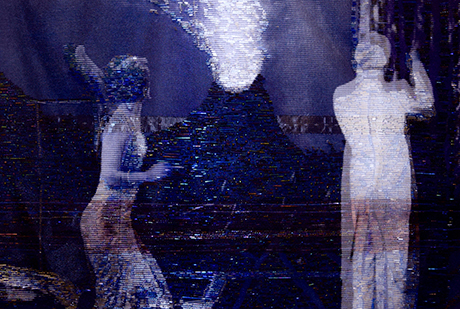 Rose Hobart 02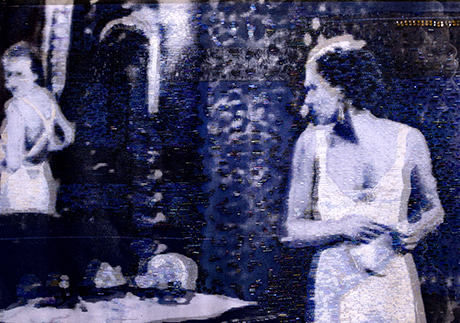 Rose Hobart 01
---
Artist Statement
Using my training as a cultural anthropologist, I create project-based images,
objects and installations that critically examine the artist as a consumer, fed by modern
American culture. I straddle the line between observer and participant by conducting
research into issues I encounter in my own life. I begin by accumulating imagery,
historical sources, data, and experiments to interrogate how and why I think, feel, and
behave the way that I do. I then use printmaking techniques as a primary mode of
production, in order to mimic both the aesthetics of scientific regimentation and
traditional methods for the dissemination of information.
In my Rose Hobart series, I explore ways in which screens—be they phone, film,
television or laptop—function as mirrors: albeit ones that filter and distort as much as
they reflect. Layering screen-printed silk gauze over cyanotypes on taffeta, I increase
the tangibility of the screen as it is arrested by a single image, repeated. Different
sheens of appliquéd textiles and the mis-matched edges of layers evoke horizontal
tracking glitches, and iridescent beadwork optically reflects the red, greens, and blues
of a TV screen's pixels. My material choices accentuate the dissolution of the screened
image with deletions and distortions, in order to accelerate the breakdown of the
traditional gendered gaze. Appropriating imagery ranging from screen shots of blocked
subscription-channel late-night tv shows to surrealist and neo-noir film stills, the series
examines what is potentially lost (or revealed) when images of female bodies are
processed through the illusory depth and liminality of a backlit screen.