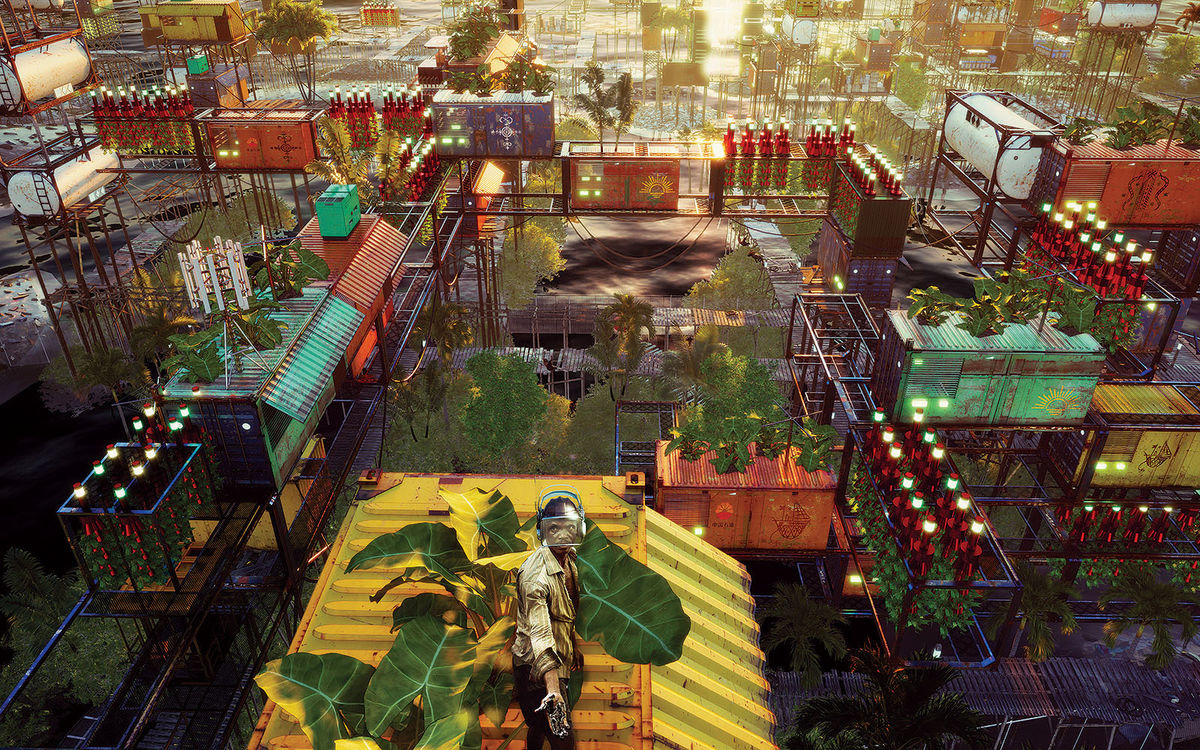 The Tyler School of Art and Architecture at Temple University is pleased to welcome visual artist Olalekan Jeyifous to present its 2022 Knowles Architecture Alumni Lecture on Thursday, March 10 at 6 p.m. ET for an in-person public audience at Temple's Charles Library and via livestream.
Jeyifous's work reimagines social spaces that scrutinize the relationship between architecture, community and the environment, confronting social issues such as inequality, gentrification, and climate change through installations, large scale murals, large-scale public artwork and 3D computer models that reflect ideas about Afrofuturism and architectural dystopias.
In MoMA's critically acclaimed 2021 show Reconstructions: Architecture and Blackness in America, the Cornell-trained architect explored the question "What if Black Communities were given the space and resources needed to thrive?" through digital collage, animation, and sculptures that combined his architectural training with his artistic practice. Click here to view Jeyifous's contribution to the exhibit.
Currently based in Brooklyn, Jeyifous has also exhibited at the Studio Museum in Harlem, the Vitra Design Museum in Weil am Rhein, Germany and the Guggenheim Bilbao, among other institutions. He has spent over a decade creating large-scale public installations and was recently commissioned, along with fellow artist Amanda Williams, to create a monument dedicated to Congresswoman Shirley Chisholm as part of the City of New York's "She Built NYC" initiative.
Jeyifous, who earned a bachelor of architecture degree in 2000, has characterized his pathway to multimedia artist as a natural extension of the conceptual focus in his architectural education and of developing an architectural practice that went beyond simply drafting and "producing design solutions" to creating a multifaceted narrative that would explain his design concepts.
"Cornell was amenable to students using a variety of techniques for visual representation, like film, collage, technical drawing, and model-making … pretty much whatever you had at your disposal. I personally leaned into that," he told The Architectural League NY in a 2020 interview. Jeyiflous's work has been reviewed in ArtForum, Art in America, The New York Times, The Washington Post, Forbes, Architectural Digest and The Architect's Newspaper.
But it was in 2004, after creating a digital collage for The Studio Museum in Harlem's harlemworld: Metropolis as Metaphor exhibition that explored how the historic New York City neighborhood had changed over time, that Jeyifous "saw an opportunity to structure an art practice around my architectural education and design process," he said.
Kate Wingert-Playdon, Associate Dean and Director of Architecture and Environmental Design, said that "…rooted in his professional architecture education, the dual disciplinary lenses of art and architecture that Jeyifous uses in his practice makes him a great choice for this year's Knowles lecture. The arc of his professional career as a visual artist who explores multiple intersections in art, design and the built environment and their relationship to critical issues in today's society provides a window into the expansive ways of envisioning our environments and unique approaches for the teaching, study and practice of architecture," she said.
Register to attend in person or via livestream.
Temple's Charles Library is located on the University's Main Campus at 1900 N. 13th Street, Philadelphia PA, 19122.
About the Knowles Architecture Alumni Lecture
The Knowles Architecture Alumni Lecture was established in 2013 in honor of Professor Emerita Brigitte Knowles in the Department of Architecture and Environmental Design at the Tyler School of Art and Architecture. Through her teaching and leadership since the co-founding of the Temple Architecture Program in 1971, Knowles has deeply impacted the lives of hundreds of students. Initiated by alumni of the program, the lecture series has welcomed renowned visionary creatives from fields across the built environment to share innovative work and processes with the Philadelphia community. Past lecturers include Sharon Johnston, David Adjaye, Craig Dykers, Walter Hood, and Clive Wilkinson.
Photo: Olalekan Jeyifous, Devotees of the Petrotopia #02 from Liquid Geographies, Liquid Borders, a collaboration with Dr. Mpho Matsipa, Wale Lawal, Dani Kyengo O'Neill, at the Venice Biennale, 2021.