dis.solution
 
Thesis Exhibition: February 10 – 13, 2016
Opening Reception: Friday, February 12, 6 – 8pm
Hours: Wednesday – Saturday, 11am – 6pm
---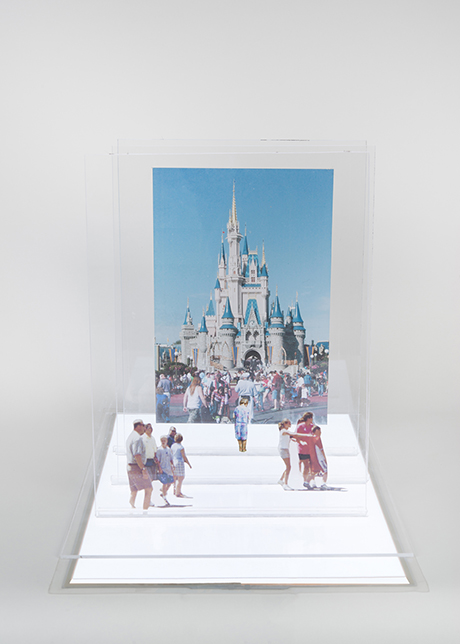 Reconstructed Childhood, December 2015
Inkjet decals, glass and electroluminescent panel, 11 x 10 x 14 inches. Image courtesy of Karen Mauch.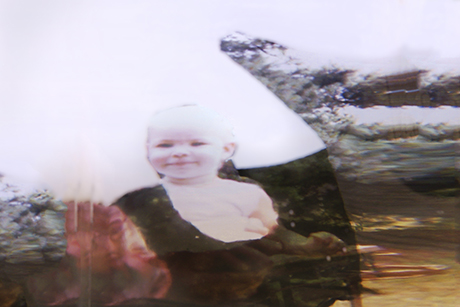 disžsolution, January 2016
Video still. Image courtesy the artist. 
---
Dissolution is the process of resolving or dissolving something into parts or elements. It might mean disintegration, decay, or termination. It can also describe the undoing or breaking of a bond, tie, union, or relationship.  dis.solution is the first in a series of videos that examine the presence and absence of my father, both in images from my family archive and in my life and memory.
Photographs play a significant role in our relationships. These documents are infused with emotion and allow us to relive landmark moments in our lives. When our memories fade, photographs are what remain to stand in their place. When photographs decay, what is left? Can forgetting help us to reconcile the complicated, and at times conflicting, feelings we might have?
By recording these images as they dissolve, I explore the role of the photograph as visual evidence, and what it means when the photograph itself deteriorates.