Back to Blog
September 8, 2022
Lindsey Dadourian (BFA '23) Explores the Music Industry Through Her Camera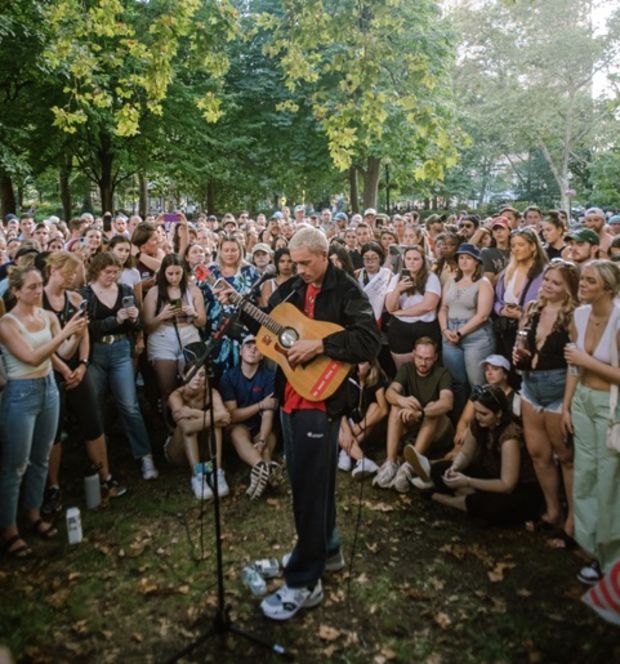 Lindsey Dadourian (BFA '23), an avid member of Tyler's Photography program, fills her time outside of class as a freelance concert photographer. A few weeks ago, she spotted breakout singer-songwriter Dermot Kennedy busking in Rittenhouse Square to promote his upcoming album, Sonder, and her photos made their way into 6ABC's coverage of the impromptu gig. 
Dadourian began her education at Jefferson University, where she initially studied textiles as a Fashion Design major. Despite the fashion industry's inherent creative lens, Dadourian felt that something was missing from her work, and transferred to Tyler during her sophomore year where she immediately felt at home in the Photography program. "Classes that I've taken so far have taught me how to build a solid portfolio and narrow down my work. I'd love to learn more about lighting and studio settings and work more with film. The environment at Tyler is so welcoming, and I've never felt nervous here despite being a transfer student," she says. 
Dadourian is also the founder of the music magazine, PLEASER, and is publishing the first print edition on September 30. "I think I've curated my own photography style from doing work in the concert world — I feel more confident with how I approach a live shot — portraits are the next thing I'm excited to try." She and the PLEASER team have worked with everyone from Samia to Briston Maroney to The Regrettes, and are steadily building their client roster one show at a time. 
"Music has been my favorite thing my entire life," Dadourian says of her career path. "I feel the same way about photography. To be able to blend the two and form new professional relationships within the music industry is so important to me. I'm finding people who appreciate my work just as much as I appreciate theirs." Her most recent accomplishment is building a professional press relationship with the LA-based punk rock band, The Regrettes, who keep her on the line for photo needs when they roll through Philly.  
While at Tyler, Dadourian says she'd love to explore courses in Graphic and Interactive Design to fully enhance her work as a digital content creator as she navigates the music industry. Tyler encourages cross-disciplinary collaboration, and GAID and Photography curriculums naturally complement each other.  
You can also find her work with PLEASER on Instagram, and you can find a print version of the magazine at the end of September.  
Photo of Dermot Kennedy in Rittenhouse Square, Philadelphia by Lindsey Dadourian