Thesis Exhibition: April 6 – 9, 2016
Reception: Friday, April 8, 6 – 8pm
Hours: Wednesday – Saturday, 11am – 6pm
---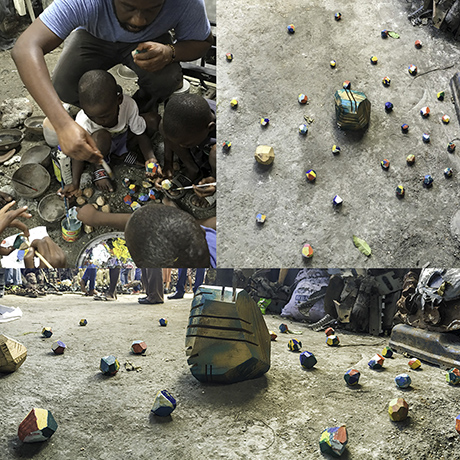 Cosmologic Lakou – from Haitian Ghetto Biennale 2015
Carved Wood, Paint, Art Lessons and Collaboration
These works were spread out in a quarter mile radius of the area. All
work was painted in collaboration with area kids. Each piece left with own
potential to remain or disappear.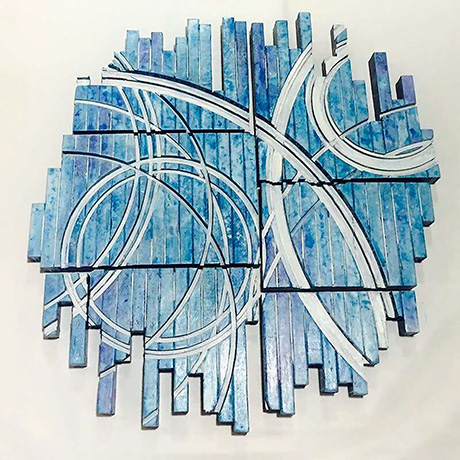 Huemonic135, 2015
Engraved and Carved Wood, Oil & Acrylic, 48in x 48in x 3in
Influenced by study in Japan, incorporates elements of symmetry,
asymmetry, reflection, and historical China Blue color palette.
---
Michael K Taylor is an interdisciplinary artist whose primary works
incorporate sculpture, painting and performance. His artistic practice
is founded in researching and experiencing communities, environments,
and social theories as primary influences for narrative based works.
Material, color, line, and form are used as metaphors referencing a
range of subject matter from observing physical movements of people
within a community to re-articulating site specific history into
speculative fiction futuristic narratives.
Taylor was born in Metairie (New Orleans), Louisiana and educated in
Houston, Texas. His experience exhibiting as an artist, curating and
teaching community based art projects with Houston arts organizations
such as Project Row Houses, the Community Artists' Collective, and the
Museum of Fine Arts developed a practice of creating work in the
context of interactivity and community engagement. Taylor hope a
studio residency with an organization working on multiple platforms of
art and community engagement provide him with an opportunity to
contextualize his sculpture in relation to human interactions.
In Haiti's 2015 Ghetto Biennale, Taylor considered the audience and
site of the installation, Haiti's Grand Rue area, when choosing to
incorporate teaching local children and collaboration as part of his
project. Blank carved orbs where given to the students during a
translated conversation and lesson about outer space and creating
one's own world. The students painted "planets" for their "worlds" In
a second piece Taylor created larger "meteors, bolides, and planets"
metaphors painted in gold and silver that were placed through out the
public allowing interaction with daily people. Some of the remained in
location for days, while others returned to the artist, placed for
sale by local children, used for games, and collected. This potential
of a sculptural object to active ideas or provide people with a
consideration of potential is the cent or Taylor research and work
practice.
Recent exhibitions and performances such as, his recent solo of
artwork at Houston's The Collective or poetry performances at the
Queens Museum and New Museum are singular in discipline. In
comparison, his recent works in exhibition at University Museum of
Texas Southern were initially installed as standalone works and
brought together as "Coming Through the Fear of Impossibility on a
Myth," a scheduled performance of choreographed dance, poetry and
enacting of characters using the artwork. This mixed approach has been
constantly honed from his early education at the High School for
Performing and Visual Arts and the University of Houston through the
half decade of international residencies in art, poetry, and
choreography at the Skowhegan School, Ox-Bow School of Art, Atlantic
Center for the Arts, Virginia Center for the Creative Arts,
Goldsmiths, University of London and the "GoDown" Art Center in
Nairobi, Kenya. Taylor has also given talks as both and artist and
curator in Kenya, Japan, Poland, and America for audiences such as
Universities and TEDx at NASA. Taylor is also an advisory editor for
Callaloo Art and published writer in various publications.
 
All images courtesy the artist.