Back to Blog
October 11, 2022
MEd Alum Critiques Public Education Through Art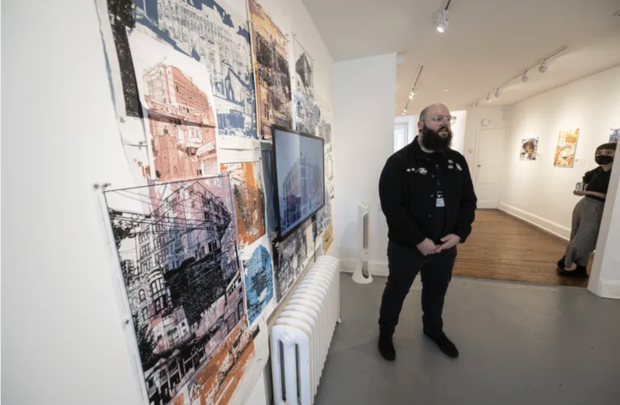 Tyler alum Mike Smaczylo (MEd '20), a teacher at Kensington Health Sciences Academy, was recently profiled by The Philadelphia Inquirer about his exhibition Reimagining Monoliths, which explores his vision of Philadelphia through 10 silk-screened posters, currently at the Da Vinci Art Alliance. Smaczylo calls his work "a testament to the disinvestment in public schools," writes Kristen Graham, and features McClure Elementary in Hunting Park, Tilden Middle School in Southwest Philadelphia, and Ellen Elementary in Germantown. 
Smaczylo began researching this project while working on his graduate thesis in Tyler's Art Education program, where he "examined six Progressive era Philadelphia schools in their architectural and neighborhood context," Graham continues. The Da Vinci Art Alliance awarded Smaczylo a Kathryn Pannepacker Fellowship, which focuses on social justice work, in order for him to complete the exhibition.
Click here to read the full article. 
Photo credit: Jose F. Moreno, Inquirer Staff Photographer