Back to Blog
August 26, 2022
Tyler Welcomes Five New AED Faculty Members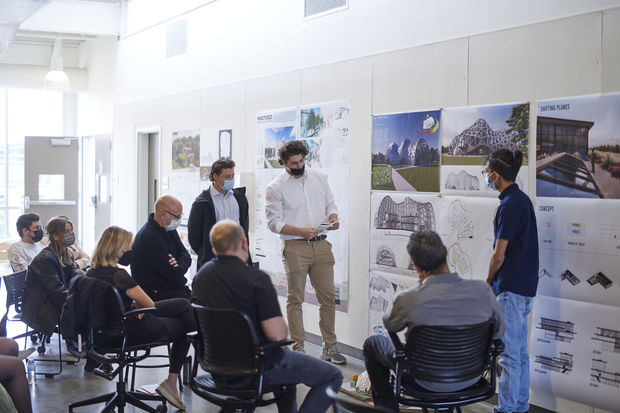 This fall, Tyler's Architecture and Environmental Design department welcomes three new full-time faculty members: Assistant Professor of Architecture Jeffrey Nesbit, Associate Professor of Landscape Architecture Nathan Heavers, and Assistant Professor of Instruction in Planning and Community Development Ryan Devlin. Each brings a unique set of skills and knowledge, ranging from informal urban spaces to infrastructure to forest management. In separate interviews, the three discussed what drew them to Tyler, their practices, and how they feel they will enrich AED's rigorous and diverse curriculum.  
On how his research influences his teaching, Devlin explains, "I view research and teaching as interconnected practices. On the one hand, I try to involve my students in my research, providing them opportunities to work as research assistants and connecting them to organizations and individuals doing interesting work. My research topics also influence the way I teach planning. Working with lower income immigrant communities who live and/or work in the informal sphere requires a specific empirical, epistemological, and ethical approach to planning. In my classes, I emphasize qualitative skills, creative community engagement practices, and an ethical approach to planning that prioritizes the needs of the most vulnerable urban residents." 
Nesbit feels he brings a fresh perspective of understanding foundational architectural practices to the curriculum. "Design innovation and its direct impact on society, policy, and the environment are the central figures for the study of contemporary urbanization. I believe my work around design and design theory aligns well with the Architecture and Environmental Design Department's ethos, especially as it relates to the role of design in a context of environmental crises, increased forms of capital accumulation, and continued sites of public exclusion and social inequality." Outside of the classroom, Nesbit will be delivering a lecture titled "Architecture of Assembly: A Brief History of Building NASA's Enclosed Garden" at the History of Nasa and the Environment Symposium on September 29-30. 
Heavers was drawn to Tyler's renowned Landscape Architecture and Horticulture program and how it fosters interdisciplinary learning. "I began my career in public horticulture, so I have been looking for a position where landscape and horticulture are tight. I believe Tyler is it. Design with plants has never been more important for sustaining our planet. Plant experts and designers working in the same space is what I've been looking for in a program and I've finally found it!" 
This fall, adjunct professors Jeremy Voorhees and Taryn Mudge will also be joining Tyler's AED faculty full-time in the Architecture Foundations program, a two-year set curriculum for all entering Architecture students. Kate Wingert-Playdon, Associate Dean and Director of Architecture and Environmental Design, spoke to the benefits they will bring to AED's foundational years: "The Foundations faculty work as a team and the addition of two full-time faculty working across the first two years will be very beneficial for student learning, continuity of teaching, and of course student skill building and retention as they prepare to move into our three undergraduate Architecture majors." 
In the coming weeks, we will also profile new additions to Tyler's art faculty. You can browse degree programs here. 
Photo credit: Justus Henry