The artist visited with students and participated in a public conversation with Sonya Clark as the Tyler School of Art and Architecture's next Wolgin Visiting Artist.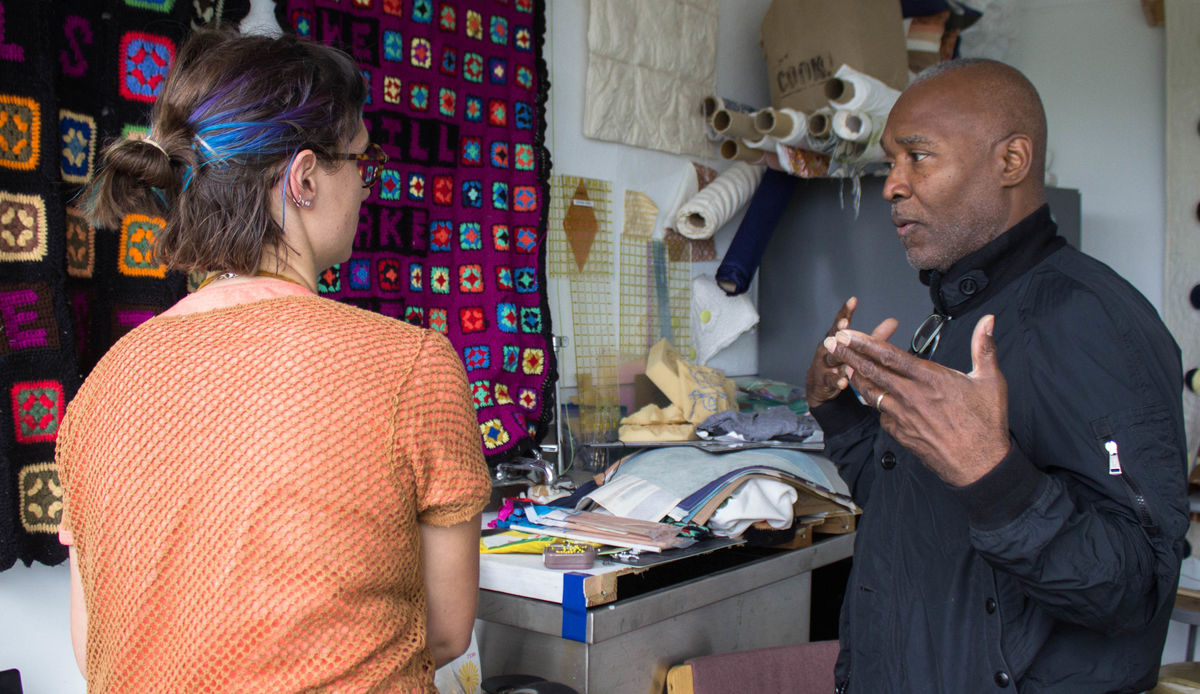 The Jack Wolgin Annual Visiting Artist Symposium, one of the Tyler School of Art and Architecture's flagship endowed visiting artist programs, brought Nick Cave—the influential artist and educator known for his sculptural, wearable "Soundsuits"—to campus to work with Tyler students in mid-September and join artist Sonya Clark for a public conversation.
Cave is the fourth Jack Wolgin Annual Visiting Artist since the program was established by a gift from the late Philadelphia real estate developer, philanthropist and patron of the arts.
Cave came to Tyler for three days, September 11 through 13, to enrich the Tyler student experience through classroom conversations and one-on-one studio visits (including a session with Fibers & Material Studies MFA candidate Vivien Wise, above). On September 11, he participated in a conversation with renowned artist and educator Sonya Clark at Temple Contemporary, Tyler's exhibition and public programs space at Temple University's Main Campus in Philadelphia. The free, public event kicked off Tyler's 2019-2020 Critical Dialogue series.
"It's a privilege to welcome Nick Cave as Tyler's Jack Wolgin Annual Visiting Artist," said Tyler Dean Susan E. Cahan. "His work defies categorization, bridging the visual and performing arts to confront social injustice in works that are searing, poignant, and beautiful. This is a priceless opportunity for our students, and we're grateful to the Wolgin family for making it possible."
The Soundsuits, which originated as a response to the Rodney King beatings in 1991, are created to be worn by performers (often Cave himself) whose bodies are masked completely by densely decorated and textured surfaces that move and generate sound as the body moves. "The Soundsuits hide gender, race, class and they force you to look at the work without judgment," Cave told Art21. "I don't ever see the Soundsuits as 'fun,' they're really coming from a very dark place."
Two major solo exhibitions of Cave's work are concurrently on view: "Nick Cave: Feat," which opened at the Frist Art Museum in Tennessee in 2017, is currently at the Glenbow Museum in Calgary, Canada (through September 22, 2019); and "Nick Cave: Until," which opened at Mass MOCA in Massachusetts in 2016, is currently at Tramway in Glasgow, Scotland (through November 24, 2019). Cave has also been the subject of solo exhibitions at the Park Avenue Armory in New York, the Cranbrook Art Museum in Michigan, Saint Louis Art Museum, the Institute of Contemporary Art in Boston and Denver Art Museum. Cave's video work, "Drive-By Remix," was featured in Times Square Arts' Midnight Moment, where it was projected across Times Square's electronic billboards nightly from 11:57 p.m. to midnight during December 2018.
Cave's work is in the collections of the Brooklyn Museum; the Hirshhorn Museum and Sculpture Garden in Washington, D.C.; the Museum of Modern Art in New York; the Museum of Fine Arts in Boston; the Museum of Fine Arts in Houston; the Museum of Contemporary Art in Chicago; the National Gallery of Canada in Ottawa; and the San Francisco Museum of Modern Art, among others.
Cave, who is the Stephanie and Bill Sick Professor of Fashion, Body and Garment at the School of the Art Institute of Chicago's Department of Fashion Design, has received several prestigious awards and grants, including the Art in Embassies International Medal of Arts (2017); the Americans for the Arts Public Art Network Year in Review Award (2014); the Joan Mitchell Foundation Award (2008); the Artadia Award (2006); the Joyce Award (2006); Creative Capital grants (2002, 2004 and 2005); and the Louis Comfort Tiffany Foundation Award (2001). He earned a BFA from the Kansas City Art Institute in 1981 and an MFA from the Cranbrook Academy of Art in 1988.
Tyler's previous Jack Wolgin Visiting Artists were Rick Lowe (2018), LaToya Ruby Frazier (2017) and Judy Pfaff (2016).
Jack Wolgin (1917–2010), the native Philadelphian and civic leader whose gift created the Jack Wolgin Annual Visiting Artist Program, was best known in the art world for his influential public art commissions in the city, including Claes Oldenburg's "Clothespin" (1976), an enormous sculpture that The Philadelphia Inquirer called, "the piece that has probably done more than any other work of art or architecture to redefine the cityscape."
Photo by Sophie Stasio 
Posted by Hillel Hoffmann