Back to Blog
October 14, 2022
Associate Professor of Painting Odili Donald Odita Awarded 2022 Pew Fellowship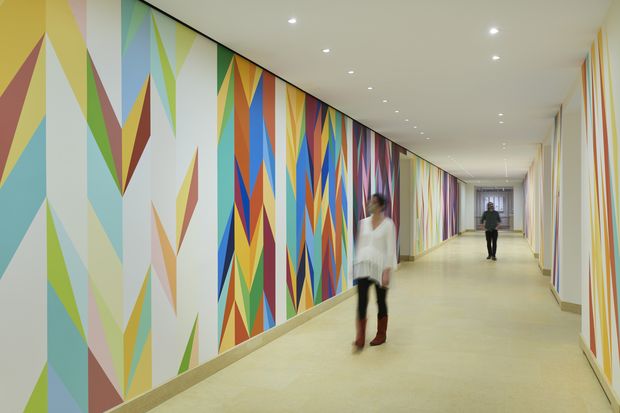 Associate Professor of Painting Odili Odita has been awarded a 2022 Pew Fellowship from the Pew Center for Arts and Heritage. Odita has been using a sabbatical from teaching this year to focus on his practice, spending long hours in his studio in Germantown working on new grant-funded projects. Pew Fellowships are given to "Philadelphia-area artists working in visual art, film, photography, literature, poetry, and multidisciplinary practices. In addition to an unrestricted award of $75,000, a fellowship includes focused professional advancement resources such as financial counseling and career development workshops," according to the Pew Center press release. 
Odita's practice includes large-scale wall installations and painted murals. On being selected for a Fellowship, he said, "Recognition from Pew puts my work into a new category — it gives me the financial support to do the work as well as the space of mind. You're nominated by your peers and then selected by a committee for the grant, and the application itself is complex." Odili said the process "pulled a lot out of me," but he expressed gratitude that the recognition gives him a chance to share his work farther. 
Odita will be showing the works he creates as a Pew Fellow in a solo show at the Jack Shainman Gallery in January 2023 as well as at the David Kordansky Gallery in November 2023. His recent commissions include a wall installation at Rice University in Houston at the Shepherd School of Music, and the University of Iowa's inaugural installation for its new art museum. Odita says that these large wall installations help bring his work into the public sphere by engaging with the physical location where the work is placed as well as engaging in that location's history and present functions. "My plan for the next three to five years is to see how I can better integrate my work into the public sphere and how this process can help push my painting process forward. There's potential in design and change, and I can see a civic activation in the work itself when people view it," he said. 
Along with time to create, Odita has also refined the way he runs his studio, likening it to a business. "You have to leave it every day just as much as you have to show up. There are so many different projects and different goals happening at once. Being able to have continuity as projects overlap is thanks to having an organized studio and an organized team. What it means to manage a space and personnel on a day-to-day basis has helped me continue to understand my process and flow."  
In the classroom, Odita brings real-world experiences into his teaching methods by sharing questions he comes across in the professional field — especially in the marketplace. "There are so many things that I've experienced in the profession that just weren't taught in school. Learning how to engage with communities, rules of engagement within a public sphere, crossing cultural dialogues — those are things you just have to experience. Everything informs everything, and those complexities are really unique, and they're not necessarily explained in the classroom because you can't see what your practice entails every day without going through the process. You have to give students the ability to think on their own feet, to self-question and to solve problems as a creative person. That's how you make your work grow in the art world." 
Image credit: Odili Donald Odita, "Walls of Change", Acrylic latex wall paint on wall, 128 feet, 2 walls. Commissioned by the Philadelphia Museum of Art.