Back to Blog
November 9, 2022
Paolo Mentasti (MFA '23) Showcases Work in Revived Sculpture Straw Gallery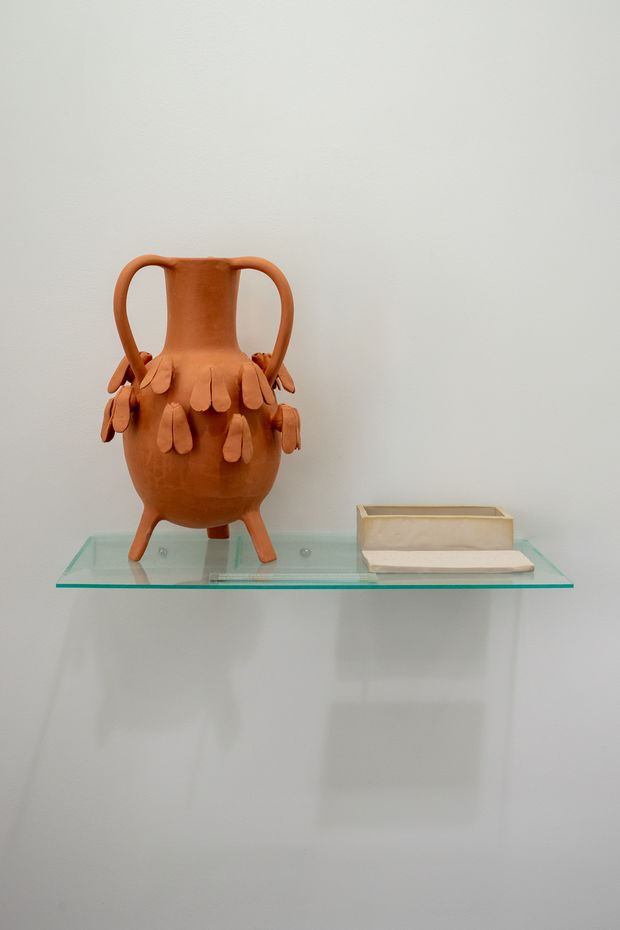 This year, Sculpture's Straw Gallery, located at the studio's entrance, will feature two-week exhibition periods that showcase the work of current MFA students. To kick off the series, Paolo Mentasti (MFA '23) is exhibiting his piece Proleptic Archaeological Fragment 1 until November 13.   
Mentasti, who was born in Sao Paulo and grew up in Bogota, Colombia, moved to Philadelphia in 2020. Proleptic Archaeological Fragment 1, which features real pinned spotted lanternflies, was inspired by the insurgence of the invasive species and the constant messaging about its eradication. "The messaging and its seemingly wholesale acceptance made a big impression on me. I wanted to take that messaging further and see what else was there," Mentasti explains. "Straw Gallery is a great opportunity to have work set up for longer than in a critique or a studio visit and forces you to have a more considered display. It's a good exercise." 
Mentasti said in critiques, his peers made the point that "people who make objects have an uneasy certainty that what they make will be misinterpreted," and he feels that his pieces takes this as a starting point. The artwork consists of a three-handle tripod vessel with spotted lanternfly bottles on its body. Next to the vessel is an unfired clay tablet and box; the box holds three fabric samples that have been dyed using pigment made from spotted lanternflies and three corresponding lanternflies pinned in different positions. The piece anticipates a future in which the spotted lanternfly is extinct, so future archaeologists studying the tripod vessel containing the lanternfly pigment will not be able to recognize the shape of the lanternfly bottles nor the colors produced by the pigment they hold. 
Mentasti worked with Temple's Ecology Department. He met with PhD candidate Stefani Cannon, who shared her research on the spotted lanternfly and taught him how to pin insects. He also worked with Fibers and Material Studies Tech Katie Kaplan on how to make a natural dye from spotted lanternflies and use it to dye the fabric pieces in the display, as well as Metals/Jewelry/CAD-CAM Tech Brad Lunsford for assistance on crafting the shelf holding the work. When describing his practice, Mentasti says he produces "artifacts-to-be," and cites the philosopher Linda E. Patrik's understanding of the term "archeological records," which are used as "a receptacle, as material deposits, as artifacts and objects, as a collection of samples, and as reports written by archaeologists. "  
This exhibition is an example of the cross-disciplinary work that Tyler's MFA program encourages — though Mentasti is in the Sculpture program, he worked heavily with the ceramics and fibers programs on this project. He spoke on his experience at Tyler, and how he feels "encouraged to explore the university and use different resources," and hopes to teach in a fine arts program in Philadelphia after his graduation in the spring.  
The next featured Sculpture student in the Straw Gallery is Jordan Hill (MFA '23).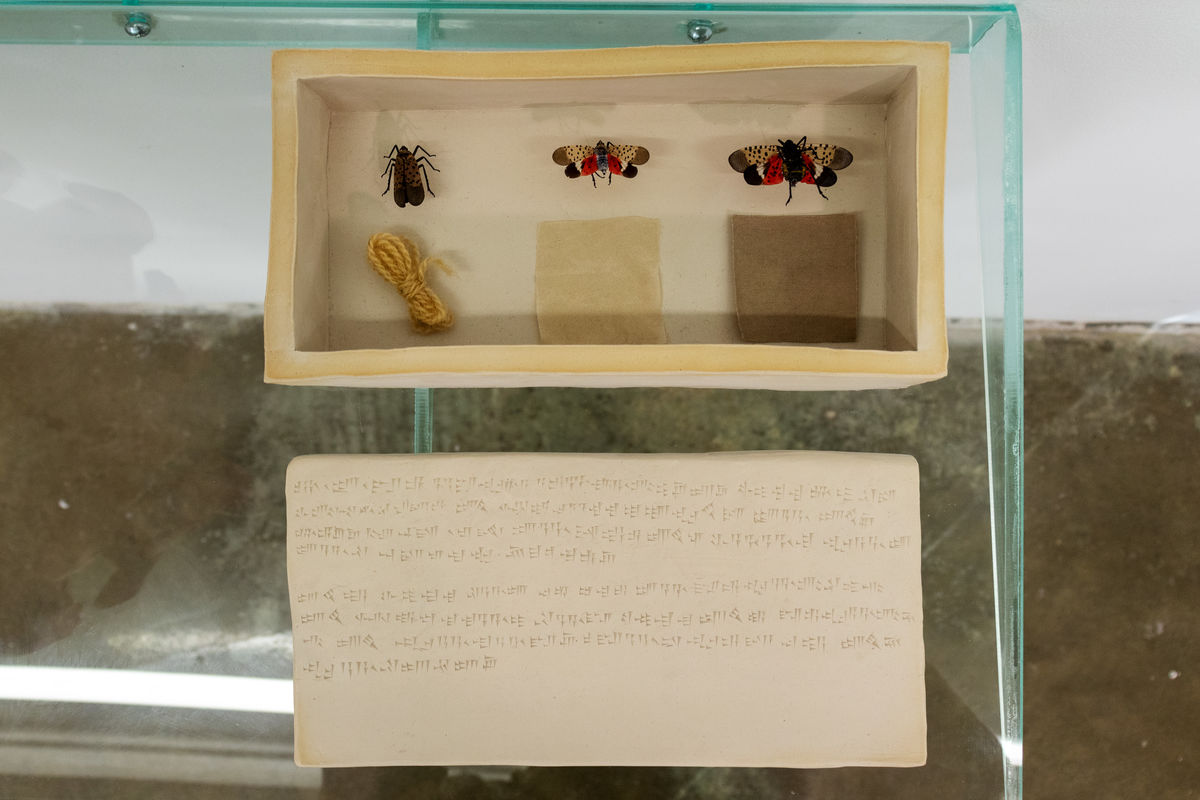 Detail of "Proleptic Archaeological Fragment 1" by Paolo Mentasti.