Back to Blog
January 25, 2022
Peers Remember Moe Brooker (BFA '70, MFA '72), Influential Abstract Artist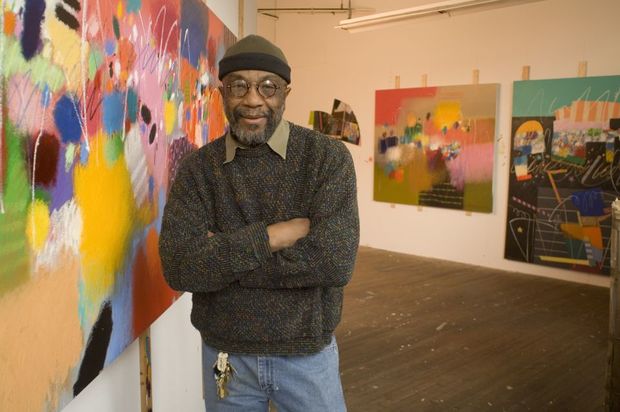 The Tyler School of Art and Architecture remembers influential alumni Moe Brooker (BFA '70, MFA '72), who passed away on January 9, 2022. A notable abstract painter with strong Philadelphia roots, Brooker was best known for his joyous interpretation of African American life on canvas.  
Brooker's peers remember him fondly as an inspirational figure in the local art world. Associate Professor and Art Department Chairperson Gerard Brown says, "I met Moe Brooker when I was just out of school and new to Philadelphia. Talking with him and looking at his work helped me understand how abstraction could be a conversation with very specific content. His repeated use of certain forms, his experimentation with formats, even his habit of signing his work 'TTGG' [To the greater glory (of God)], were revelations about how abstraction could deliver deeply personal experiences to viewers. I snuck references to his paintings into mine for years after that, and have always admired him as an artist and teacher." 
Brooker has been on faculty at various art institutions, including the Cleveland Institute of Art, Parsons School of Design, The Pennsylvania Academy of the Fine Arts, and most recently Moore College of Art and Design. He has exhibited work at Philadelphia Museum of Art, Studio Museum in Harlem, Montgomery Museum of Art, and Musée des beaux-arts l'Ontario. A painter of high status, Brooker was represented by June Kelly Gallery in New York City, The Sande Webster Gallery in Philadelphia, and was a member of Recherche, an African American artists group. The collective's work is best known for its "active engagement with life and a zestful manipulation of color and pattern," according to the Philadelphia Inquirer. 
Syd Carpenter (MFA '74), says of Brooker: "Moe Brooker was an elder statesman of the Philadelphia art world, with all the respect and honor that he most certainly deserved. It is not only his work that will forever secure his status as one of the city's most accomplished and revered artists, but combined with a multi-faceted intellect and a charismatic personality, Moe was a good friend and inspiring educator to so many. He never avoided a good argument, reveling in any opportunity to exchange ideas and reactions. With a mischievous smile and ironic laughter, Moe always seemed to land on his feet, clearly a sign of a wise and nimble player. He will be missed." 
Bridgette Mayer, Director at Bridgette Mayer Gallery in Philadelphia, notes, "Moe Brooker is a Philadelphia treasure. He was a gift to artists and the art community with his talent, teaching, sharing and friendship extended to many in the artworld. He will be deeply missed and I am grateful to have had a chance to be in front of him and his beautiful paintings over many years." 
Hester Stinnett, Professor of Printmaking, recalls, "We will all remember the way that Moe would lean in to hear what you had to say, especially at noisy openings, his animated responses and always his big smile. Moe was as engaged with what was going on around him as what he was working on in his studio. Many artists shy away from serving on any kind of committee, let alone a city-wide appointment to the Philadelphia Art Commission, for it takes time away from their creative work, but Moe didn't. I will always admire his amazing ability to juggle—teaching and mentoring students, creating beautiful, joyful paintings—and his willingness to dive into the political and often controversial issues and decisions that the Art Commission had to make. He did it all with such good humor and diplomacy, and Philadelphia is a much better, more visual city due to his efforts." Stinnett also credits the Parkway's thriving presence to Brooker's contributions to Philadelphia's cultural community. 
Linda Dubin Garfield, Ed.D., founder of ARTsisters, says of Brooker, "After I retired from the Philadelphia school system in 2002 and had time to pursue art, my colleagues told me that they were in a critique group with Moe Brooker, and I asked if I could join. We'd try to meet once every six weeks or so, and I'd go even when he wasn't talking about my work. You always learned something from him. I'd take notes about what he said about art, about art history — he was just a wealth of knowledge. He knew all the current artists. He'd mention people that you'd have to go home and look up later. He was an amazing combination of a kindhearted, generous person and a very talented artist. He was a pleasure of a human being to deal with. It's a tremendous loss for the city and the art community." 
Brooker has been honored by The African American Museum in Philadelphia in 2011, received the 2010 Artist of the Year Award in part of the Governer's Awards for the Arts from Governor Ed Rendell, received a 2009 Medal of Achievement from the Philadelphia Art Alliance, and received the James Van Der Zee Lifetime Achievement Award from Brandywine Workshop in 2003. 
Click here to watch a 2017 PBS feature about Brooker and his practice, and here to read a full obituary from the Philadelphia Inquirer.
Photo of notable alumnus Moe Brooker, courtesy of PAFA