Back to Blog
September 6, 2022
Tyler Remembers Martha Madigan, Impactful Professor Emerita of Photography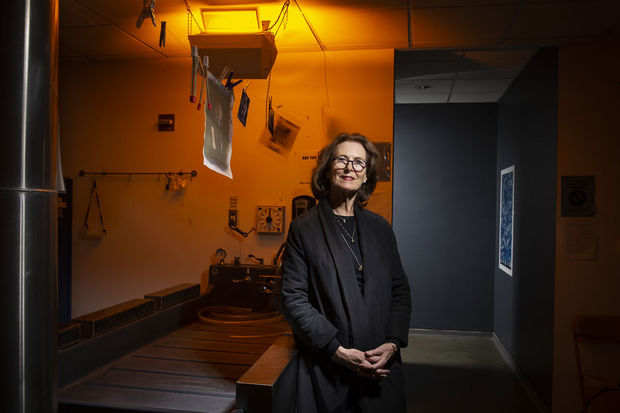 Martha Madigan, Professor Emerita of Photography, sadly passed away after a courageous battle with cancer on August 22, 2022. Her more than four-decades career at the Tyler School of Art and Architecture left a longstanding impact on the Photography program faculty and students, who remember her for her warm personality and devotion to teaching.  
Dean Susan Cahan reflected on Madigan's impactful teaching style: "Martha's 40-year career at Tyler was marked by her love of teaching and strong relationships with students that often continued well beyond their graduation. Martha's passionate mentorship is a lasting part of her legacy." 
Donations can be made in Martha Madigan's memory to the Photography Program Fund, which supports the photography program's constant creative growth. 
Madigan was a pioneer of "camera-less" photography, a technique that she developed by arranging subjects or natural materials on top of photosensitive paper to capture silhouetted images. She was one of the first working photographers to produce large-format photograms, a medium that is no longer in practice today. One of her works, which depicts the natural interaction between Philadelphia's Falls Bridge and the surrounding foliage, is in the Philadelphia Museum of Art's permanent collections. 
A major part of Madigan's portfolio included innovative large-format "selfies" taken on Hassleblad and Mamiya cameras dating back to 1972, long before the trend was as commonplace as it is today.  
Madigan attended the University of Wisconsin, and later earned her MFA from the Art Institute of Chicago in 1978. Following an impressive stint as a portrait photographer, with subjects including Alice Neel, Louise Nevelson, Isabel Bishop and Selma Burke in the Oval Office with President Jimmy Carter, Madigan and her husband moved to Philadelphia, and she began her decades-long career at Tyler as a professor in Photography, and eventually Program Director of the MFA and BFA programs. She also taught at Temple Rome from 2004-2006, and again in 2018. 
Rebecca Michaels, current Program Head of Photography, remembers Madigan's early days at Tyler. "I first met Martha while we were both studying at The School of the Art Institute of Chicago 45 years ago. I was surprised when we became colleagues at Tyler 40 years ago. Will Larson, Michael Becotte, and Martha were the other full-time Photo faculty at Tyler and proved to be a lively and close-knit group of colleagues. Martha was a kind and giving colleague, teacher, and friend."  
Madigan is remembered for always extending kindness toward those around her, both in and out of the classroom. Byron Wolfe, Art Department Chair, recalls the warm welcome he received when he first arrived in Philadelphia. "Martha was an exceptionally warm, generous, and supportive colleague and faculty member. Many years ago, when my family and I moved to Philadelphia from Northern California, Martha and [her husband] Jeffrey had us over for dinner on several occasions. My children, now adults, still remember those dinners and consider them among their earliest and fondest memories of our time here. I remember how she was always bringing in resources for the students that ranged from food to books to materials. If she knew of some way that she could help a student succeed, she would do it. 
"One thing I grew to admire about her creative work is how deeply integrated it was with her family and personal life. There really weren't any boundaries between her role as an artist and all the others she played, whether as a teacher or parent. She was also an eternally positive person who was fond of saying 'we can only look forward!'" 
Aaron Ricketts (BFA'17), took a non-traditional approach to his education, and remembers the constant support he always felt from Madigan and how she served as a mentor. "I was a transfer student when I enrolled in Tyler's Photography program. Alternate Process was one class that I had to take and I didn't know what to expect. When I first met Martha, I felt a take-no-nonsense vibe from her. I could tell that she was passionate about the work she did, and because of this, I believe that she could tell that I was also very passionate about my own and had an eagerness to learn both in and out of the classroom. She was very flexible with me when it came to assignments and attendance and allowed me to attend creative photo conferences as long as I was able to keep up with the workload of her class. I spent time after school working on her assignments as well as scheduling one-on-one meetings with her to make sure I fully understood the processes that she was teaching. Through it all, I appreciated her gentle approach to teaching and her patience for each student who came through her classroom. She was truly a beacon of light in the Photography department."
Jille Mandel, Assistant Department Program & Project Coordinator in Photography spoke to her longstanding friendship with Madigan, both in and out of the classroom. "I've known Martha since I was her student when she first arrived at Tyler, and we worked together in the lab and have been friends and colleagues all these years. We have always been in contact with each other in some way or another until she passed. We shared years of funny stories about our families, students, and adventures. That's what I will remember most. 
"Anytime I ran into an alumni or former faculty or mutual friend, they always immediately asked me how Martha was and wanted to know what she was doing and if I thought she would mind if they could connect with her. She was always excited when I reported back to her and most always connected with that person. She was generous with her time and kindness. She remembered everyone's name and pronunciation. She loved her students current and past, and they loved her.  She will be greatly missed. I will miss her."
Madigan worked and taught extensively, with residencies in Italy, Japan, and around the United States in Michigan, Arizona, New York, Colorado, and Illinois. She worked on several public arts projects in Philadelphia, such as murals that celebrated the Philadelphia Eagles at Lincoln Financial Field. Her artwork is held in the permanent collections of the Metropolitan Museum of Art, the Art Institute of Chicago, and the Milwaukee Art Museum among several others.