Thesis Exhibition: April 6 – 9, 2016
Reception: Friday, April 8, 6 – 8pm
Hours: Wednesday – Saturday, 11am – 6pm
---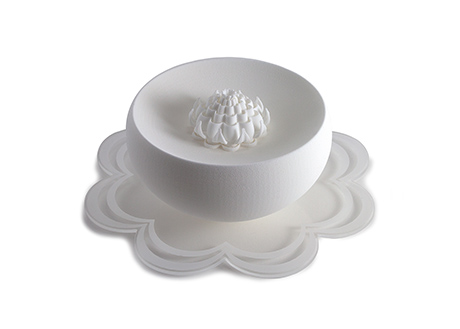 For You, 2016
3D Printed Nylon, Sterling Silver, Laser Engraved Acrylic, H 4.5" x W 8" x D 8"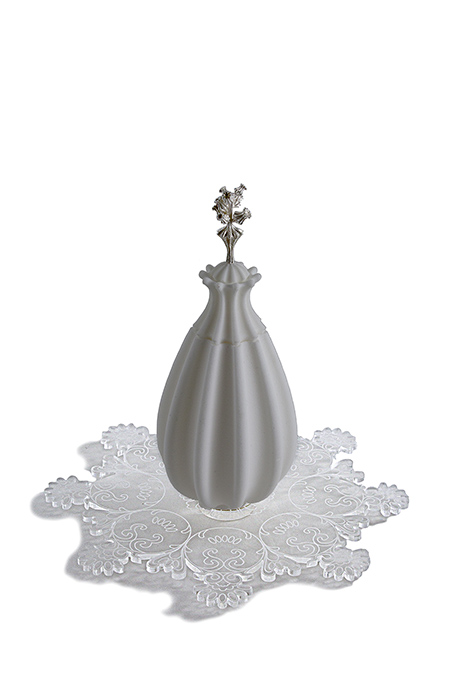 Tears, 2016
3D Printed Nylon, Sterling Silver, Laser Engraved Acrylic, H 6.5" x W 7" x D 7"
---
I am deeply interested in Korean culture's traditions and its treatment of memories concerning life and death and the past, present, and future. The smooth polished surfaces of my work represents the physical acts of Korean ceremonial rituals. There is a stillness and fragility in my work that refers to my memories of my ancestors. The stacking parts are meant to suggest the time span of human history. The creation of each container is a demonstration of my respect for my ancestors and holds my memories of them. My art work is my dedication, my offering and then a reliquary for this offering.
Each container holds a removable piece of jewelry. Removing the jewelry from its container mimics the act of picking out or pulling a particular memory from one's mind. Wearing the jewelry allows the viewer to interact with the pieces in a more personal way. The movement that occurs while the jewelry is worn represents bringing your memories back to life. And returning the jewelry to its container represents paying respect to your ancestors by giving and leaving offerings. The floral shapes are inspired by the white chrysanthemum, used in Korean funeral rites, and the natural forms, found in Korean architectural motifs.
All images courtesy the artist.