Thesis Exhibition: March 30 – April 2, 2016
Reception: Friday, April 1, 6 – 8pm
Hours: Wednesday – Saturday, 11am – 6pm
---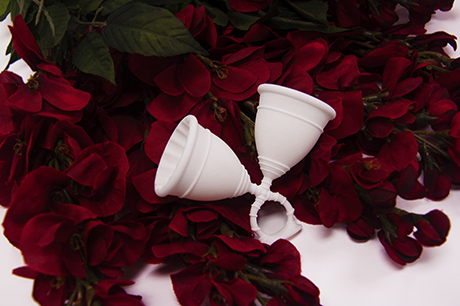 Miss Menses Double Menstrual Cup Ring, 2015
3D Printed Nylon, 2.5" x 3.5" x 1.5"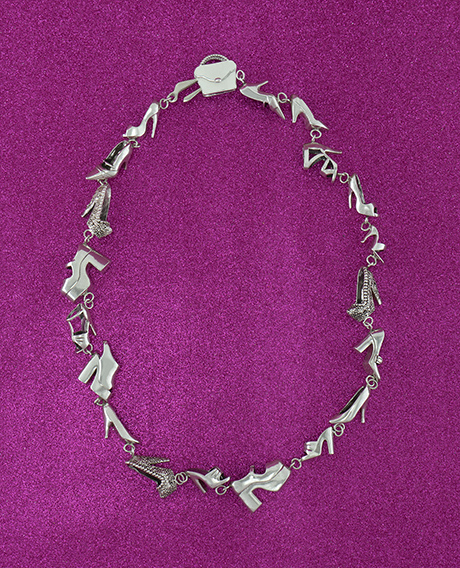 Barbie Shoe Necklace, 2015
Cast Sterling Silver, 22.5" x .5" x .25"
---
The Miss Menses and Doll Shoe series are an exploration of the shared experiences of women through the reimagining of ordinary objects into empowering icons of femininity. Throughout history, jewelry has been used to transform the status of the wearer. Positioning my work within this historical framework, I intend to challenge the status of social taboos.
The Miss Menses series utilizes parts of actual feminine hygiene products, as well as quotes their form, in order to create jewelry that opposes feelings of shame or embarrassment associated with menstruation. Reconfiguring these forms for display on the body demands attention. The indelible and recurring event of menstruation throughout a woman's life should be a source of empowerment rather than a stigma. Each piece in this series reinforces the belief that the transformation from girl to woman is beautiful, natural, and worthy of celebration.
The Doll Shoe series uses shoes as icons to poke fun at the absurd expectations of women in society. Brightly colored miniature sneakers (Sneaker Toss Necklace) and silver Barbie doll shoes (Barbie Shoe Necklace) conjure a connection to the past. Because high heels represent a rite of passage for many women, doll shoes evoke feelings of nostalgia for childhood play. My aim in incorporating shoes into jewelry is to empower women through memories of their shared experiences.
All images courtesy the artist.