Thesis Exhibition: April 6 – 9, 2016
Reception: Friday, April 8, 6 – 8pm
Hours: Wednesday – Saturday, 11am – 6pm
---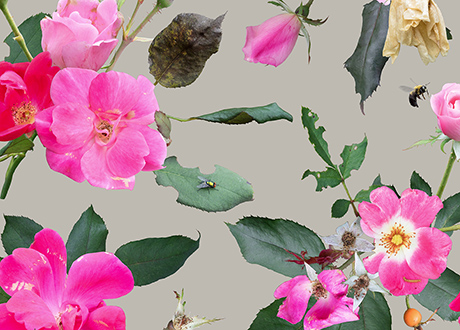 Roses, a (re)Productive Cycle, detail, 2016
digital print on fabric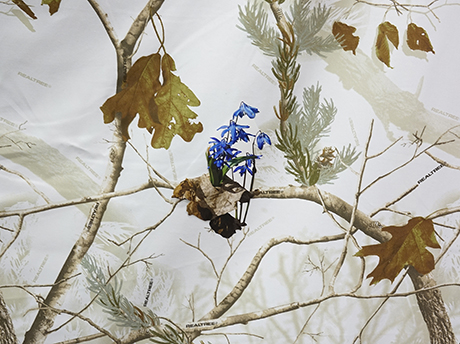 Realtree AP® Snow (for an early spring day in the northwoods when the flowers are blooming and it snows one last time), detail, 2016
digital print on cotton appliqued onto found cotton twill
---
Gender and identity are performed. Clothing is complicated; it has developed layered lexicons of pattern, cut, color, and fiber. Through our garments, we attempt to communicate cultural background, class status, and gender identity.
I am fascinated by the cultural and historical roots of fabric patterns, especially those that depict ideas of nature. There is a disconnect between how plants and landscapes exist in the world and how they are shown on cloth. By making my own photographic repeat patterns, I reveal this gap. By crafting these images into fabric and garments, I draw connections between the unrealistic ideals projected onto other organisms and those applied to the human body. My aim is to subvert everyday visual tropes related to issues of labor and class, white femininity, and the urban/rural divide. 
---
Stephanie Lynn Rogers believes that the best art is always at the intersection of art and something else. She values the unexalted art of everyday life, with all of its poetry, meaning, and grace. Working from a background in photography and community-based art, Rogers creates site-specific installations, low-fi publications, videos, functional objects, and images.
For more information: www.stephanielynnrogers.com
All images courtesy the artist.