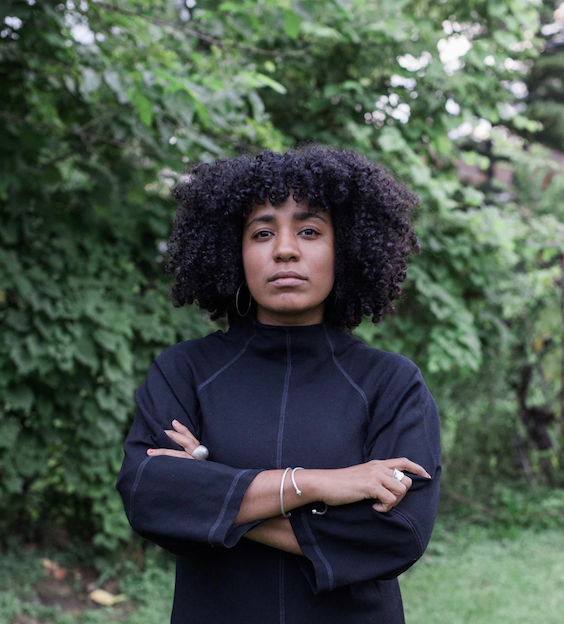 The Tyler School of Art and Architecture at Temple University is pleased to welcome Jova Lynne as its new director of Temple Contemporary, Tyler's center for exhibitions and public programs, effective on January 31.
Lynne is a curator, educator, and transdisciplinary artist who recently served as the Susanne Feld Hillberry Senior Curator at the Museum of Contemporary Art Detroit (MOCAD). Lynne received her MFA in Photography from Cranbrook Academy of Art and her BFA in Film and Video from Hampshire College.  
With a deep passion for cultivating developmental and leadership skills among young people, Lynne's professional and artistic approaches combine practicality, creativity, and opportunity. Prior to working with MOCAD, Lynne served as the Youth Arts and Education manager at Yerba Buena Center for the Arts (YBCA) in San Francisco, and her time there played a key role in shaping her ideas on inclusion-based artistic ecosystems.  
"Jova is a seasoned and intentional curator and a champion of inclusivity who has made meaningful and lasting impact on the communities in which she's worked," noted Tyler Dean Susan E. Cahan. "Jova brings a distinctive intellectual vision, an essential understanding of contemporary visual culture, and the collaborative and communication skills to work effectively across disciplines and with constituencies within and beyond the school." 
On accepting the position, Lynne said, "Temple Contemporary is a unique institution that has the potential to be a landmark for the arts in the city of Philadelphia. I am looking forward to working with faculty, staff, students, and community stakeholders at Tyler School of Art and Architecture to continue to grow Temple Contemporary into an arts institution that truly reflects, presents and engages with the best arts and design-based practices of our time. My curatorial practice is rooted in uplifting the craft of emerging artists–working across disciplines to present arts-based inquiries that speak to the most important questions of our time. At Temple Contemporary, I intend to foster an environment that celebrates curiosity in the arts in a manner that is responsive and equitable. I'm excited to embed myself in the institution and for us to work together as we cement Temple Contemporary's legacy in the arts landscape." 
Lynne's previous curatorial work includes Tyree Guyton's 2+2=8: Thirty Years of Heidelberg, Useless Utility, Tali Keren's Un-Charting and John Korner's Intercontinental Super Fruits. Lynne balances an artist's work with the greater needs of their community when considering pieces for exhibition. As an artist herself, Lynne's practice "subverts anthropological practice utilizing video and photography as a framework for engaging with sculpture and performance to negotiate cultural norms in Black society," her website describes. 
Lynne is an Astraea Foundation Global Arts Fund awardee as well as a Knight Arts Challenge winner. While serving as the Director of Temple Contemporary, Lynne will be responsible for curating exhibitions, enriching student life and expertise, and supporting community engagement through her extensive knowledge of the professional art world. 
Photo credit: Jova Lynne by Clare Gatto