Back to Blog
May 25, 2022
Tyler Faculty Recognized for Excellence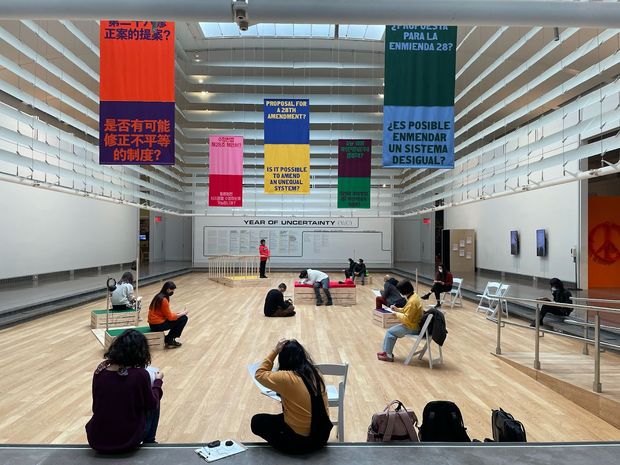 Tyler faculty members across painting, photography, architecture, and sculpture programs have been recognized for their ongoing achievements outside of the classroom, with notable contributions to both national and international programs and publications. The real-world experience that Tyler's esteemed professors bring into the classroom help to encourage student engagement with their professional environments as well as open their eyes to available opportunities following their degree. 
---
Assistant Professor of Photography Alex Strada Granted 2022 New York Award
Assistant Professor of Photography Alex Strada and her collaborator Tali Keren have been granted a 2022 New York Award from nonprofit grant maker and nationwide visual artist collective Artadia. Since its founding in 1999, Artadia has awarded over $6 million in unrestricted funds to more than 360 artists in eight cities.  
Strada and Keren were recognized for their collaborative, interactive project, Proposal for a 28th Amendment? Is it Possible to Amend an Unequal System? on view at the Queens Museum. The installation invites people to consider how they would amend the existing political structures embedded in the U.S. Constitution and asks if it is even possible to amend a system that from its founding is inherently unequal. 
Artadia juror Susanna V. Temkin, Curator at the El Museo del Barrio, said "Centering collaboration and collective memory, the research driven practice of Strada & Keren facilitates public dialogue about the challenges and potentials embedded in civic history and social structures, presented with aesthetic and equitable rigor." 
(above) Alex Strada and Tali Keren, Proposal for a 28th Amendment? 2021, Installation view, Queens Museum. Photo courtesy of Alex Strada.

Pepón Osorio, Convalescence, 2020. Wood, mannequin, two channel video, pins, magnifying glasses, anatomical model, bandages, rubber, medical equipment. Photo courtesy of the artist.
Professor of Community Art Pepòn Osorio Commissioned by Philadelphia Contemporary
Laura H. Carnell Professor of Community Art Pepón Osorio has been commissioned by Philadelphia Contemporary to create a new collaborative installation and public programming series titled "Convalescence."  Centered on "the fragility of life exposed to many communities of color due to the systemic failure of the U.S. healthcare system," the installation will go hand in hand with public programming devised by an advisory group of community-based medical professionals. They will speak about their experiences living through life-threatening illnesses and address both short-term and longer-term implications of a fraught healthcare system.
Additionally, Osorio also received the Excellence in the Arts Award from El Museo del Barrio on May 23, an institution that was foundational in showing his early work. 
"The Museum and I have a reciprocal relationship; over the years we have seen each other grow and exceed our mutual expectations. I am honored to be recognized by the museum that supported me during the early stages of my career," Osorio wrote in response to the recognition. 

Odili Donald Odita at the Stanley Museum of Art, photo by Tim Schoon, courtesy of the Stanley Museum.
Professor of Painting Odili Donald Odita Commissioned by Stanley Museum of Art for Fall Reopening
Professor of Painting Odili Donald Odita has been commissioned by the University of Iowa Stanley Museum of Art to create the space's first piece of art, an abstract mural for the museum lobby in Odita's signature style. Odita's contribution is created as a "response to one of the museum's collection highlights," Jackson Pollock's 1943 "Mural," Iowa Now reported during a media briefing with Odita and the museum in April.
Odita spent much time in Iowa City growing up while his parents attended graduate school at the University of Iowa in the 1970s. His work pulls from an array of influences such as conceptual art, West African textiles, the spatial politics. 
The Stanley Museum will celebrate its reopening on August 26, 2022.

Małgorzata Mirga-Tas, Re-enchanting the World, exhibition view, Polish Pavilion at the Venice Biennale 2022. Photo: Daniel Rumiancew, courtesy Zachęta/National Gallery of Art.
Program Head of Sculpture C.T. Jasper Served on Venice Biennale Selection Panel for Poland Pavilion Installation
Assistant Professor and Program Head of Sculpture C.T. Jasper served as a juror on the selection panel for the Poland Pavilion at the 2022 Venice Biennale. The exhibition, titled "Re-enchanting the World" by Polish-Roma artist Małgorzata Mirga-Tas, marks the first time in the more than 120-year history of the Venice Biennale that a Roma artist is representing a national pavilion, according to the Biennale's official site.  
"Drawing inspiration from the astrological frescos of the Palazzo Schifanoia in Ferrara, Re-Enchanting the World is Mirga-Tas's manifesto on Roma identity and art," the official Venice Biennale site states. The exhibition, proposed by curators Wojciech Szymański and Joanna Warsza, was the winner of a competition organized by Zachęta — National Gallery of Art in Warsaw, Poland. 
Jasper's own artistic practice consists of video art, sound, film, sculpture, installation, collage, and manipulative interventions within existing films. His recent commission with collaborator Joanna Malinowska, a video and sculptural installation titled Who's Afraid of Natasha?, was featured in the 2021 Bruges Triennial in Belgium. 

Roberto Lugo, Put Yourself In The Picture. 2022, mixed media. 240 x 144 x 324 inches. Photo courtesy of the artist.
Assistant Professor of Ceramics Roberto Lugo Featured in Ellé Decor
Assistant Professor of Ceramics Roberto Lugo has made a name for himself regarding the statement clay pieces he creates, and Put Yourself in the Picture, a 20-foot tall milled-foam urn, is gaining recognition since its display at Grounds for Sculpture in Hamilton, New Jersey starting on May 22. Ellé Decor featured the the sculpture in its latest online news roundup.
Visitors can walk through — and take selfies in — the enormous vessel, which is adorned with vibrant patterns and ornate, hand-painted imagery. 
"Historically, I've painted these pots that have a portrait in it. I thought to myself, Why not leave that space blank and make it so that people can put themselves in it? They can be the person featured," Lugo explained about where this new work fits into his portfolio. "I can design a piece for people to take pictures of themselves inside of. And celebrate that, not make people feel bad about it."

Moto Designshop's Filigree House in Philadelphia's Graduate Hospital neighborhood, courtesy of Moto Designshop.
Associate Professor of Practice Eric Oskey Featured in New York Times
Associate Professor of Practice Eric Oskey, RA and his firm Moto Designshop were featured in The New York Times Real Estate section for their work on the Filigree House in Philadelphia's Graduate Hospital neighborhood. The home boasts 4,500 square feet and features a four-layer brick screen façade system. 
The Filigree house won a design award from AIA PA, and the jury praised the project, saying it "mediates the contextual conditions of the street through form, height, and materiality of the volumes, and then more significantly through the delicate articulation of the brick veil."  
Writer Tim McKeough interviewed the firm on its design and process, noting the house's original intention to serve as a "spec home" until the builders felt an emotional connection to the project. 
Last year, Moto Designshop also won an AIA PA Award for its work on Saint Joseph's University's new Jesuit residence, Arrupe Hall. 

Karyn Olivier, Fortified, 2018-2020 for ICA Boston. Bricks, used clothing and steel, approx. 144 x 240 x 30 inches. Photo courtesy of the artist and Tanya Bonakdar Gallery, New York/Los Angeles.
Professor of Sculpture Karyn Olivier Participating in ICA Boston Exhibition
Professor of Sculpture Karyn Olivier is participating in ICA Boston's Revival: Materials and Monumental Forms exhibition, presented by ICA Watershed, from May 26-September 5, 2022. This show features large-scale installations from six international artists who "reclaim and reuse industrial materials," ICA shares. The pieces are inspired by the iconic Watershed building's "mixed-use" history — constructed in the 1930s as a copper pipe and sheet metal manufacturing plant, and then later serving as a free site for contemporary art since 2018. The exhibition highlights artists' inspiration from divisions of industry, labor, and the "poetic and political power of found goods."
Olivier will also be featured at The Parrish Art Museum in Watrmill, New York in a group exhibition titled Set It Off, curated by Racquel Chevremont and Mickalene Thomas of Deux Femmes Noires. The title of the show engages in themes of significant change, and each artist involved was encouraged to engage with monumental, site-specific, or immersive ideas when pulling from painting, sculpture, installation, sound, and language mediums. Olivier's work, How Many Ways Can You Disappear (2021), which includes a 13-foot salt-casted lobster fishing rope recovered from Maine, details "what remains from that tangle of rope—salt. The ropes lay limp, without function but still hold the sea—memories, unbearable loss. I was thinking of the salt's history in relation to trade/currency, particularly the practice of trading slaves for salt in Ancient Greece," Olivier's artist statement describes.
Set It Off is on view from May 22-July 24, 2022.

Mark Thomas Gibson, photo by Joseph V. Labolito.
Assistant Professor in Painting Mark Thomas Gibson Awarded 2022 Guggenheim Fellowship
Assistant Professor in Painting Mark Thomas Gibson has been named one of 180 recipients of the 2022 Guggenheim Fellowships, awarded annually since 1925 to those "who have demonstrated exceptional capacity for productive scholarship or exceptional creative ability in the arts."
Gibson's work explores the Black American experience through the lens of satire; his fine arts fellowship was underwritten by actor Robert De Niro "in honor of his father, the painter Robert De Niro Sr., a 1968 Guggenheim Fellow. "Gibson's paintings, inspired by comics, provide commentary on American history and explore Black representation," the John Simon Guggenheim Memorial Foundation's official press release states. Gibson is also currently on sabbatical for the spring semester, pursuing independent projects at Princeton University as a Hodder Fellow.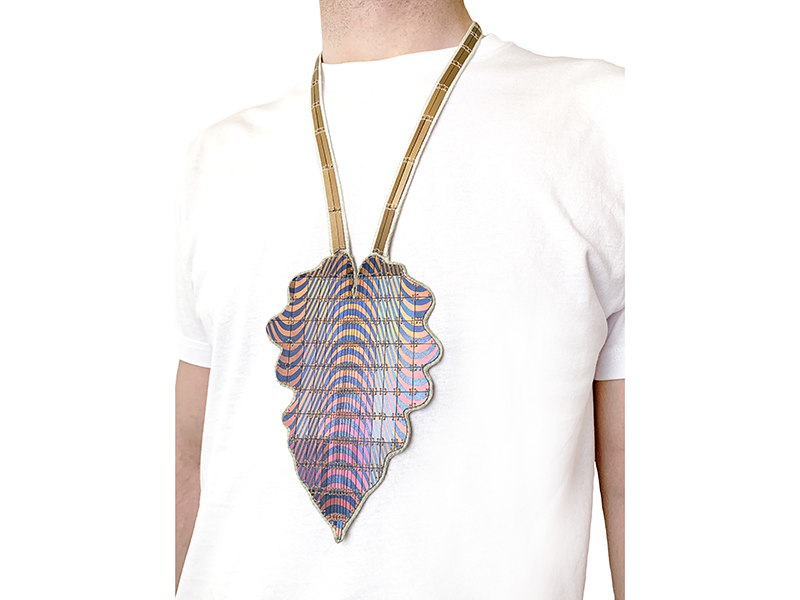 Mallory Weston, Optical Alocasia Necklace #1, 2020, anodized titanium, leather, cotton, thread, 711 x 127 x 6 mm, photo courtesy of the artist.
Assistant Professor of Instruction Mallory Weston Named Art Jewelry Forum's 2022 Young Artist
Assistant Professor of Instruction in Metals/Jewelry/CAD-CAM Mallory Weston earned Art Jewelry Forum's 2022 Young Artist Award and a cash prize of $7,500. Art Jewelry Forum is an international, nonprofit organization devoted to the advancement and promotion of art jewelry. The Young Artist Award is granted once every two years to an artist under the age of 35 working in the field. Weston's winning series, Nodes, materializes the intersection between horticulture and technology, fusing sleek, device-like design with naturalist themes.  
Weston describes Nodes as a series that "explores the familiar landscape of a digital world superimposed on the foliage of rare plant specimens. Coincidentally, these lush species also lead a double life as popular houseplants with a sometimes cult-like following. This is due in part to the recent phenomenon of wanting to cling to other life forms to tend and care for during our collective experience in isolation," Weston says in a press release from Art Jewelry Forum. 
Weston, along with other finalists, will showcase her award-winning work in Platina Stockholm during Schmuck, Munich, Germany's annual international art jewelry fair from July 6-10, 2022. She will also be presented to the audience on the main stage at the Internationale Handwerksmesse on July 9.