For two consecutive years, Tyler students have won U.S. Student Fulbright grants, allowing them to take their academic research and creative practices all over the world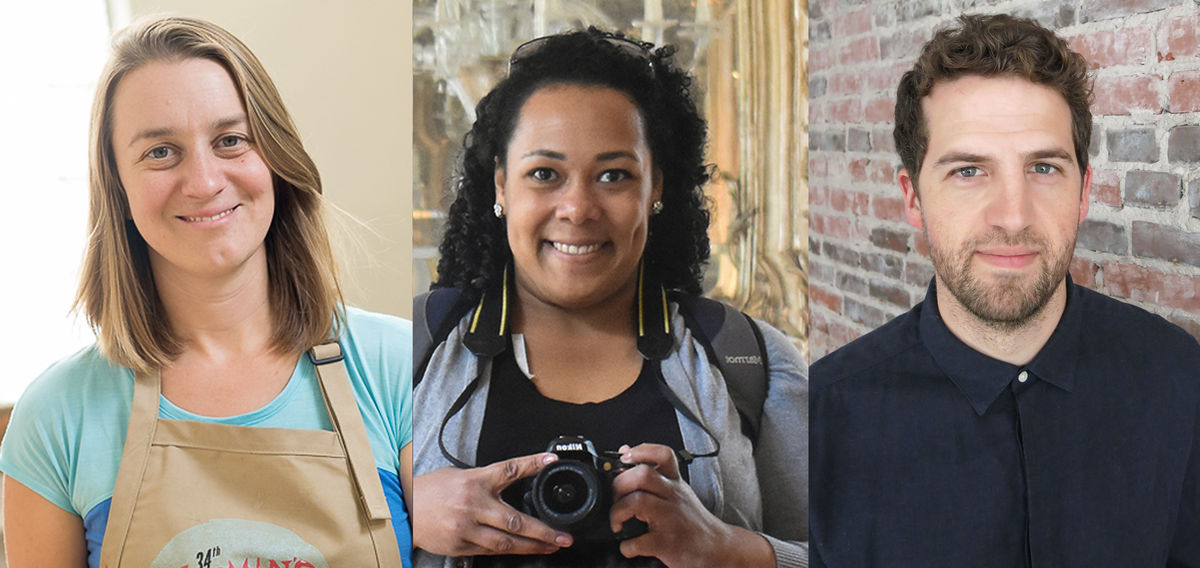 Tyler students who have won Student Fulbright grants from left to right: Elizabeth Rose, Marlise Brown and Will Schwaller.
Two Tyler School of Art and Architecture students—Marlise Brown, a PhD candidate in Art History, and Elizabeth Rose, an MFA candidate in Printmaking—have received U.S. Student Fulbright grants for 2019-2020, helping to fuel Temple's status as a top producer of Fulbright student grantees for the second year in a row.
The news comes on the heels of last year's Fulbright announcement, which named Will Schwaller, a PhD candidate in Art History at Tyler, as a 2018-2019 grantee. Schwaller is currently conducting research in Argentina for his dissertation on the experimental artistic practices of the pioneering Centro de Arte y Comunicación artist group between 1968 and 1983. (A Tyler alumna, Eileen Owens, MA Art History '16, earned a 2018-2019 Fulbright grant to conduct research in Ireland, but declined.)
The prestigious and highly competitive Fulbright U.S. Student program, which dates back to 1946, awards artistic and scholarly excellence and offers individuals a unique opportunity to advance their respective fields through intensive research, once-in-a-lifetime cultural experiences and creative and intellectual exchange in more than 140 countries. 
The Fulbright grants awarded to Rose and Brown bring the all-time total of Tyler Student Fulbrighters to nearly 20. Temple's first Student Fulbright grantee was a Tyler student, Octavia Capuzzi Waldo Locke '52, who studied in Italy in 1949.
Elizabeth Rose's research will be based primarily at the Jan Matejko Academy of Fine Arts in Krakow, Poland, supplemented with a month-long residency at the Wroclaw Academy of Fine Arts. She will work in the studio of award-winning printmaker Krzysztof Tomalski, where she will examine the similarities between the landscapes of the American West and Poland, from the Tatra and Carpathian mountains to the borderlands of Białowieża National Park.
"As an artist seeking to further my collaboration and research in my field, the opportunity to participate in Fulbright Poland is pertinent to my professional development," Elizabeth said. "This opportunity will not only benefit my future career in academia, it will also allow me to engage the public through art and our environment."
Meanwhile, Marlise Brown will be conducting research in Germany, primarily at Heidelberg University alongside renowned art historian and specialist Dagmar Eichberger. She will also spend time in Bayreuth, Berlin, Munich, Bamberg and Erlangen to access several archival collections and the visual language of five architectural sites that are germane to her dissertation, which investigates how Princess Wilhelmine of Prussia created an architectural and cultural legacy as a non-sovereign woman consort in the 18th century. 
"Fulbright Germany will help me complete my dissertation and offer a significant contribution to this topic for a wider audience," Marlise said. "I hope to build vital relationships in academic and artistic communities across Germany, as well as interdisciplinary relationships between eighteenth-century art, architecture, music, and theater—all of which are integral to my project. I also plan to join a student choir at Heidelberg University."
Sen. J. William Fulbright introduced the bill that created the U.S. Student Fulbright program in 1945 to promote "international goodwill through the exchange of students." It's a mission that Tyler's Will Schwaller is taking seriously as he conducts research in Argentina.
"The Fulbright grant is fundamental to immersing myself in the resources of Buenos Aires and the experiences, perspectives and ideas of Argentine artists in the 1970s," Schwaller said. "This is also a chance to share my work with Argentine faculty and graduate students and to have a useful exchange about shared or diverging methods."
The Fulbright competition is administered at Temple University through Scholar Development and Fellowships Advising. Students and recent alumni interested in applying for the Fulbright should check the Temple Fulbright page for more information.
 
Posted by Zachary Vickers
Photos (from left to right) by Christopher Sprowls, Marlise Brown and Meredith Stapleton