The newly arrived scholars, artists, researchers, architects and designers will "transform the academic experience of students" at the Tyler School of Art and Architecture.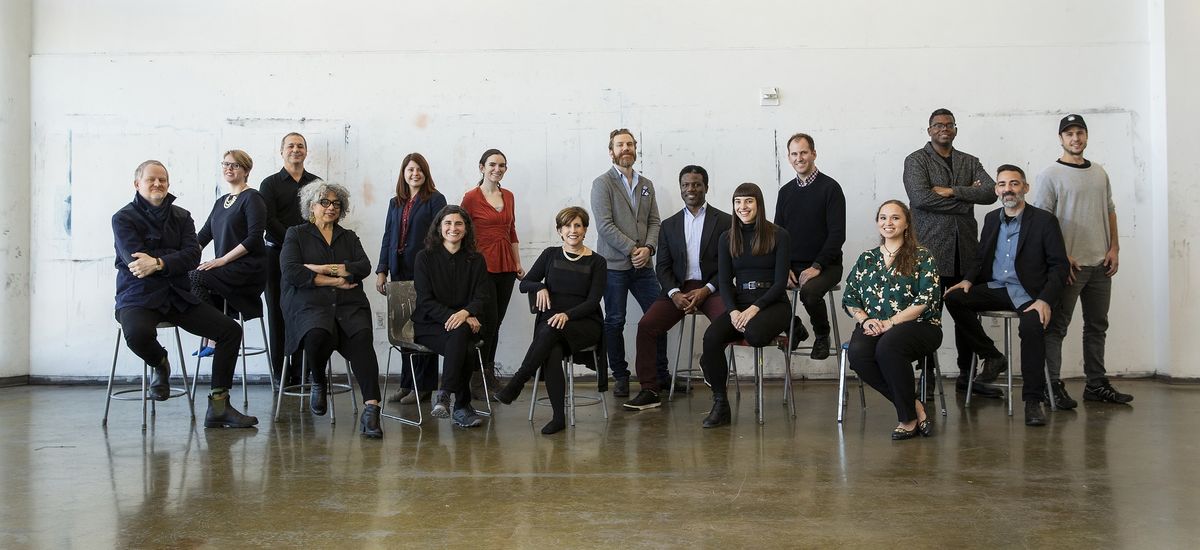 Tyler's new faculty members with Dean Susan E. Cahan, from left to right: C.T. Jasper, Emily Neumeier, Pablo Meninato, Linda Earle, Fauzia Sadiq Garcia, Dawn Kasper, Jenny B. Kowalski, Cahan, James Merle Thomas, David Herman Jr., Mallory Weston, Christopher McAdams, Courtney M. Leonard, Mark Thomas Gibson, Doug Bucci, Tim Rusterholz
The Tyler School of Art and Architecture at Temple University has hired 15 new faculty members—the largest group of new faculty ever hired by the school in a single academic year. 
The new faculty recruits, including five tenured and tenure-track faculty members, have joined eight different Tyler degree programs: Architecture, Art Education, Art History, Ceramics, Graphic & Interactive Design, Metals/Jewelry/CAD-CAM, Painting and Sculpture.
"I'm delighted to welcome this remarkable group of scholars, artists, researchers, architects and designers to Tyler," said Dean Susan E. Cahan, who came to Tyler from Yale University in 2017. "Their energy, diversity and collaborative spirit will transform the academic experience of Tyler students through their leadership at the forefront of their disciplines."
Tyler's new faculty recruits include:
Doug Bucci, an artist and designer in the fields of functional art in metals and jewelry whose work uses digital processes to explore and display biological systems. Bucci is Tyler Metals/Jewelry/CAD-CAM's first new program head in 56 years.
Linda Earle, a leading art administrator whose work focuses on outreach, equity, inclusivity and freedom of expression. She will direct Tyler's Art Administration program.
Mark Thomas Gibson, a painter, printmaker, book artist, writer and activist whose bold work confronts existential questions around racial constructs and conflicts.
David Herman Jr., a lens-based artist, educator, scholar and community organizer whose art and research explores perception as a social and political endeavor.
C.T. Jasper, whose art explores idiosyncratic legacies of historical and contemporary cross-cultural encounters through a practice that integrates sculpture with installation art, sound and moving image. 
Pablo Meninato, a practicing architect and historian who has worked for leading architectural firms in Philadelphia, Buenos Aires and Monterrey for two decades.
Emily Neumeier, an art historian of the Islamic world at the forefront of new technologies, from digital mapping to photogrammetry. (Currently in Greece on a Getty Research Fellowship, Neumeier will start teaching at Tyler next fall).
Tyler has also has welcomed Fauzia Sadiq Garcia, a registered architect and principal at Sadiq Garcia Design, a visual art and design practice; Dawn Kasper, a visiting artist in the Sculpture program and creator of the acclaimed Nomadic Studio Practice Experiment; graphic and interactive designer Jenny B. Kowalski, a specialist in design for experimental technologies; Courtney M. Leonard, a Shinnecock artist whose practice investigates narratives of cultural viability as a reflection of environmental record; Christopher McAdams, a leader in the use of virtual reality, augmented reality and other digital technologies in architecture; Tim Rusterholz, a sculptor and fabricator whose practice is focused on digital modeling and figurative sculpting; James Merle Thomas, an interdisciplinary scholar and curator whose work examines aesthetics, politics, technology and media; and Mallory Weston, whose practice marries traditional jewelry and textile techniques to create large, wearable metal pieces.
"Tyler is a school with a purpose," Cahan said, "These new faculty members share our community's drive to prepare students to be good citizens and lead productive and creative lives. They believe, as I do, in a vision of cultural production as aesthetically and socially transformative action. I can't wait to see what they'll motivate our students to achieve."
The factors that attracted new faculty to Tyler are as varied as their fields of scholarship and creative output. Mark Thomas Gibson, who came to Tyler after serving as a faculty member and assistant dean at the Yale School of Art, was drawn to the Tyler community's energy and the school's expansive facilities during his first visit, months before his recruitment.  "I talked to students, I talked to faculty and I saw the facility, which is impressive in its scale and its resources," Gibson said. "The students were alive and engaged. There was an openness and a conviviality. You don't see that at every art school."
Linda Earle, who had served as executive director of the Great Lakes Colleges Association's New York Arts program and director of the Skowhegan School of Painting and Sculpture before coming to Tyler, felt the pull of Tyler Dean Susan E. Cahan's vision.
"I've known Susan for years," Earle said. "I've admired her scholarship and her insight. We've talked about how education and institutions manage a changing art and architecture environment. I was drawn to her push for intellectual interdisciplinarity and to her belief that she could build structures that were both strong and flexible enough to support students and accommodate their exploration."
Tyler's 15 new faculty members join the school's community of 75 full-time faculty members in the arts, architecture, environmental design, graphic design, art history, art education and art therapy who serve a student body of 1,350 undergraduates and 250 graduate students. 
 
Posted by Hillel J. Hoffmann
Photo by Joseph V. Labolito, Temple University Photography