The Tyler School of Art and Architecture 2023 Graduation Ceremony will take place on Thursday, May 11 at 5 p.m. in McGonigle Hall, 1800 N. Broad Street. A reception in the Tyler building will precede the ceremony.
Check this page for information about our ceremony livestream and social media wall updates!
View Tyler's graduation ceremony order of events.
 
---
Meet our Student Speakers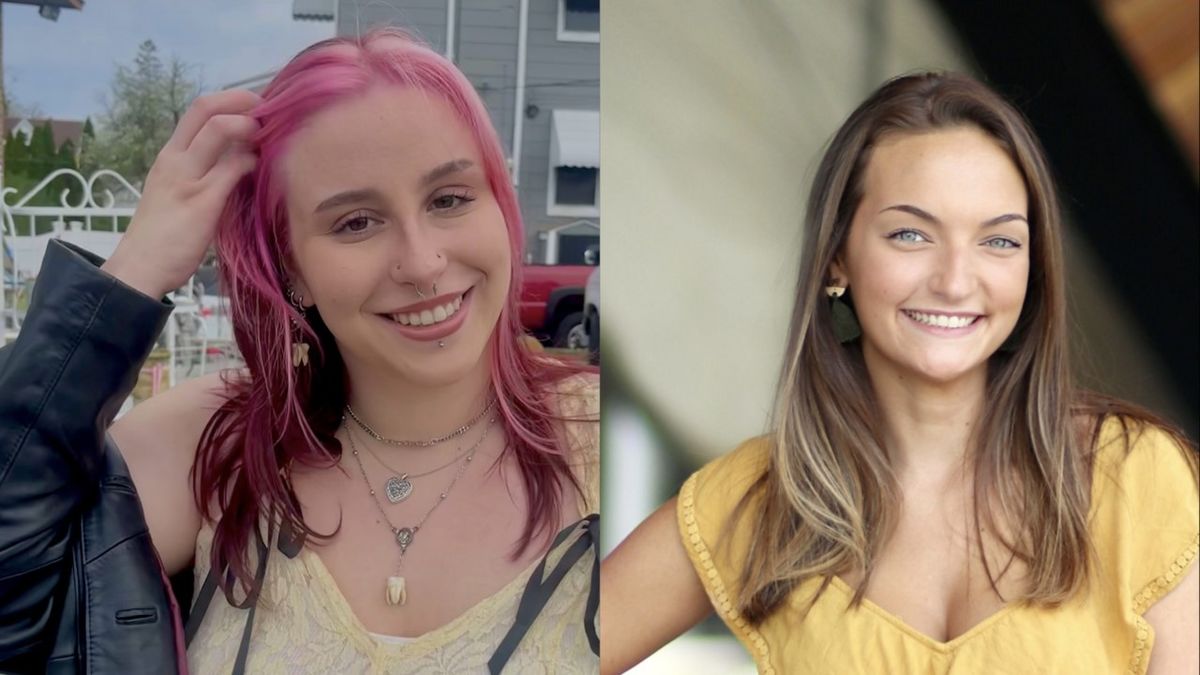 Caro Ingle, BA '23 (left) and Jillian Carlisle, BS '20 (right)
Caro Ingle, BA '23, Art Therapy Major
I came to Tyler from Baltimore in 2019, excited about the opportunity to attend such a large city school which still cultivates small and intimate communities such as Tyler and the Honors program. I was in the BFA program for my first three semesters before switching to art therapy, after falling in love with psychology and using art to help others. Tyler and Temple really catalyzed my growth and helped me to find confidence in myself and my path. I am currently working with a Baltimore-based arts nonprofit as well as focusing on my independent art practice. I'm also learning how to tattoo! I've committed to attend Notre Dame of Maryland University's MA in art therapy program beginning this upcoming fall. I plan to pursue licensure and work in mental healthcare, while continuing to make my own art and writing. I want to connect with people and help them connect with themselves and others. That's what art (and life) is all about! I'm so grateful Tyler noticed my passion and hard work.
Jillian Carlisle, BS '20, Architecture Major
I transferred to Tyler at the start of my sophomore year of undergrad for my Bachelor of Science in Architecture. Initially, I was pretty apprehensive about transferring to a new school, but I immediately found comfort in the Temple community, especially within Tyler. My fondest memories at Tyler include the AIAS Northeast QUAD Conference, studying abroad in Rome, and my senior capstone studio directed by Christopher McAdams. I am currently a graduate student at the Parsons School of Design and will graduate with my Master of Architecture this May. Studying gentrification and equitable design here at Tyler has directly transferred to my graduate studies. My thesis, Aging in Place, explores how we can design to eliminate the need for senior housing. During my senior year at Tyler, Christopher McAdams recommended me for a job at an architecture firm in Philly, and I still work for them (remotely). I have a deep appreciation for the Tyler School of Art and Architecture's commitment to its students and the environment it fosters.
Meet Our Faculty Speaker
Mark Thomas Gibson, Assistant Professor of Painting
Mark Thomas Gibson is an artist who uses modes of caricature, pop, fantasy and narrative to reflect on current American history. The work most often takes the form of drawing, painting and books.
In 2016, Gibson released his first book, Some Monsters Loom Large, with the support of an E-Grant from the Foundation of Contemporary Arts. The book was recently reissued in a second edition in partnership with IPCNY. Gibson's second book, Early Retirement, was released in 2017 with Edition Patrick Frey, Zurich, CH. Early Retirement was acquired by the Metropolitan Museum of Art's permanent collection. In the 2021–2022 academic year, he was selected as one of Princeton University's distinguished Lewis Center for the Arts Mary Mackall Gwinn Hodder Fellows.
---
Tag us on Instagram using #TylerGrad2023 to connect with your fellow graduates!