April 20, 2018
Posted by Hillel J. Hoffmann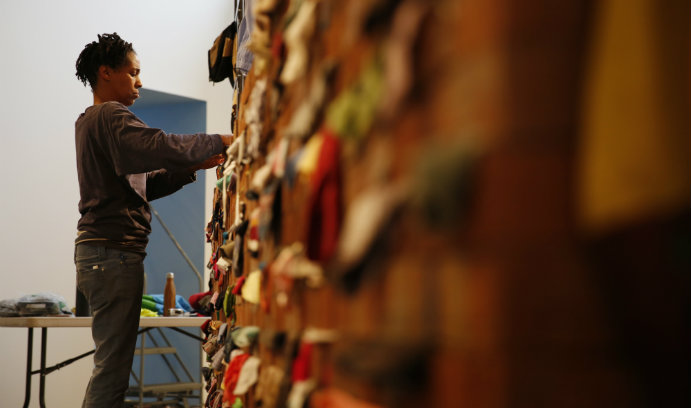 Stephanie Veto/Lehigh University
Karyn Olivier, associate professor and head of the Sculpture Program at the Tyler School of Art and Architecture at Temple University, has been named a winner of the 2018-19 Rome Prize in the category of visual arts, one of the world's most prestigious and competitive art prizes.
The Rome Prize has been awarded annually for more than a century by the American Academy in Rome to support advanced independent work in the arts and humanities. Each Rome Prize winner receives a stipend, workspace and room and board for a period of five months to two years at the Academy's campus in Rome.
"I'm thrilled and honored," said Olivier. "Working in Rome has been a dream of mine for years. I've always been fascinated by the densely layered history of cities, and there's no city on Earth that offers Rome's menu of public art and public spaces. I can't wait."
Olivier's 11-month project in Rome, "Histories Converse," will begin with a study of statues, monuments, piazzas and ruins at select public sites across the city. For each that she studies, Olivier will create a sculpture, installation, image or video that will join the original site in conversation, as well as a book of propositions for imagined public art in Rome.
Born in Trinidad & Tobago, Olivier has been a member of the Tyler School of Art and Architecture faculty since 2006. Her work has been exhibited at the Gwangju and Busan Biennials (South Korea); the Studio Museum in Harlem; the Whitney Museum of Art (New York); MoMA PS1 (New York); the Museum of Fine Arts, Houston; Contemporary Arts Museum Houston, the Mattress Factory (Pittsburgh); and SculptureCenter (New York). In recent years, her public works have been installed in Philadelphia, New York and Houston. She has earned a John Simon Guggenheim Memorial Foundation Fellowship, a Joan Mitchell Foundation Award, a New York Foundation for the Arts Award, a Pollock-Krasner Foundation grant, a William H. Johnson Prize, a Louis Comfort Tiffany Foundation Biennial Award, a Creative Capital Foundation grant and a Harpo Foundation grant.
Some of Olivier's recent projects include her mirrored remix of a Revolutionary War battle memorial in Philadelphia for the Monument Lab project and her wall and car-shaped installations at Lehigh University that incorporate used clothing and discarded shoes (see photo, above). She is one of two finalists being considered by the University of Kentucky to create an installation at the site of a New Deal-era mural at the university that sanitizes slavery and its legacy.