Before removable vinyl billboards and neon signs, businesses hired local sign painters to dress the side of their shop or factory with large hand painted advertisements.  Over time these painted advertisements have become landmarks of Philadelphia's industrial heritage.  And, as many of these businesses faded away, so did their advertisements, which are colloquially known as "ghost signs".  However, for a small handful of multi-generational family owned and operated Philadelphia shops their faded advertisement sends the wrong message.  One North Philadelphia resident assumed that the Henssler locksmith, up the street from his house, was out of business because its sign was so weathered and had never been repainted.  But that's not the case – Henssler's like a few other small multi-generational family owned shops are still going – they just don't have the extra resources to help them maintain their historic advertising. 
Temple Contemporary has partnered with the Mural Arts Program to restore the advertisements of still open, family run businesses to their former luster. The goal of this project is to rejuvenate some of the business that the advertisements represent, as well as bring pride in Philadelphia's historic small businesses back to the city and its neighborhoods.
The first restoration project was completed last year on the sign for the Henssler Locksmith Company, located at 13th Street and Girard Avenue. Established in 1898, this business is now run by John Henssler, a fifth generation locksmith. Mural Arts' staff artist Nathaniel Lee worked on the project for three weeks along with two Tyler students, Stacey Holder and Olivia Menta. Henssler believes the restoration of his sign has already increased traffic into his business.
Henssler sign before and after: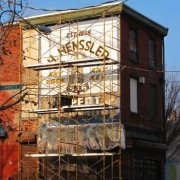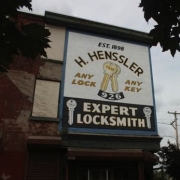 Currently Holder is working on the restoration of the sign for another family owned business. Silk Screens by Photo Process is located at the corner of Berks St. and Hancock St and has been in this location since1960. The business is operated by husband and wife team Sam and Kay Oteri, who inherited it from Sam's father.
Silk Screens by Photo Process in restoration in progress: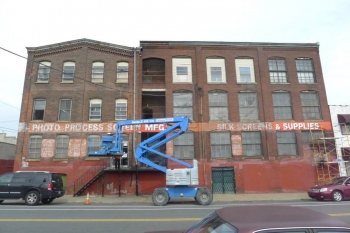 The signs for Cunningham Piano were recently completed: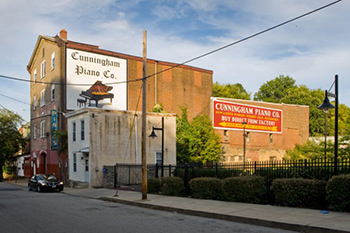 More signs are in-process!